Australian of Year Grace Tame has used her first public address to call for young Australians to be educated on how to recognise the stages of sexual grooming and psychological manipulation to protect themselves from child sexual predators in the community.
Speaking at the National Press Club on Wednesday, Tame said that the silence surrounding child sexual predation in the community allows perpetrators to operate.
"Child sexual abuse remains ubiquitous in our society because while predators retain the power to get exactly what they want," Tame said. "The innocent survivors and bystanders alike are burdened by the shame induced silence."
This, Tame said, could be rectified if Australians became open to listening to survivors creating awareness, and openly educating the society.
"Grooming, it's a concept that makes us wince and shudder, and as such, we rarely hear about it. To the benefit of perpetrators," Tame said. "This must stop. Our discomfort, our fear and resulting ignorance needs to stop giving perpetrators the protection, power, and confidence that allows them to operate."
Tame then outlined that she believed everyone should be made aware of what has been identified as the six phases of grooming which she described as:
Targeting or Identifying a Vulnerable Individual
Gaining the Trust of the Target
Filling the Need of the Target
Isolating the Target from Friends and Family
Sexualisation of the Target by gradually introducing information that normalising sexual behaviour
Maintaining Control via Threats and Physical Intimidation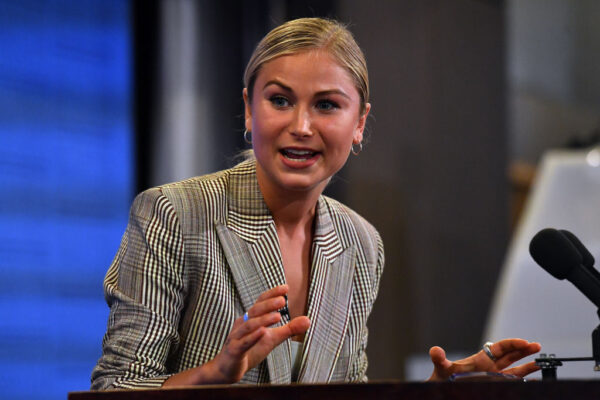 Tame was repeatedly assaulted by her 58-year-old teacher when she was fifteen. She has been advocating for the survivors of sexual assault since finding out it was illegal for her to speak publically under the Tasmanian Evidence Act that barred sexual assault victims from identifying themselves.
A  prominent advocate for the #LetHerSpeak campaign, which helped reshape the Tasmanian Evidence Act to allow victims to speak out in their name Tame also made pointed remarks about the media representation of sexual assaults.
"Listening to survivors is one thing—repeatedly expecting people to relive their trauma on your terms, without our consent, without prior warning, is another," she said. "It's sensationalism. It's a commodification of our pain. It's exploitation. It's the same abuse."
"Grant us the respect and patience to share them on our terms rather than barking instructions like: 'Take us back to your darkest moment' and 'Tell us about being raped," she said.
According to an Australian Institute of Health and Welfare's report in 2020, almost two million Australian adults had experienced "at least one sexual assault since the age of 15". The report also noted that the rates of sexual assault victimisation recorded by police for Australians aged 15 and over climbed by more than 30 per cent between 2010 and 2018.
While most victims seek help from friends, family members and health professionals, only a small number reported the abuse to the police. Typical reasons included victims deciding to deal with it themselves, not regarding the incident as a serious offence, or feeling ashamed or embarrassed about the incident, the report said.