An Australian football club has been forced to apologise for the decision to launch an LGBT pride uniform after several members of its professional team refused to play in a match this week over the promotional activity.
Manly-Warringah Sea Eagles rugby league coach, Des Hasler, said he was sorry for the move that has seen seven players currently voluntarily stand down from this Thursday's match against the Sydney Roosters.
Speaking to reporters on Tuesday, Hasler apologised to the Manly players and staff "for any confusion, discomfort and pain that mistake we have made may have caused them."
"We accept your cultural beliefs and hope that you can accept our apology," he said.
Hasler emphasised that while the pride jersey had been well-intentioned, he recognised the drama stemming from the poorly executed initiative may have created a negative impact on LGBT and other minority groups.
"We wish to apologise to the minority groups within the community who embrace the rainbow colours as a symbol of pride in who they are, what they stand for, and their impassioned advocacy," he said.
Hasler also apologised to the Australian Rugby League Commission and other 15 National Rugby League (NRL) clubs for creating negative news and shifting the spotlight from where it should have been this week, the launch of the women's rugby league competition, the Women in League Round.
Club Could Have Handled It Better
Australian Rugby League (ARL) boss Peter V'landys told reporters on Tuesday there's no doubt Manly could have handled it better.
"They should have been more collaborative with the players, they should have respected the players, they shouldn't have just sprung it upon them," he said.
"So look, I can understand the players' position, I really can. They've got those religious and cultural beliefs, and I respect that, and so Manly, they admit themselves they could have handled it better."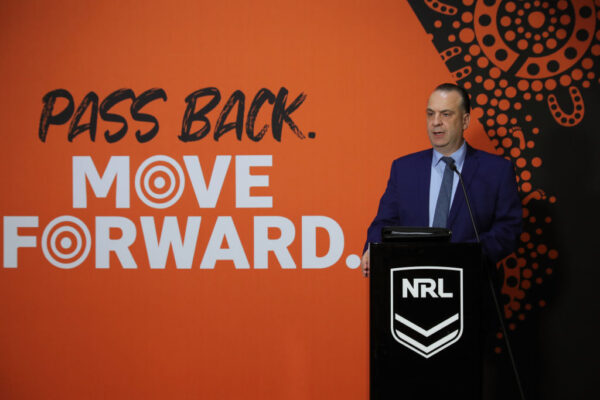 However, V'landys, who only found out about Manly's initiative on Monday, was supportive of Manly's intention.
"One thing I take pride in with rugby league is that we treat everyone the same," he said.
"We're all human beings, doesn't matter what your colour is, doesn't matter what your sexual orientation is, doesn't matter what your race is. We're all equal, and we'll never ever take a backward step in having our sport inclusive.
"But at the same time, we will not disrespect those players' freedoms, and they've got those freedoms, and if they don't wish to play, I respect that," he said.
Not the First Time Australian Footballers Refused to Wear Pride Jersey
The Manly seven-player boycott comes after a Greater Western Sydney Giants Australian Football League (AFL) player also chose to sit out the pride round in January.
Haneen Zreika, the first Islamic player to play in the AFL Women's competition, withdrew from the match after much deliberation on religious grounds, News.com reported.
She had previously played in the 2021 pride round, a game in which the Giants didn't wear the pride jersey, and although she supports her teammates and their beliefs, it is understood she made her decision this year based on her position in the Muslim community.
Meanwhile, the West Coast Eagles were criticised this year for being the only AFLW team to not wear a pride jersey, with the team's coach Michael Prior facing criticism for declining to comment on the issue.
"I talk about footy, not what we're wearing. I think we've done the pride stuff to death, to be honest," Prior said.