Australian farmers are urging against panic buying, assuring customers that plenty of fresh food supplies are available and have requested for the consumer watchdog to monitor prices.
"Our growers are sending plenty of produce down to the Sydney Markets, and we're working on making sure farm businesses can continue to harvest these crops," New South Wales (NSW) Farmers President James Jackson said.
"Sadly, we've seen some companies and individuals use the scarcity of tests and images of empty shelves as an opportunity to lift their prices, so we would ask the ACCC to keep a close eye on retailers to make sure they don't bump up prices above any movements in the farm gate price of fresh fruit and vegetables."
Customers across the eastern Australian states have been met with empty supermarket shelves as Omicron has forced workers across the supply chain into isolation.
New guidelines that allow COVID-19-positive asymptomatic essential workers to return to work have been approved by the Australian Health Protection Principal Committee (AHPPC) and is currently under review by the national cabinet. It has already been signed off by the NSW and Queensland governments.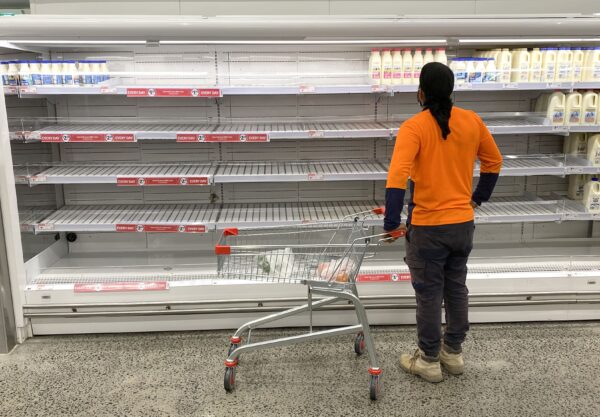 John Coward, the representative for Queensland pork and egg producers, told The Epoch Times that the industry was very pleased with the action taken by the government but that it would take about three weeks before shelves returned to normal.
"Because already, we are seeing animals being kicked back from slaughter, and we're also seeing incredible shortages on shelves," Coward said. "So they tell us it'll be about three weeks before we get food supply back into our supermarkets and back on shelves."
The Australian Fresh Produce Alliance (AFPA) estimated that it would take less than a week for fruit and vegetables to return to shelves with the return of workers under the new guidelines.
"The measures that change requirements for close contacts which have been announced are very welcome because they put capacity back in the system, but it's still going to be a very tight situation," AFPA CEO Michael Rogers told the AAP, warning that fruit and vegetables could be left rotting in fields without the changes.
The new set of arrangements only affect workers in non-customer facing roles, such as critical food manufacturing, logistics, and distribution. Although, other industries could soon adopt similar rules.
The national cabinet is expected to approve the guidelines on Thursday.