A crocodile farmer in Australia said a human surgical plate was discovered inside a large crocodile that had recently died.
John Lever, owner of the Koorana Crocodile Farm in Coowonga, Queensland, told the Australian Broadcasting Corporation that he found the plate inside a 15-foot-long and 1,500-pound crocodile, named M.J., during an autopsy.
The farm posted photos of the crocodile and the plate on social media.
"Imagine our surprise when we opened up the gut on this large croc and found what looks to be an orthopaedic plate! Recently MJ passed away and in order to find a cause of death we opened up his gut to find the plate in amongst numerous stones he used as gastroliths to help grind up food," wrote the farm on Facebook.
"So what has MJ been up to?" the post continued. "He was a wild caught croc from Queensland that we purchased from another farm years ago. No staff and no pets are missing here! So, for now it's a mystery… Regardless, he should have been eaten something with more nutritional value!"
Lever told ABC that the large reptile was 50 to 70 years old when he died after fighting another crocodile.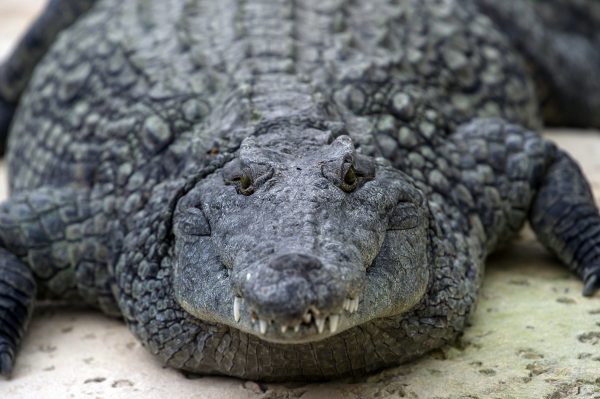 Elaborating, he said the animal could have eaten the bone the plate was attached to decades ago. He added the plate still had the steel screws inside.
Police in Queensland opened a missing person case and asked Lever to hand over the plate to police, he said.
"We've had a couple of people get in touch with us about their relatives that have gone missing in the northern Queensland area and they're anxious to find out—there's been nothing heard of these people, they've just disappeared," Lever added. "We'll certainly keep these people informed of any new news that we can get."
Officials Stop Giant Crocodile
Authorities in Australia have caught a saltwater crocodile measuring almost 5 meters (16.4 ft), one of the biggest on record, to stop it from reaching a populated area, the Department of Tourism said last year.
Weighing up to 600 kg (1,322 lb), the 60-year-old crocodile is the biggest ever removed from the Katherine River in the remote Northern Territory.
It was moved to live out its days at a crocodile farm.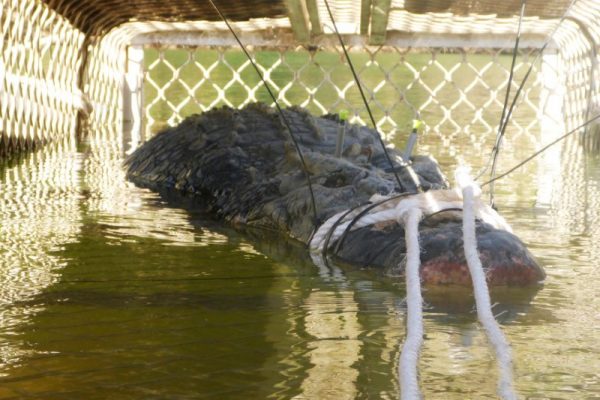 The largest crocodile ever captured in Australia measured 6.4 meters, according to records. It was caught and killed in 1974, also in the Northern Territory.
Rangers caught the 4.7 meter (15.4 feet) male crocodile 60 km (37 miles) downstream from the town of Katherine, on Monday after sedating it, media reported. They had been hunting it since they first spotted it in 2010.
"He was removed downstream from Katherine to help prevent human interaction in the more populated areas," said Tracey Duldig, acting director of the Department of Tourism and Culture.
"He has been taken to a croc farm in the Katherine region."
Reuters contributed to this report.