Treasurer Josh Frydenberg has given an update on Australia's economy, saying it has weathered Beijing's economic coercion and is encouraging businesses to continue diversifying away from the China market.
The treasurer's comments come just days after former Prime Minister Paul Keating wrote a scathing op-ed critical of the Morrison government's handling of bilateral ties.
Frydenberg told the Australian National University's Crawford Leadership Forum on Sept. 6 that the current global environment was "very different" from those faced by previous Australian governments.
"Those that advocated 'The End of History' in the early 1990s have been proven wrong," the treasurer said referencing political scientist Francis Fukuyama's book, "The End of History and the Last Man (1992)," claimed that with the fall of the Soviet Union, humanity's evolution would end with free-market capitalism and democracy being the main form of government in the world.
Frydenberg said that a "more confident and assertive China" was the differentiating factor, as well as its willingness to use its economic weight as a "source of political pressure."
He added that while the Soviet Union was largely isolated from the rest of the world, the Chinese Communist Party (CCP) was heavily integrated.
"Almost 130 countries now have China as their largest trading partner. This combination of economic weight, global integration and assertiveness poses new and significant challenges for many countries around the world," he said.
"Heightened strategic competition is the new reality we face. Now and likely into the future," he added. "Our task is to prepare for and manage this competition."
Since April last year, Australia has weathered an ongoing trade coercion campaign from the CCP after Foreign Minister Marise Payne called for an investigation into the origins of COVID-19.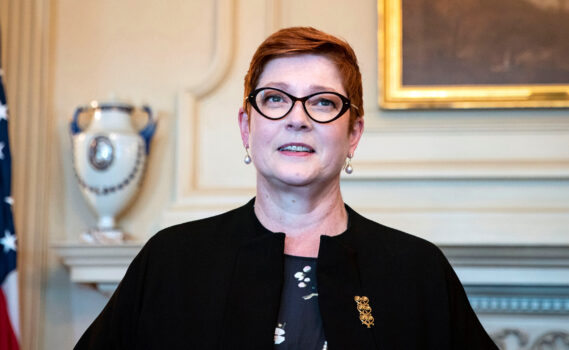 The move drew a sharp rebuke from the Chinese Ambassador to Canberra Cheng Jingye, who warned of potential action against Australia's trading relationship with China.
In the following months, the CCP implemented a series of bans, suspensions, or regulatory hurdles targeting coal, wine, beef, barley, lobster, timber, lamb, and cotton exports to the country.
"It is no secret that China has recently sought to target Australia's economy," Frydenberg said.
"Our economy has also proven to be remarkably resilient," he said. "I am not downplaying the impact of China's actions. They have hurt specific industries and regions, significantly in some cases."
The result has been a drop of $5.4 billion in trade exports over the year to the June quarter. However, over the same period, "exports of those goods to the rest of the world have increased by $4.4 billion," according to the treasurer.
"Many have worked hard to access the lucrative Chinese market. This has brought great benefits to them and to Australia overall. And they should continue to pursue these opportunities where they can," he said. "But going forward, businesses also need to be aware that the world has changed. And that this creates greater uncertainty and risk."
"In this respect, they should always be looking to diversify their markets, and not overly rely on any one country. Essentially adopting a 'China-plus' strategy," he added.
The China-plus strategy is the principle of building on the strengths of the existing China relationship to engage with other countries economically and in trade.
"In the same way that governments are investing in economic resilience. So too, should Australian businesses—from cyber risks to supply chains and everything in between."
The treasurer's speech comes after former Prime Minister Keating continued an ongoing narrative critical of Prime Minister Scott Morrison's handling of relations with Beijing.
"Australia is a continent sharing a border with no other state. It has no territorial disputes with China. Indeed, China is 12 flying hours away from the Australian coast, yet the government, both through its foreign policy incompetence and fawning compulsion to please America, effectively has us in a cold war with China," he wrote in the Australian Financial Review.
Keating was an international advisor to the state-owned China Development Bank.