Australia on Wednesday expressed deep concern about the new national security law that Beijing has imposed on Hong Kong.
Foreign Minister Marise Payne said in a statement that the controversial law threatens Hong Kong's judicial independence and the rights and freedoms of Hong Kong residents.
"Australia joins many international partners in expressing our deep concern about Beijing's imposition of a National Security Law on Hong Kong," Payne said.
The national security law went into effect late June 30 after ceremonial votes by the ruling Chinese Communist Party's rubber-stamp legislature, the National People's Congress (NPC). The law criminalizes individuals for any acts of subversion, secession, terrorism, and collusion with foreign forces, with maximum penalties of life imprisonment.
Statement on Hong Kong. ⬇️https://t.co/RWnl3zfpTh

— Marise Payne (@MarisePayne) June 30, 2020
"This decision to impose the law undermines the 'One Country Two Systems' framework and the city's high degree of autonomy guaranteed in the legally binding Sino-British Joint Declaration and Hong Kong's Basic Law," Payne noted in her statement.
Hong Kong was handed from British colonial rule back to Chinese sovereignty in 1997 with the express guarantee under the Sino-British Joint Declaration that the city's high degree of autonomy and essential freedoms would be preserved under the principle of "one country, two systems" until 2047.
Payne said that "Australia is troubled by the law's implications for Hong Kong's judicial independence, and on the rights and freedoms enjoyed by the people of Hong Kong, both of which underpin the city's success."
"That this decision was made without the direct participation of Hong Kong's people, legislature or judiciary is a further cause for concern," she continued. "The people of Hong Kong will make their own assessments of how this decision will affect their city's future. The eyes of the world will remain on Hong Kong."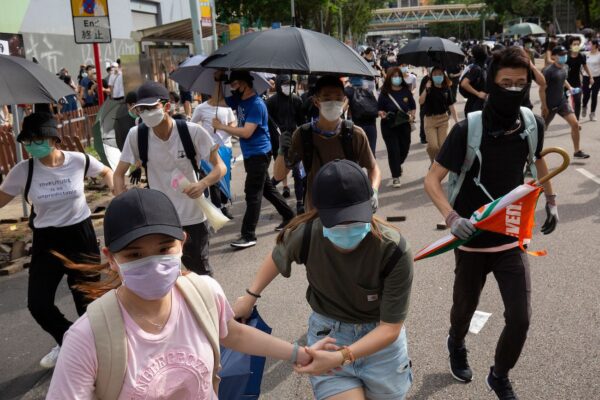 Payne said that Australia has a "substantial stake" in Hong Kong's success and that the city is home to Australia's largest commercial presence in Asia. It is also one of Australia's largest expatriate communities globally, she added.
She signalled Australia's commitment to maintain people-to-people ties with Hong Kong.
"We also continue to recognise the great contribution that people from Hong Kong have made, and continue to make, to Australia. Our people-to-people links are deep—stretching back 200 years—and continue to strengthen," Payne said. "Australia has been a favoured destination for people from Hong Kong, and we will work to ensure it stays that way."
"We will continue to work with international partners to fully assess the implications of the new laws."
Australian lawyers are concerned that the broadly defined offences in the new law will deprive Hong Kong courts of their independence and have a chilling effect on public life in the city, the Australian Associated Press reported.
Hong Kong police on July 1 made the first arrests under the new law.