Health officials in Australia have expressed their concerns over the number of significant outbreaks of coronavirus outside of China, particularly in South Korea, Italy, and Japan.
It comes as the Australian government announced it has activated its emergency response plan (pdf) amid warnings a potential global pandemic is looming as the disease continues to spread throughout Asia and parts of Europe.
Speaking at a press conference in Canberra on Feb. 25, Professor Brendan Murphy, the Chief Medical Officer for the Australian government, said that while these countries are "doing everything they can to contain those outbreaks, those developments are of concern to us."
Murphy said that health officials are meeting regularly to "get advice from our communicable disease experts and continually update our advice to government," and that while there is no community transmission in Australia at the moment, health officials are still preparing for a global pandemic.
"We have plans, we have plans that existed for years. We've updated them. And every part of the health system is now working on its plans so that we're ready if things develop further in the future," he said.
The professor also noted that while the number of outbreaks in Iran aren't very high, "the death rate would suggest that the numbers are probably higher than being reported."
Iran currently has the second-highest number of deaths after China. Its government said Monday that 12 people had died nationwide from the new coronavirus, and rejected claims made by a lawmaker from the city of Qom that the death toll was higher at 50 people.
At the same press conference, Health Minister Greg Hunt said that while Australia was well-prepared, it was not "immune" to the increasing risk of an outbreak.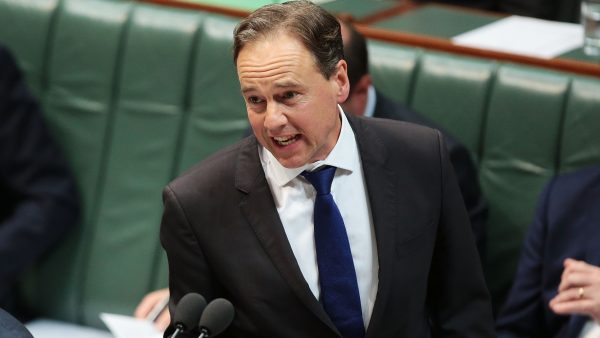 "What we've done, as you would hope that a government would do, is prepare for all eventualities, but so far in Australia, we have contained the virus on official medical advice," Hunt said, adding that the "plan is about saying, 'We're not immune but we are as well-prepared anyone else in the world.'"
The newly released plan serves as the blueprint for dealing with a large-scale coronavirus outbreak and outlines three degrees of severity for the epidemic.
The "low" impact may be similar to severe seasonal influenza or the 2009 influenza A(H1N1) pandemic, and will likely affect those with an underlying illness more, people with immunocompromised conditions, aged care, infants, Aboriginal and Torres Strait Islander peoples, and remote communities. In this case, primary care and hospital services may become stretched in areas associated with respiratory illness and acute care. However, existing plans and laws should be enough to support activities.
A "moderate" outbreak would place hospitals under "severe pressure," particularly in areas associated with respiratory illness and acute care, and non-urgent procedures and activities may need to be scaled back.
"Surge staffing and alternate models of clinical care, such as cohorting and/or establishment of flu-like clinics may need to be employed to cope with increased demands for healthcare," the plan notes, adding that "pressure on health services will be more intense, rise more quickly and peak earlier as the transmissibility of the disease increases. Healthcare staff may themselves be ill or have to care for ill family members, further exacerbating pressures on healthcare providers."
Additional strategies to support at-risk groups may also be required and new or existing health emergency legislation may be needed to support outbreak response activities.
A "high" outbreak would be similar to that of the 1918 H1N1 "Spanish flu," and in this case it will add immense pressure on the health sector.
"Areas such as primary care, acute care, pharmacies, nurse practitioners, and aged care facilities will be stretched to capacity to support essential care requirements," the plan notes, adding that "heavy prioritisation will be essential within hospitals to maintain essential services and mortuary services will be under pressure." Health emergency legislation may be needed to support outbreak specific activities in this case.
Australia has had 23 cases of the coronavirus but has so far managed to head off widespread transmission in the country. Since Feb. 1, it has also barred entry to anyone arriving directly from mainland China.
Last week the government evacuated 170 citizens from the Diamond Princess cruise ship, which had been held in quarantine in a Japanese port, and put them in quarantine for 14 days in northern Australia.
Reuters contributed to this report.