Artful director, writer, and producer Baz Luhrmann's ode to his Motherland has finally arrived, and it was worth the wait. Australia is an ambitious epic that takes place in the remote port city of Darwin and its rugged surrounding outback lands in the period just before World War II.
The story begins with Nicole Kidman as a headstrong British aristocrat, Lady Sarah Ashley, who travels to Northern Australia intending to sell an inherited cattle ranch and quickly return home to reap the financial rewards. Upon arrival, she is welcomed by the drover (Hugh Jackman), and they begin the long conflict-ridden trek to her ranch.
Lady Ashley is tipped off by a mysterious half-Aborigine, half-Caucasian boy named Nullah (newcomer Brandon Walters) of foul play and sabotage by the manager of her ranch (David Wenham), resulting in its poor financial situation. In response, Lady Ashley takes a risk by enlisting a reluctant group led by the drover to aid her in herding her cattle across remote land to the city, where she can make enough profit to save her ranch from financial ruin.
Like most epics, the plot structure isn't quite as simple as setting, conflict, resolution. In fact, the film can be best broken down into two distinct acts, and with a run-time of almost three hours, perhaps an intermission would have been appreciated!
Act I introduces the characters, the setting which plays a central role, and focuses on Lady Ashley creating a new life Down Under. Act II focuses on each character's growth as the city comes under siege by Japanese bombers. A central theme woven into the film was Australia's relationship to its indigenous people and the controversial issue of the "Stolen Generations," as these half–Aborigine, half-Caucasian children who were cast from society.
Mr. Luhrmann's vast resume includes theater, opera production, fashion show staging, a No. 1 album in the U.K., and commercial work for fashion brand Chanel. Thus he brings the unique energy and critical imagination of an artist comfortable in working in many mediums. Consistent with his other films William Shakespeare's Romeo and Juliet and Moulin Rouge, every shot and sequence is deliberate, transporting the audience to another world.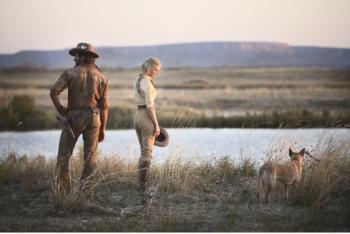 What differs from his previous work is that Australia doesn't aggressively push the boundaries of filmmaking into a dizzying spell, yet intentionally returns to the classic style of films from another era. Mr. Luhrmann set out to make a film like the classics that inspired him, such as Gone with the Wind and Ben-Hur.
"All that you do possess at the end of a life is your story, and stories live on in the physical landscape," stated Luhrmann in the film's press notes. At its essence, the film is a story of love, adventure, and deep appreciation for Australia's culture.
Most impressive about Australia is its grand scale. The sweeping colors, landscapes, and intense horseback action scenes seem to pop off the screen. Intense research was invested into the production, with Mr. Luhrmann and his crew literally learning how to herd cattle in extreme conditions to ensure that the artistry was authentic. The result is a movie worth experiencing in a stadium movie theater, and not waiting for DVD release.
His muse, with whom he worked on Moulin Rouge and the Chanel campaign, Nicole Kidman delivers a compelling performance. Ms. Kidman was pregnant during the film and you can catch a glimpse of her slight belly. Hugh Jackman is believable and impressive as a "man's man," and Aborigine actors Brandon Walters and David Gulpilil steal each scene they are in. Brandon Walters, the 13-year-old newcomer, was mesmerizing and depicted the character of Nullah with extraordinary talent for a first-time actor.

Some skeptics may find fault with the film length, the signature Luhrmann-styled slapstick character introductions, or the predictability of some plot sequences.
Time will tell where Australia is viewed in the years to come, as it may not receive the Academy's highest honors. However, it will be a strong contender for best cinematography and costume design.
A great epic should grasp and transport the viewer to experience another time and place, all the while not forgetting to entertain. In this respect Mr. Luhrmann has succeeded.