Audi has publicly revealed its latest Le Mans challenger, the R18 e-tron quattro on February 29, with Audi motorsports chief Dr. Wolfgang Ulrich driving the new diesel/electric hybrid silently onto the stage of the Audi Training Center at Munich airport.
"Audi has always consciously selected championships and categories in racing that have a close relationship to production and therefore have technical relevance for the Audi customers," said Head of Audi Motorsport Dr. Wolfgang Ullrich, in a press release. "A similar tendency is apparent with the e-tron quattro: we test a completely new technology on the race track before it's introduced to the Audi production line."
Audi will campaign its new car in the World Endurance Championship and will bring two to Le Mans, along with two standard R18 TDIs.
The "Quattro" label was first used for Audi's groundbreaking—and very successful—AWD rally cars which debuted in 1980 and won the World Rally Championship in 1982 and 1984, finishing second in 1983 and 1985. Audi then attached the "quattro" name to all of its AWD offerings.

Audi hopes for similar winning results from its new LMP1 sports racer—though the new car is not full-time, four-wheel drive.
The new Audi LMP1 racer uses Audi's tested TDI turbodiesel V6 combined with an auxiliary flywheel-based electric power train feeding the front wheels.
Energy is recovered from the front wheel under braking and fed to the flywheel, which stores the energy as momentum and releases it to power the front wheel while accelerating past speeds of 75 mph. The rear wheels are driven by the V6 turbodiesel as in the regular R18 TDI.
Rules don't allow hybrid systems to add power below speeds of 75 mph, but this shouldn't have much effect on the new Audi—very rarely will the car be traveling that slowly, even exiting the tightest corners.
Similar technology has been proven effective in Porsche's 911 GT3 R Hybrid, and Audi's chief rival in the WEC, the Toyota TS030, also uses hybrid power, though with capacitors, rather than a flywheel, storing the energy.
The R18 e-tron Quattro has been in the works since 2010. Audi started the R18 concept planning to eventually add hybrid power. Because of this the two cars share most parts, making it easier and cheaper to operate both cars at the same time, and allowing the new R18 hybrid to benefit from everything learned during the standard R18's debut season.
Combined Attack at Le Mans and WEC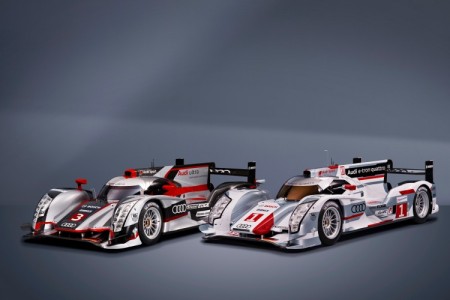 Audi will enter four cars at Le Mans: two e-tron quattros and two standard R18 TDIs. The quattros will be driven by 2011 Le Mans winners Marcel Fässler, André Lotterer, and Benoît Tréluyer, along with Le Mans veterans Dindo Capello, Tom Kristensen, and Allan McNish—a crew with 13 Le Mans wins between them.
The standard R18s will be piloted by Loïc Duval, Timo Bernhard, Romain Dumas, Marco Bonanomi, Oliver Jarvis, and Mike Rockenfeller.
Rockenfeller, Bernhard and Dumas won at Le Mans in 2010; Bernhard also won in GT in 2002, and Rockenfeller, in 2005. Duval has three Le Mans starts with Team Oreca Matmut, with a best finish of fifth (or, first behind the dominant Peugeots and Audis.)
Bonanomi and Jarvis are youngsters, the future of Audi motorsports. Bonanomi's racing history is mostly in open-wheel, the he won the 2008 GP2 Dubai race. Jarvis has competed in A1GP and DTM, and drove the Audi R10 TDI for Kolles Racing in the 2010 Le Mans 24.
Only standard R18s will contest the WEC season opener at Sebring: where R18 TDIs are entered, to be driven by Marcel Fässler/André Lotterer/Benoît Tréluyer, Dindo Capello/Tom Kristensen/Allan McNish, and Timo Bernhard/Romain Dumas/Loïc Duval
Audi will debut its R18 quattro at the Spa Six Hours on May 5, with the entire Le Mans line-up (save Mike Rockenfeller, who will be driving a DTM race.) For the rest of the WEC schedule, Audi will field one quattro and one R18 TDI; final driver lineups have yet to be determined.