Attorney Gao Zhisheng: His Experience in Dingzhou
March 30, 2006 12:00 am Last Updated: March 30, 2006 12:00 am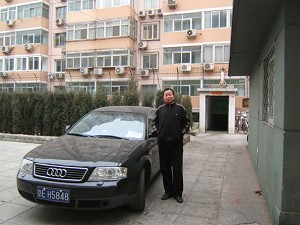 Attorney Gaio Zhisheng was involved in an automobile accident on March 26. Gao and colleague Mr. Ma Wendu were traveling on the highway away from Beijing when an industrial tanker truck pulled across the road. Gao swerved to avoid the obstacle, but a following car sped up to force Gao into a collision. Luckilly, Gao and his passenger escaped injury. (Please see: Gao Zhisheng's Car Crashed on Highway .)
The police decided that Gao is responsible for this car accident.
"Chinese society has lost its soul, because today I see that people do not have morality, honesty, and faith. This last experience I had in Dingzhou made me realize this even more so," said attorney Gao Zhisheng in Dingzhou.
A reporter discussed the incident with Gao:
Gao: The reason given to me was the car blocking us drove away so we are being held responsible for the accident."
Reporter: What about the road-sprinkler vehicle from the Chinese communist regime's city government which was parked on the freeway? Did it not violate the regulations? Shouldn't it be responsible?
Gao: Who knows? We don't know why the truck was parked on the passing lane of the freeway.
Reporter: How did the police explain it? Did you question them?
Gao: Yes I did and they said, "It's not your business why it was parked there."
Reporter: How could they say that??
Gao: (sighing for the reporter's innocence about the Chinese communist regime) Alas, where do you think you are? When I was going to park my car last night, they replied straight away, "Where do you want to park your car? What should we do if you run away?" So they kept my car and my license so I could not go anywhere.
Attorney Gao's voice was different this time. It revealed anger and frustration.
Compared to Dingzhou, Beijing Is Like Heaven
Attorney Gao retrieved his driving license, although the cost to repair his car is estimated at 5,000-6,000 yuan (US$604-725). Because he is suffering from shock, as well as having to bear the costs of the accident he has to stay in Dingzhou until March 29 now.
Gao: The traffic police fined me 200 yuan (US$24). And the price regulation department took another 200 yuan. The insurance company took 700 yuan (US$85). They did nothing for us, yet we have given away more than 1,000 yuan (US$121).
The reporter made a joke to attorney Gao, "They had to rob the wealthy people from Beijing."
Attorney Gao also laughed, "Unfortunately! The corruption in Beijing is so rampant that common people have gnashed their teeth in hatred. However, since leaving Beijing, compared to other places, Beijing is a heaven."
Gao, then said, "I told Ma Wendu this morning, "The dark dictatorship makes people suffer painfully. What can we do when everywhere is like this?"
Any Society Which Loses Honesty and Faith Has Lost Its Soul
"Honesty, responsibility, and sympathy for other people is the soul of a society. It should be the fundamental base of human beings! There's no such thing in China now. Without it, China is like a person without a soul." Attorney Gao said.
When taking a taxi to Dingzhou, the driver told Gao, "All the hotels are far away." In fact, there was one nearby.
Gao said, "He deceived me because he wanted to make more money. But someone else told me there was one nearby. In China, if there's a bit of opportunity to make some profit, honesty becomes worthless! People were more honest decades ago.
"Since the Chinese Communist regime has ruled China for decades, it has caused the degeneration of our race. This is the biggest injury to our race."
Attorney Gao, You Are Welcome to Stay with Us!
Attorney Gao said that when he was in the most difficult situations, the care of the good and honest Chinese people and Falun Gong practitioners makes him feel grateful.
He said "Falun Gong practitioners who did not reveal their names called me today and yesterday. They said, 'Attorney Gao, please go wherever you want to go. We will guard your family 24 hours a day. They can get our help at any time, but we will not disturb their life.' When I heard that I cried with gratitude."
A woman from Hubei called him last night, inviting attorney Gao to stay at her place. "Attorney Gao, we can go to Beijing to fetch your daughter to our home, if you want. We will take care of her life. I am not a cultivator, but we are not afraid. We will send your girl to school. We'll see what they can do to us for sending a girl to school!"
A cadre of an organization in Wuhan, Hubei Province called Gao to invite him to live at the cadre's home.
A person in Jinan directly told Attorney Gao his address and said, "You don't have to call in advance when you come to Jinan. You can directly come to my home and stay as long as you want."
One son of a cadre in Tianjin has called Gao whenever Gao was in danger these past few months. Calling him this time too he said, "Attorney Gao, please come to our place. We will prepare a house for you, take care of your life, and guarantee your safety."
Attorney Gao said, "Although our Chinese society is degenerating, I have met many good people in China when I am in hard times. Our Chinese have fragmented into two different peoples. Yet I am grateful and hopeful that there is some good left in China.
Many overseas Chinese from Canada, the US, Australia, and Taiwan also made phone calls to Gao to offer support.