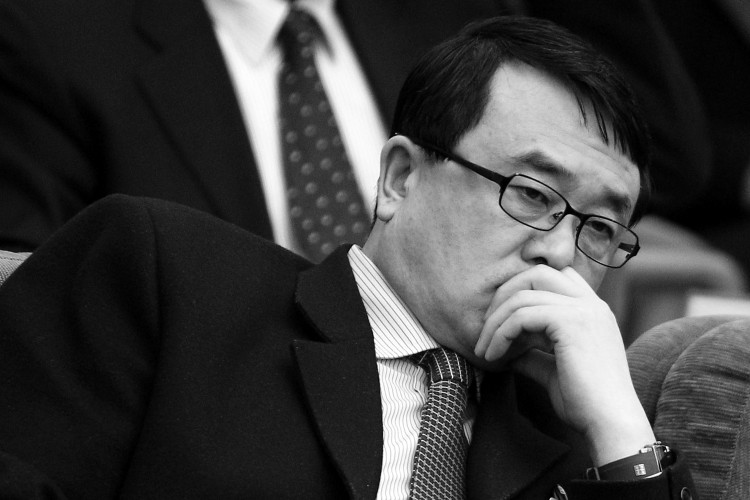 The competition between the factions that run the CCP has gotten deadly serious in the run up to the 18th Party Congress later this year. A high-ranking official sought to escape his fate by defecting to the U.S. Consulate, but, remanded to Beijing, his testimony will set the stage for more Party bosses to be brought down.
Wang Lijun was the head of the police department and vice mayor of the southwestern Chinese city of Chongqing. He was also the longtime right-hand man of the Chongqing Party boss, Bo Xilai.
On Feb. 2, Wang was demoted to handling culture, education, and environmental protection. On the evening of Feb. 6, Wang, wearing a disguise, according to Radio France Internationale (RFI), made a dash to the city of Chengdu, four hours west of Chongqing by car, where he is reported to have asked for asylum.
A State Department spokesperson confirmed that Wang had visited the consulate but the official refused to discuss the issue of asylum. The Washington Free Beacon quoted an unnamed administration source who said that Wang asked for and was denied asylum.
Wang Betrayed
It has been widely speculated on China's Internet that Bo turned on Wang after learning that Wang was being investigated for corruption and using torture to extract confessions by the Central Commission for Discipline Inspection.
According to the dissident Chinese-language news website Boxun, Wang counterattacked by providing information that Bo's wife had embezzled public money and transferred assets overseas.
Boxun reported that Bo arrested 19 of Wang's close aides, including Wang's driver, two of which have already been beaten to death while another committed suicide. Wang is believed to have fled Chongqing in fear that Bo would kill him rather than see more secrets exposed.
Upon learning of Wang's attempted defection, Bo commanded Chongqing Mayor Huang Qifan to surround the U.S. Consulate with 70 police cars, with the motorized barricade including armored vehicles, according to Hong Kong's Mingpao newspaper.
News quickly reached higher officials in the central Party who sent national security officers to Chengdu.
According to Internet reports, Bo and Wang are believed to have used an anti-Mafia campaign called "hitting the black" to arrest CCP officials and gang members not loyal to Bo and to arrest honest businessmen for the purpose of confiscating their fortunes. Wang also served Bo loyally when Bo was governor of Liaoning Province, where he brutally enforced the regime's persecution of Falun Gong.
RFI's report claimed Wang revealed many of Bo's darkest secrets and some state secrets during the 24 hours that he met with the U.S. consul general. Upon leaving the consulate, he yelled that he was Bo Xilai's sacrificial lamb and that he had transferred important information overseas.
Although Bo met with Canadian Prime Minister Stephen Harper on Feb. 11, after the controversy erupted, there is no reason to take this as evidence his political career is safe. The official investigation of Wang has not yet been completed, but when it is, Bo's job duties will likely change, reports Boxun.
Chinese communist authorities must take Vice Chairman Xi Jinping's ongoing visit to the United States into consideration as they deal with the Wang situation. Xi is expected to be named the head of the CCP, succeeding Hu Jintao, at the 18th Party Congress later this year.
Bo Targeted
The Wang incident will be an embarrassing topic of discussion, according Dr. Zhang Tianliang, a columnist for The Epoch Times and adjunct professor at George Mason University.
"I think the possibility of Bo Xilai being arrested before Xi Jinping returns is very slim. But I think it is almost certain that he will lose his power and influence," Zhang told New Tang Dynasty TV.
Surprisingly, there has been no censorship of discussion of the incident in microblogs or websites. Keyword searches of "Wang Lijun" are not blocked, and even China's official news agency, Xinhua News Agency, has reported on the news.
The Chongqing authorities said on Feb. 8 that Wang suffered "depression" and is on "stress (therapeutic) leave." However, the central government confirmed Wang had been to the U.S. Consulate in Chengdu. Messages went viral on microblogs, and the Ministry of Foreign Affairs took the initiative to disclose that Wang had stayed 24 hours in the U.S. Consulate.
Negative news of Bo Xilai continued to spread on the Internet without being deleted, a sign that Bo is facing a very bleak future, Zhang said.
Hu Jintao and Wen Jiabao, the premier, have always been regarded as presiding over a "lame-duck" administration because the Political and Legislative Affairs Committee has been controlled by Zhou Yongkang, an ally of Jiang Zemin. Zhou is the head of public security in all of China, and Jiang is the head of the CCP who preceded Hu.
Hu had to accept the arrangement of having Xi Jinping step ahead of Li Keqiang in consideration for the top post, according to Xia Ming, a professor at the City University of New York. Li Keqiang is the vice premier and is assumed to be in line to succeed Wen as premier.
To keep his lame-duck leadership from shrinking dramatically and his successor's influence growing too fast, Hu was willing to give Bo a certain level of space to impede Xi, so Hu could strengthen his own position, Xia wrote in an article published on the BBC Chinese website.
However, Bo would not stop at just being used by Hu; he used populism, especially an appeal to Mao Zedong's political ideology, to increase his political capital, and even aimed at becoming deputy secretary of The Political and Legislative Affairs Committee, which oversees all legal matters, including the police. His ambition threatened Xi Jingping and Li Keqiang, Xia said.
Infighting
As Hu completes his term as general secretary of the CCP, Bo has become a liability. As Hu faces the strong alliance of Xi Jinping and Li Keqiang, he felt he probably had to abandon Bo eventually, Xia said.
The fall of Wang is just a prelude to Bo's own fall; it's obvious, without the support of Hu and Wen, or at least their acquiescence, a big move (referring to the investigation by the Central Party of Wang Lijun) like this can't possibly have happened, Xia added.
With the Hu-Wen administration lacking authority, different factions in the Chinese Communist Party (CCP) have followed certain tacit rules to maintain the balance of power, according to Washington D.C.-based China expert Shi Zangshan.
The controversy triggered by the Wang and Bo conflict has sent a strong signal that this is no longer the case, and the CCP will enter a comprehensive stage of infighting in which tacit rules will be ignored as each contender focuses on self-preservation at the expense of others, Shi said.
Shi said the collapse of the CCP is imminent.
chinareports@epochtimes.com