Assembly Hearing Examines Impact of Health Care Exchange on Immigrants
September 22, 2013 10:20 pm Last Updated: September 22, 2013 10:20 pm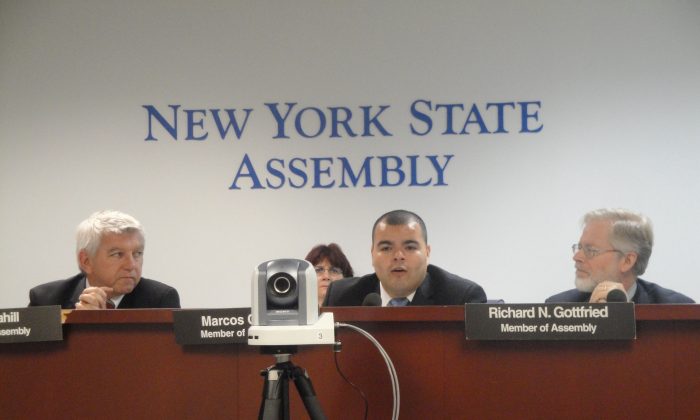 NEW YORK—When New York's official health care market place opens for enrollment on Oct. 1, it will probably fall short of some people's expectations, according to testimony delivered at State Assembly hearing held in Manhattan on Sept. 17.
Almost 40 percent of people expected to enroll through the exchange in New York State speak languages other than English, according to testimony from Jackie Vimeo, director of advocacy for The New York Immigration Coalition.
But when the open enrollment period starts Oct. 1, the marketplace's website will only be available in English.
"California already has Spanish," Vimeo said. It is a "New York pride issue to be so far behind California," she joked.
Spanish and other language speakers will be able to get enrollment assistance through the exchange's call center, and with accredited in-person assistants within local community groups, or insurance brokers. No one applying for insurance through the marketplace should pay for that assistance.
Vimeo, an Argentinean native, said she was concerned after she was handed a poorly translated draft of a Spanish flyer at a recent event run by the exchange. She said the Spanish was so bad it looked as if Google had translated it.
In Texas the health exchange was rolled out in Spanish and English. About half the population in Texas can speak Spanish.
Vimeo said New York faced a unique challenge compared to other states, because only half of those residents with limited English proficiency speak Spanish, and the other half speak one of hundreds of languages or dialects.
New York State needs immigrants to enroll in health plans through the exchange to make it financially viable—it needs the maximum number of people to enroll, she said.
Other states had involved immigrant groups in their marketing discussions during the planning stages, but in New York "only 60 individuals were interviewed and no interviews were conducted in Spanish," she said.
Almost all the speakers who testified at the hearing said the exchange's marketing materials need to emphasize that illegal immigrants can access the website without risk of deportation. If English is a problem for them, they can also contact the call-in center, or an in-person assistant within their communities to apply on the behalf of documented children or other family members.
Jim Lytle, speaking on behalf of the Coalition of NYS Public Health Plans, said all the Quality Health Plans offered through the exchange were required to provide materials in other languages, if more than 5 percent of the potential enrollee population spoke one language.
Undocumented immigrants can apply for preapproval for Emergency Medicaid, and undocumented children under the age of 19 are also eligible for Child Health Plus.
State estimates suggest that 1.5 million to 2 million people in New York State will remain uninsured after the compulsory insurance rollout.
"I think New York State should explore developing insurance products that undocumented immigrants would be eligible for," Vimeo said.
Assembly Member Rhoda Jacobs, of Flatbush in Brooklyn, said she had a large undocumented immigrant population in her district. "I have a school that has about 76 dialects, in one school," she said.
She was concerned that no one had come to her office to ask her about the health care reform.
Marcos Crespo, chair of the New York State Assembly's Task Force on New Americans, said that several assembly members would prepare an open letter to the Department of Health, outlining the concerns that they had heard voiced at the hearing.