Another former Chinese Public Security Department Official Exposes Persecution
June 14, 2005 12:00 am Last Updated: September 8, 2015 7:12 pm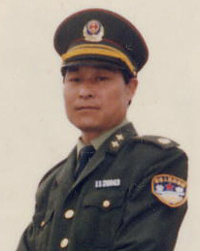 New Zealand – After three former CCP officials publicly spoke out in Australia and revealed that the CCP has been carrying out a brutal persecution of Falun Gong both within China and overseas, Zhong Guichun, another former official from China's Public Security Department, stepped forward with his personal experiences. He confirmed that the CCP's persecution of Falun Gong had begun before July 20, 1999.
Currently, Zhong resides in New Zealand and has already obtained UN refugee status recognized by the New Zealand government. He came forward in response to the courageous acts of the three Chinese officials stationed in Australia in order to provide governments and the public with an understanding of how the CCP carries out its persecution of Falun Gong both in China and overseas.
Zhong Guichun, fifty years old, was formerly one of the heads in the Political Security Office in the Beijing Police Department, a Class II Police Supervisor. [Editor's note: Beijing Police Department has many Sections, each of which has many Offices. Office is at the lowest level in the hierarchy. Class II Police Supervisor is close to Sergeant in New Zealand and Corporal in the U.S.] For many years his work unit's job was to monitor the activities of ethnic, religious, and opposition groups, and qigong organizations.
As Zhong got to know Falun Gong in depth over a long period of time, he felt that Falun Gong was a good practice that could only bring benefits to people and society. Attracted to its profound teachings, he became a practitioner. In March 1994, because he supported and practiced Falun Gong, officials of the Beijing Municipal Public Security Bureau fired Zhong from his position. Zhong became the first person to be persecuted for practicing Falun Gong, and the Bureau never stopped monitoring him.
After the April 25, 1999 incident (the public appeal for Falun Gong at the state appeals office, close to Zhongnanhai), the Beijing Public Security Bureau sent someone to see Zhong. They promised to let him return to his former job in exchange for continuing his former assignment of investigating Falun Gong and collecting evidence for further persecution. Zhong rejected the deal.
On July 20, 1999, the Chinese Communist Party (CCP) officially began the crackdown on Falun Gong, Zhong was fired again and expelled from the Party because he had been in contact with overseas Falun Gong practitioners. He was sent to the brainwashing class in the Tunhe Forced Labor Camp, in Daxing, where he was "reeducated." Since then, officials included him among a category of Falun Gong practitioners who would be sent to labor camps for re-education during "sensitive" dates. In 2003, after a complicated application process, Zhong Guichun successfully left China for New Zealand, where he requested asylum.
Zhong spoke about the actions of Chen Yonglin, the former diplomat at the Chinese Consulate in Sydney, and Hao Fengjun, the former police officer of the 610 Office in Tianjin. He called their actions "righteous acts." Based on his past twenty years of experience working in the Public Security Department, he believes that the alleged claims of both of these former Chinese officials are true.
He said these former officials have forsaken darkness and embraced the light. He supports their actions resolutely, praised them for quitting the CCP, shaking off the evil spirit, and choosing a bright future for themselves. Zhong expressed the hope that all levels of officials in the Public Security and National Security Departments will leave the CCP as soon as possible for the sake of their futures.