*Warning: contains graphic content.*
The Royal Society for the Prevention of Cruelty to Animals is investigating the case of a man seen on video violently kicking a cat.
The RSPCA (England & Wales) announced on its Twitter feed over the weekend that the disturbing incident—which shows the unidentified man coaxing the cat before giving it a savage kick—would be "looked into."
The organization has also called for the public to help identify the person responsible.
Disturbing Video
The stomach-churning video was posted by the Twitter account Protect All Wildlife (@Protect_Wildlife) with the caption, "Let's find this oxygen thief!!!!"

The footage shows the man appearing to be kind to the cat, stroking it behind the ears. He then turns to the camera and smiles before winding up for a brutal kick that sends the cat flying as a "thud" sound is heard.
Someone off-camera is heard laughing hysterically as the cat spins through the air before it lands several feet away before bolting.
It is unclear whether the cat sustained any serious injuries.
"OMG. I hate that Twitter automatically plays films etc. I was totally unprepared for this," one Twitter user commented. "There should be a warning before this plays."
The video has been viewed over 2.4 million times and shared over 15,000 times in a few days.
Another Twitter user argued the video is "inappropriate to put online" and "will only encourage others," to which someone replied, "Hopefully it doesn't. These campaigns are known to be successful at bringing justice to the evil individuals who do this. It would be great if this one is found and charged."
"Sometimes it's important to see that there is evil in the world," another Twitter user wrote, adding, "even though it makes us uncomfortable. If we lie to ourselves and say every human and every inch of the world is wonderful, we shelter ourselves, and we are unprepared for the actual world."
After viewing the disturbing clip, celebrities have taken to Twitter expressed their outrage.
Actress Kirstie Alley wrote: "Omg I would never usually retweet something so hideous .. but if you know this monster PLEASE turn him in!!"
And Comedian Ricky Gervais noted: "I can't decide the best punishment for this dirty [expletive]."
Last year the RSPCA (England & Wales) rescued and collected over 102,900 animals, according to its website, and investigated over 130,700 complaints of cruelty.
Dogs Found Foreclosed Home
Meanwhile, two dogs found caged without food and water inside a foreclosed New Jersey home have made a remarkable recovery after being rescued to a local animal shelter.
A man hired to clean the property found the two dogs—named Fred and Wilma—locked in a crate, according to Jennifer Vuocolo, assistant executive director of the Associated Humane Societies.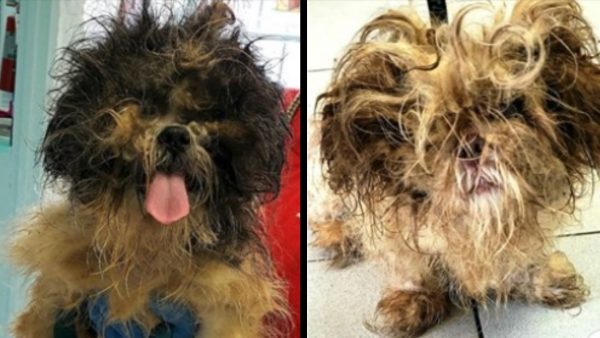 "The first thought that comes to mind when you see pictures like this is, 'How could they?' the Associated Humane Societies Newark (AHS-N) asked in a Facebook post. "How in the world could someone do such a thing to innocent, defenseless animals?"
When the two Shih Tzus were found, they bore signs of neglect, Vuocolo told The Epoch Times.
"The man brought them to AHS, they were covered in urine and feces; one of the worst cases our groomer has ever seen."
She said the dogs are estimated to be about 7 years old.
"They were so matted that they were barely recognizable as dogs," shelter officials noted.
The dogs were said to have been left behind by their owners, who abandoned them as they vacated the foreclosed home.
"They were likely obtained as puppies and doted upon when they were tiny, cute little pups. Hopefully, they enjoyed good treatment and experienced love from the family that owned them. But good treatment and love was far from what they were given when their family lost their home, and upon leaving the house, they locked Fred and Wilma in a crate and left them behind," AHS-N wrote.
After the dogs were brought to the shelter, they were cleaned up and given a medical exam.
"Both have some medical issues that are being tended to and our hope is that once they are feeling better, they will find a home with a family that will love them, spoil them, protect them, and never, ever, leave them behind again," shelter officials said.
"Fred and Wilma are incredibly sweet, loving, and ready to put their past behind them. They are bonded and we want to find them a home together," Vuocolo told The Epoch Times.
She said the shelter is requesting donations on behalf of the two dogs and other animals in need of care.
"This makes it possible for us to continue to rescue and care for cases of extreme cruelty and neglect just like these two darling Shih Tzu dogs," she said.