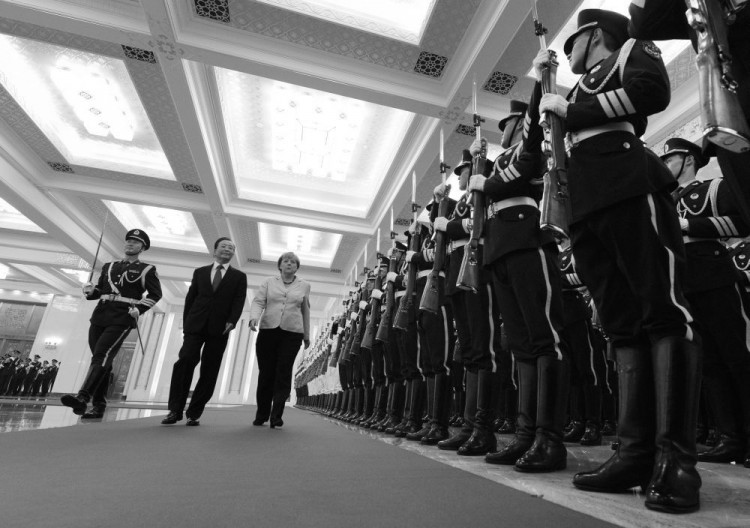 When foreign government officials visit China, disgruntled Chinese petitioners often try to slip through security, hoping for a chance to plead their cases to the foreign official as a last resort in seeking justice. Such a situation happened during German chancellor Angela Merkel's visit to the Forbidden City in Beijing, according to a Chinese journalist.
Posts appeared on Weibo, China's version of Twitter, that during Merkel's visit to the Forbidden City on the morning of Aug. 31, an unexpected protester appeared and handed over documents about stolen artifacts from the ancient palace. The Weibo posts were quickly removed.
"An employee of the Forbidden Palace broke through the security and handed a complaint to the German chancellor's team. The person was taken away by security guards," Long Can, a journalist from Sichuan Province, said on his Weibo page.
Several other well-known Weibo users posted the same message, human rights activist Sun Wanbao among them.
When reached by telephone on Sept. 2, the Forbidden City museum office said they "knew nothing about it."
The Forbidden City, which served as the royal palace to different Chinese dynasties until the early 1900s, has suffered from pillaging and other scandals in recent years. 
In July 2011, state media reported unexplained damage to a rare thousand-year-old plate on display at the Forbidden City's museum. 
In August 2011, state-run media Jinghua Times published letters by employees of the museum, saying that over 100 historical books, some of them dating as early as the Ming Dynasty (1368-1644), had disappeared since 2007, and many were stolen by museum employees. 
Zheng Xinmiao, the head of the museum, resigned last January. 
Many Weibo posts remarked on the irony that employees of the Forbidden City turned to a western head of state for help, as Chinese leaders have ignored the situation.
"As the value of our historic relics rise, the Forbidden City's artifacts are targeted by certain people," Long said on his blog.
Read the original Chinese article.
The Epoch Times publishes in 35 countries and in 19 languages. Subscribe to our e-newsletter.