Analysis of the True Death Toll of Swine Flu Epidemic In China
January 7, 2010 3:22 pm Last Updated: October 1, 2015 9:00 pm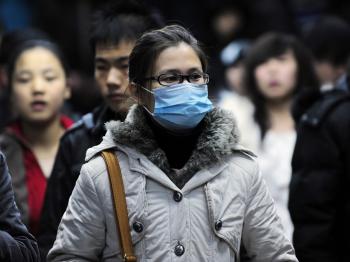 Contrary to its propaganda, "Don't be afraid of the H1N1 flu, which is preventable, controllable, and treatable," the Chinese Communist Party (CCP) is hiding the real nature of the epidemic by treating it as a "state secret" and keeps mortality figures "strictly confidential."
Now, although Beijing has admitted that a large number of patients with H1N1 flu appear in almost every part of China, no exact statistics are available for overseas experts to make a possible estimation of the trend of the real mortality of H1N1 flu in China.
It is not believable that only 648 people have died of H1N1 flu in China, according to Jan. 3 data provided by the Chinese regime. Some have estimated that the real death toll is probably several thousand.
The following analysis shows that the public could again be deceived by the regime as it did in the SARS outbreak in 2003.
Low H1N1 Mortality Rates in United States
The global experts generally agreed that the H1N1 flu is a mild flu similar to normal seasonal influenza.
Influenza mortality rates adopted by the United States is examined by "excess mortality" in accordance with international practice, which includes the mortality of those originally suffering from other diseases but losing their lives due to H1N1 flu. Such statistical analysis is very different from that adopted in China, where only the deaths caused directly by H1N1 virus are included in the mortality statistics.
H1N1 Flu Treatment Delayed by the CCP
What happens in American is definitely not the case in mainland China. According to a survey by New Epoch Weekly, many H1N1 flu cases were misdiagnosed and treated as pneumonia, myocarditis, or meningitis in Chinese hospitals before December 2009. Some died even after spending tens of thousands of dollars.
Recent reports by The Epoch Times, New Tang Dynasty TV, and Sound of Hope Radio Network show that presently in China, only a small number of assigned medical centers among the provincial top-level hospitals can treat patients with H1N1 flu, and the fever wards of these hospitals can only accept tens of thousands of patients. They simply cannot meet the admission requirements of 2.6 million. This number of H1N1 patients is discussed below.
Global studies have found that the virus can invade deep into the lungs. In some cases, patients have to be put on ventilators. However, many Chinese hospitals are not equipped with ventilators, which are expensive. Especially in general civil, county, district, or village hospitals or medical centers basic funding is lacking.
Due to the regime's propaganda, in China many people have little knowledge about the possible lethality of H1N1 flu. For a large number of poor Chinese, treatments are postponed as infected people worry about missing work while being treated or worry about the expense of treatment. Even in cases of very serious illness, many may still chose to stay at home without taking any medication. It is known that the treatment for mild H1N1 flu will cost about $90, and for severe cases, treatment can cost $10,000 or more. For some patients, even if they were admitted to the hospital, it will be too late, and they could not be saved.
Serious cases of H1N1 flu develop so rapidly that patients can die within in two days from the onset. For example, four young policemen from Xuanwu District, Beijing Public Security Bureau, died two days after showing flu symptoms, according to a report Dec. 18, 2009, by The Epoch Times. An anonymous doctor from Guangxi Yulin City Hospital revealed that 4 or 5 H1N1 inpatients die daily.
At Least 2.6 Million Should Receive Inhospital Treatment
On Dec. 8, 2009, Harvard School of Public Health (HSPH) published a report in PLoS Medicine that, according to H1N1 flu statistics from April to November 2009, in New York City and Milwaukee, Wis., 1.44 percent of the infected population would need timely inhospital treatment and 0.24 percent of that population would need intensive care. Otherwise, their lives would be in danger.
On Dec. 17, 2009, Fang Laiying, chief of Beijing Municipal Health Bureau, announced to the media at the Annual Meeting of Pharmacy China 2009: "Currently, Beijing has 2.3 million people vaccinated, close to 10 percent of the population in Beijing. In addition, 14 percent of people have been infected or suffered from the H1N1 flu virus, and they have had antibodies to H1N1 flu."
If 2.3 million is 10 percent of Beijing's population, then Beijing's total population is 23 million. Even we use the number to 20 million, 14 percent infected by the virus indicates that the number of infections should be 2.8 million, 280 times the number 10,000 announced by the official report. Regardless of Fang's explanation that many patients did not want to go to hospitals, it shows the official statistics are absolutely incompatible with the actual situation. In fact, Chinese sufferers complained that hospitals have refused the necessary tests for patients with suspected symptoms of H1N1 flu.
Assuming H1N1 virus has not mutated in China and the viral toxicity is not much different in various populations, it can be assumed that 1.44 percent of 14 percent of 1.3 billion people (the population of China) would need intensive care for H1N1. In other words, 2.6 million people were infected by the H1N1 virus before December 2009 on the mainland and needed hospitalization for treatment. Otherwise, they would have been at risk of death.
The above numbers are closer to the estimation of Dr. Zhong Nanshan, director of the Institute of Respiratory Disease, the First Affiliated Hospital of Guangzhou Medical College, and a professor at the China Engineering Academy.
"It is believed that during a peak period of the epidemic in China there will be 130 million to 260 million, 10 to 20 percent of the total population [of China] infected, among which 8 million to 17 million cases will require inhospital treatment," Dr. Zhong Nanshan said to Guangzhou Daily.
The 1.44 percent of the infection in the United States only indicates the statistical results of the current infection rate, but does not include the predicted data during the epidemic peak period.
Likewise, the current infection rate of H1N1 virus in China is close to the peak rate expected by relevant experts. So the number of 2.6 million before December 2009 in the mainland that required hospitalization probably corresponds to the total number of 8 million to 17 million H1N1 cases, which Dr. Zhong predicted.
Experts believe that there is no effective medicine for H1N1 flu. It is crucial to fight the epidemic by enhancing individual immunity.
Possible Cover-Up
When talking about a cover-up, we have to mention what the regime did during the SARS outbreak in 2003. The then-regime leader Jiang Zemin ordered that wherever there were SARS cases, the local cadre would be removed from their posts if they reported them, which effectively eliminated reporting on the the number of SARs patients in China at the time.
Judging from overseas Chinese media reports, such a cover-up may have happened again. For example, in a recent Epoch Times report, four policemen from Xuanwu Police Bureau in Beijing were admitted to a hospital and died quickly on Dec. 18. However, no one said anything about their deaths for three days. Their families and friends initially thought they were still being treated and recovering.
The regime has also promised that the government would pay the medical expenses of H1N1 victims. Facing such a large number of patients, it would be impossible for the regime to keep such a promise.
So, in the local cadre's eyes, a cover-up seems the best solution financially and politically.
Read the original Chinese article.