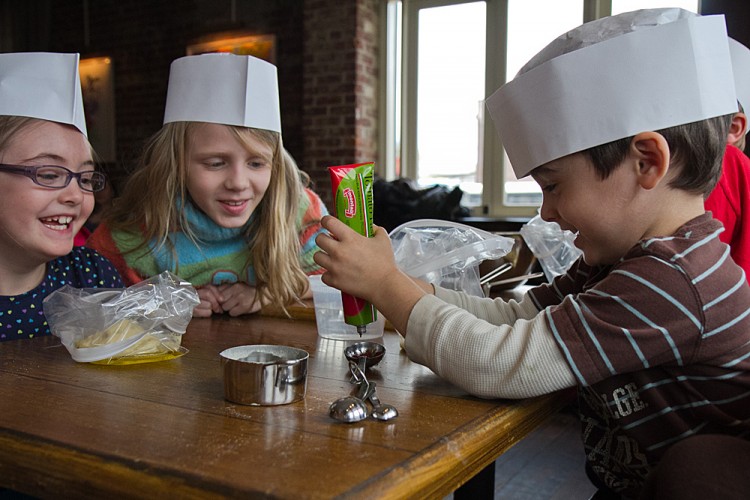 Getting children excited about healthy food is not always easy. But with the zesty sound of children gleefully yelling "yea!" in unison throughout the class "Allergic to Salad" on April 10 in Queens, creator Stacey Ornstein appears to have found the recipe for success.
"I think everyone here was eating it and enjoyed it, so I would say that is a success," Ornstein said after the class.
During the inaugural class, 13 kids, ages 4–10, made "pasta-in-the-bag." Ornstein walked the children through mixing the ingredients—semolina flour, olive oil, water, salt, and either tomato or spinach—into a bag.
They kneaded the dough and then rolled it out with a rolling pin, which proved more difficult for the younger children. Finally, they used cookie cutters to cut fun pasta shapes. Boiling the pasta was left for the adults.
"Kids can help out in the kitchen much more than parents often realize," Ornstein said.
[etssp 547]The class goes beyond just running through a recipe. Ornstein educates children about cleanliness, kitchen tools like measuring cups and measuring spoons, and why each ingredient was important.
At the end of the class, Ornstein asked what they liked the most and they yelled, "Shaking the bag!" and "Eating it!"
The Allergic to Salad class was offered free thanks to IOBY, a nonprofit connecting people in their community with resources to make change.
Ornstein, who taught food and nutritional education with Spoons Across America in 2007, said parents were asking her about local classes. She was hesitant to organize a paid class because she did not want to exclude any income levels.
Getting funding through IOBY "is the only reason why this project can currently exist. So it is tremendously important. Without IOBY right now, I would not have been able to have this class and I will not be able to have future classes. Hopefully it is something that can keep going," Ornstein said.
Allergic to Salad has one more class scheduled, an April 22 session for 2-to-3-year-olds.
IOBY will host a fundraising dinner called Pinot en Blanc on April 19 at 6:30 p.m. at iCi Restaurant in Fort Greene, Brooklyn. The proceeds from the dinner will go to support all projects, like "Allergic to Salad," that have a focus on increasing healthy access to healthy foods for New York City's youth.
Ornstein will be on hand to explain her project at the adults-only event, which will feature wines from ROCO Winery and locavore cuisine from chef Nate Courtland of iCi Restaurant.