All-Square Ending to Inaugural EurAsia Cup
Golf—Eurasian Cup
April 2, 2014 10:31 am Last Updated: May 24, 2016 11:09 am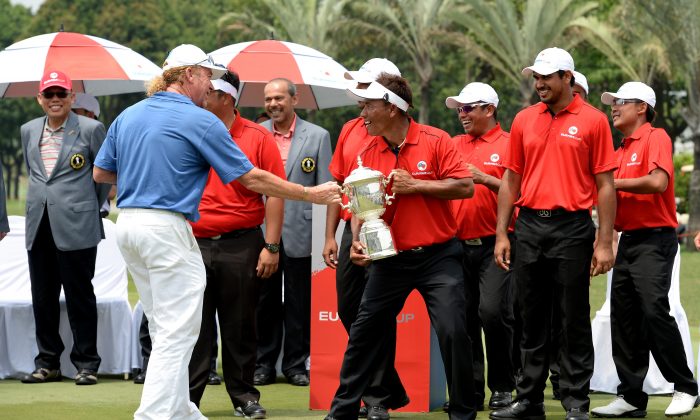 The inaugural EurAsia Cup a "Ryder Cup" format team match between Europe and Asia ended in shared honours 10-all at the Glenmarie Golf and Country Club, Kuala Lumpur, Malaysia, on Saturday March 29.
This 3-day event comprised: 5-Fourball matches on Day-1; 5-Foursome Matches on Day-2; and 10-Singles Matches on Day-3. With 1-point for a win and a half-point for a tie, there were a total of 20 points up for grabs.
Asia fared badly on the first day losing all Fourball matches and going 5-nil down.
In the Foursomes on Day-2 two matches were halved and three matches won (two by Asia and one by Europe) giving Asia a 3-2 advantage and making the overall total 7-3 to Europe after the two days.
On the final day of 10-singles Asia made a great comeback—winning 6 matches and losing two, with 2 matches halved.
The score stood at 9½-9½ with the result of the last pairing between Spain's Gonzalo Fernandez-Castaño and Hideto Tanihara of Japan left to decide the overall result. After a to-and-fro contest the game ended in a draw bringing the overall result of the contest to the 10-all tie.
Asia's Captain, Thongchai Jaidee, who led the Asia comeback winning at three holes up with two holes to play over Graeme McDowell, was proud of his team's efforts.
"Every member of my team was a hero today," he said. "Everyone played really well, but the match itself was unbelievable. It was a great finish and to end the contest on the final holes in the final match. I've never seen anything like it. It was amazing."
Miguel Angel Jiménez, Captain of the Europe side, who holed an eight foot birdie putt on the final green to overcome Nicholas Fung in the first Singles match agreed.
"It was tough for us today but it was an amazing day of golf and the Asian team played very well," he said. "All the European players gave everything they had and I have respect for them all—it was a pleasure to be here with them this week."
It is planned for this to be a bi-annual event with the Malaysian Government already committed to hosting the next two editions of the EurAsia Cup in 2016 and 2018. This ensures that the event will be a continuing part of the pro-tours and further cements the growth of golf in Asia.