Airport Workers Call for Higher Wages
November 26, 2013 8:43 pm Last Updated: November 26, 2013 8:46 pm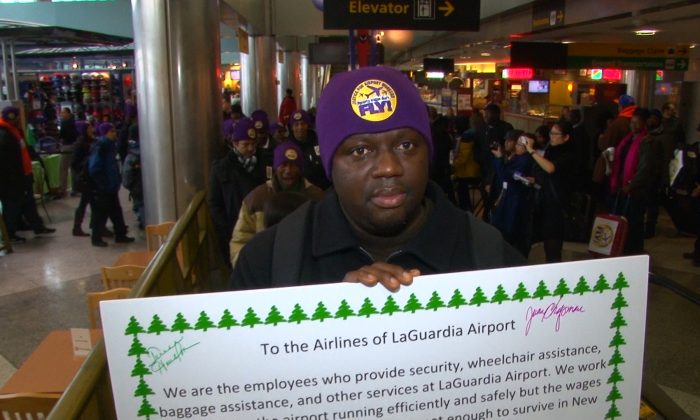 NEW YORK—Thanksgiving is this week, but many airport workers feel that they have little to be thankful for this year.
On Tuesday, airport workers employed by contractors at the three major airports in the New York Metropolitan area held a rally at LaGuardia Airport to protest poor working conditions, low wages, and a lack of respect in the workplace.
Those protesting work mainly in security, baggage handling, and cleaning. Shaheen Khan, a security worker at LaGuardia Airport, said that it is impossible to support his family on his current wage. He holds a part-time job in order to make ends meet.
"Fifteen to 16 dollars, plus benefits, then we can survive. Otherwise we can sleep on the street as soon as possible," Khan said.
Tuesday's protest began at the food court in Terminal B at LaGuardia Airport. The protesters planned to march from the food court across Terminal B to American Airlines, where they would deliver a signed petition asking for a living wage, access to affordable health care, adequate equipment and resources, and safe working conditions.
"We have no insurance or anything, just minimum wage," said Anarfi Acheampong, a security employee at LaGuardia Airport.
Those gathered work for contractors including Airway Cleaners, Allstate Maintenance, and PrimeFlight, serving LaGuardia, Newark, and JFK airports.
Though the workers are not unionized, their protest was supported and led by members of 32BJ SEIU, the largest property service union in the country. According to 32BJ member Michael Allen, protests began back in 2011.
Council member-elect Costa Constantinides attended to support the workers. LaGuardia Airport is located Constantinides's district.
"I'm standing with the workers," Constantinides said. "I don't think the travelers that pass through this airport everyday realize that the people that keep them safe, the people that clean the airport, the people that clean the jets themselves are working under these conditions."
The protesters only marched a few steps before police stepped in. They were told that marching in the airport was unauthorized and were directed outside to the passenger pick-up and drop-off area.
Workers said their goal was not to delay the passengers, but to have their voices heard. They hope to stir up as much attention as they can by protesting before Thanksgiving.
"It's a higher flow of crowd, we're expecting to get everybody's attention so they can know our position," said Carol Cort, a security employee at JFK Airport.
Yi Yang is a special correspondent in New York.