China Southern Airline Shareholders Protest in Beijing
June 25, 2009 9:08 am Last Updated: July 4, 2009 9:09 am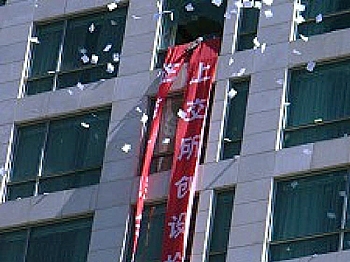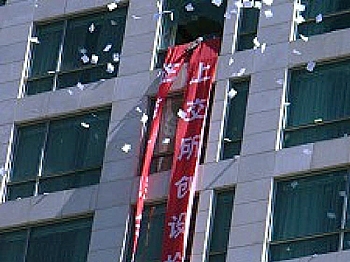 More than 20 shareholders of China Southern Airline Company protested in front of the China Securities Regulatory Commission on Beijing's Financial Street early in the morning of June 22. One man even hung banners and threw flyers from a nearby 23-story building. About a dozen police cars quickly moved in to contain the protesters and took the man away.
According to the protesters, they are shareholders of China Southern Airline who have suffered enormous losses as a result of a fraudulent and illegal trading practice by the Shanghai Stock Exchange and other securities companies. They want their hard-earned money back.
Protesters have posted their complaints in different places, and claim they will spread their message across the entire nation if the government does not give them back their money.
An Epoch Times reporter interviewed one of the protesters who said, "At about 8:40 a.m. this morning, Zhang Yunpeng, one of the shareholders from Helongjian Province, hung banners from a room on the 15th floor of a 23-story building near the International Exhibit Hall on Financial Street. His banners read 'Shanghai Stock Exchange Commits a Financial Crime,' 'China Securities Regulatory Commission Covers up for Corruption and Malfeasance,' and 'Give Me Back My Hard-Earned Money.'" He also threw tens of thousands of flyers into the street, 'Give us back our hard-earned money. I defend my rights with my life.'"
One protester said, "Most of us who came to Beijing today are out-of-towners. There were two dozen protesters. The police were quick to respond. About a dozen police cars arrived within several minutes. Then there were even more policemen."

According to the protesters, the man who was taken away by the police was Zhang Yunpeng. Zhang and his parents lost their life's savings in China Southern Airline's stocks due to an unethical trading practice conducted by the Shanghai Stock Exchange and other securities companies. About one hundred shareholders, including Zhang, have been fighting unsuccessfully with authorities to get their money back since the beginning of 2008.
The Epoch Times reporter called Zhang's cell phone, but no one answered.
According to protesters, in a joint effort, the Shanghai Stock Exchange and 26 other securities companies, including Citic Securities and Haitong Securities, violated ethical trading practices and created counterfeit China Southern Airline stock, which resulted in a stock dilution from 1.4 billion shares to 12.3 billion shares causing a dramatic drop in the stock's value from more than 2 yuan (US$0.29) per share to 0.3 yuan (US$0.0044) per share. Shareholders have suffered great losses in their investment, while the 26 securities companies have made an illegal profit of more than 30 billion yuan (US$4.39 billion).
Read the original Chinese article