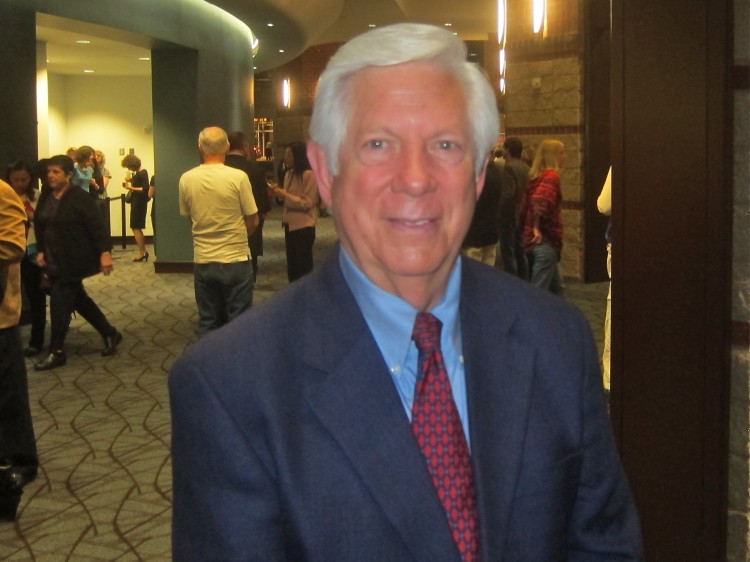 GREENVILLE, S. C.— Shen Yun Performing Arts Touring Company visited Greenville for the first time March 1. Bob Nations, who owns an advertising agency, saw the company at The Peace Center, a new, state-of the art theater downtown.
As part of the job, an advertising executive would see a lot of innovative presentations but Shen Yun was beautiful and full of surprises, Mr. Nations said.
The artists of Shen Yun come from all over the world, and according to the program "draw their inspiration from China's 5,000 years of civilization."
"We believe this previous heritage is a gift worth keeping, and worth sharing with all of you," the program says.
Mr. Nations enjoyed the surprise of seeing performers emerge from the projected backdrop.
"So far it's been beautiful," he said during a break in the show. "I particularly liked the visual effects, and then pictures were coming to life, with them coming down and then coming on to the stage, coming to life as live individuals."
Shen Yun uses state-of-the-art graphics technology and a digital-backdrop team "to create vivid animated settings, extending the stage and transporting the audience to a world where heaven and earth are one," their website says.
The advertising executive said he had never seen anything done that way before and was impressed. "I thought that was pretty neat … It was great."
Mr. Nations bought tickets assuming that Shen Yun was visiting from mainland China but by intermission, he had learned more about the New York-based company's background.
According to the program, a dance called The Choice tells the story of good friends, a young man and woman, who part ways after he is recruited to join the police force. The woman begins to practice Falun Dafa, following the principles of Truth, Compassion and Tolerance. Later, the young police officer sees a group of Falun Dafa followers being brutally beaten by police on Tiananmen Square. He must make a choice.
"I was really surprised because initially I thought this show was from mainland China, and I did not understand how they were getting away with this, then when they explained … it all made sense," said Mr. Nations.
The bilingual masters of ceremonies describe the mission and provenance of the company early during the performance. Many of the performers are ethnic Chinese born in the west, according to host Leshai Lemish.
Mr. Nations said Shen Yun was not only beautiful, but had piqued his interest.
"I'd recommend it to anyone out there. It was really, really good."
Reporting by Kelly Ni and Mary Silver.
Shen Yun Performing Arts, based in New York, tours the world on a mission to revive traditional Chinese culture.
For more information, visit ShenYunPerformingArts.org.
The Epoch Times is a proud sponsor of Shen Yun Performing Arts