Activists Want Answers About China's Water Safety
July 4, 2013 6:05 am Last Updated: July 3, 2013 9:04 pm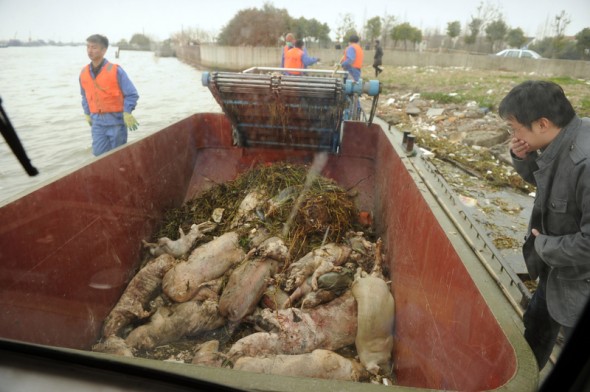 Tired of waiting for a response to questions about last year's new drinking water standards, a group of citizens in Nanjing are getting active, and pointedly asking for answers from the local Communist Party official in charge of water quality.
Referring to last year's new safety standards for drinking water, and rumored nationwide municipal testing, the citizens want some updates from officials. They want to know if their city water has passed the tests, said Radio Free Asia.
The new and more stringent standards, issued last July 1, increased the number of water quality tests from the original 35 tests to 106 mandatory purity tests. The problem is, that since then there has been no further news. This is the first update to national water quality standards since the 1950s.
Cheng Yuan, head of the community action group Nanjing Citizens Under Heaven, said officials had sent some information, but not all of what they had requested. They are particularly interested in a report that was produced, but not made available to the public.
"Actually, the thing we really wanted to gain from this was to establish the right of the public to know what is going on," he told Radio Free Asia.
Citizens in Nanjing are not the only concerned citizens. Huaihe River activist Huo Daishan is concerned that the recent tests done on that river showed "serious" levels of pollution, he said to Radio Free Asia.
Reports that sewage was discharged directly into a major drinking water source for Beijing rattled citizens this month, as did news that a policeman contracted a serious lung infection from diving into polluted water to rescue a young girl.
The World Health Organization recently estimated that nearly 100,000 people die annually from water pollution-related illnesses in China, and 75 percent of disease in China is linked to poor water quality, reports NGO Pacific Environment. They say that spills such as the Songhua River petro-chemical plant explosion disaster in 2005 are not rare in China, but such accidents and cover-ups can provide an opportunity to pressure the Chinese Communist Party to change its approach to water pollution problems and reporting.
Lack of transparency on the part of officials has caused much public distrust. "I would advocate data-sharing and transparency in reporting data," says Zheng Chunmiao, director of the Center for Water Research at Peking University in Beijing, speaking to Nature magazine. "Without this, people will be anxious."