A Quarter of India's MPs Have Criminal Charges
Group warns voters as elections ramp up
July 30, 2013 6:34 am Last Updated: July 29, 2013 3:54 pm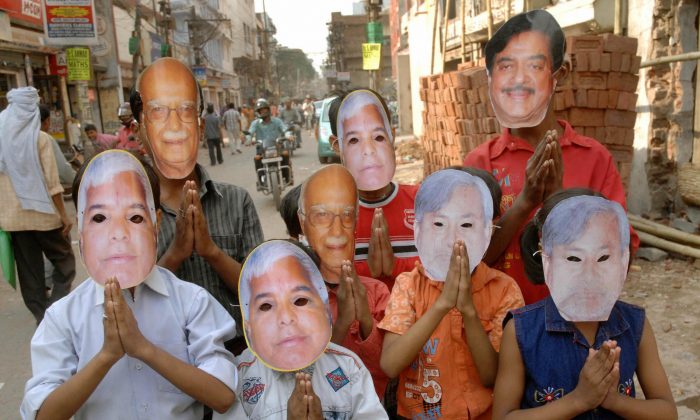 PUDUCHERRY, India—According to a report by political reform advocates in India, 30 percent of sitting members in India's lower house of parliament and 17 percent in the upper house of parliament have pending criminal cases against them. That means, in total, 23.5 percent of the parliament has criminal charges.
The report, released by the Association for Democratic Reforms (ADR) and National Election Watch (NEW), also mentions that 18 percent of the total candidates who have run in national or state elections in the past ten years in India have had criminal cases against them. Of this 18 percent, 8 percent have faced serious criminal charges. 
The country is getting ready for state-level elections in Delhi, Rajasthan, Madhya Pradesh, and Jammu Kashmir this year and for national elections next year. Campaigning for the national elections will soon start, and the pro-reform organizations are working hard to help voters make judicious choices.
"We work to improve the governance system in India through political reforms," said Anil Bairwal, the National Coordinator of ADR. "Through such reports and analysis, we are trying to put pressure on political parties to change," he said. 
According to Bairwal, reports have indicated that there's a direct link between criminality and asset increase after entering office in these cases. "Our reports have shown that there's more increase in personal assets of those who had criminal records and were elected. The asset increase in the case of those elected with serious criminal cases is even higher."
ADR analyzed the average individual asset increases experienced by members of parliament and of the legislative assemblies when they entered office. It analyzed the assets of 2575 members of these bodies since 2004. The average increase experienced by all members was 1.37 crores ($62,800). Those with criminal charges, however, had asset increases of 4.3 crores ($724,600) on average after entering office; those with serious criminal charges saw an increase of 4.38 crores ($738,100) on average. 
"Reports also help to make the public aware of the kind of repercussions such a political system has," Bairwal said. "When political parties are aware that the candidates have criminal cases pending against them, they shouldn't give them tickets to run in the elections," he said. 
An ADR analysis of the criminal records of 4181 repeat candidates shows that 1072 of them had a criminal case the first time they ran in an election, and 788 also had cases the second time.
"This means political parties gave tickets to 74 percent of candidates with criminal records the second time also, despite having information on their criminal background from previous elections," said the ADR release.
The total number of candidates with criminal cases increased in the second round analyzed, as there were 507 candidates (out of 4181) who showed no criminal cases in the first run, but declared cases in the second round of elections.