61 Confirmed Tortured To Death In Month Of August Alone
September 6, 2005 12:00 am Last Updated: September 6, 2005 12:00 am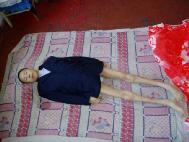 Every case is a bloody debt incurred by the Chinese Communist Party (CCP). According to the most recent statistics from Minghui.org, 61 Falun Gong practitioners were confirmed to be tortured to death in mainland China during the month of August. Each of the 61 cases has been verified through non-government channels. Since the persecution of Falun Gong began on July 20, 1999, 2800 practitioners have been tortured to death in camps and detention centers that have been set up throughout China as part of the CCPs overarching plan to eradicate Falun Gong from the country.
Of the 61 death confirmed last month, the youngest was 21 years of age. Forty-one percent of the victims were women and 54% were over the age of 50. The deaths occurred in 17 different provinces throughout China.
30-year-old Wu Chunlong from Jiamusi, is one of the dead. For some time prior to his death he had been detained at the Jiamusi Labor Camp, where he had been starved into a skeleton. One day in April, he simply passed out and could no longer function. When he arrived back home, he recovered a little under the care of his family and relatives. However, under intensive police surveillance, harassment, and intimidation, his severely taxed system could no longer bear the constant emotional and physical stress, so he died on August 20, 2005.