40 Survivors Rescued 16 Days After Sichuan Earthquake
May 31, 2008 12:00 am Last Updated: May 31, 2008 12:00 am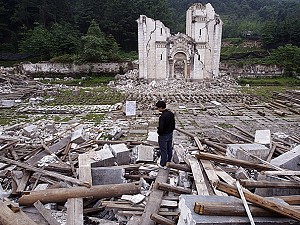 BEIJING—Forty half-starved earthquake survivors were rescued from a remote area in southwestern China 16 days after the Sichuan earthquake, state-controlled media reported on Thursday.
They were flown out by helicopter from the quake-shattered village of Yangjiagou in Sichuan Province, according to a report in the Huaxi City Daily.
Landslides triggered by the 8.0-plus magnitude earthquake on May 12 had blocked roads in the rugged region, making it difficult to reach the trapped survivors in the village.
The survivors, who included local villagers and a group of mining company workers, were flown to a nearby temporary camp for earthquake survivors.
According to a Government spokesman the earthquake has claimed 68,516 lives, injured 365,399, and 19,350 are still missing. More than 15,000,000 people have been evacuated from the affected areas.
Yangjiagou village is 12 miles from the nearest town.