Western Australia (WA) has seen an unusual surge of tremors with a magnitude 4.7 earthquake forming the largest of the nearly 70 recorded in the last three weeks.
However, experts say the cause of the swarm is unknown, with the possibility of a larger event in the near future not out of the question.
"There's no good explanation as to why swarms occur," GA senior seismologist Tania Pejic told 6PR. "So they're really poorly understood."
The 4.7 magnitude rumble was recorded 30 kilometres (20 miles) west of Wagin in the early morning of Jan. 25, but was felt as far away as the state's capital, Perth, around 230 kilometres north-west.
Residents of Wagin reported having been woken up after their bed began to shake, along with experiencing wobbling roofs and rattling windows.
According to the residents, tremors had been an ongoing occurrence over the last several weeks. The region has already recorded 69 events—most between a magnitude of two and three—with the first occurring on Jan. 5.
While the south-western part of WA is one of the most seismically active areas in Australia, swarms remain unusual, with sequences of quakes typically only occurring as aftershocks after a larger, main event.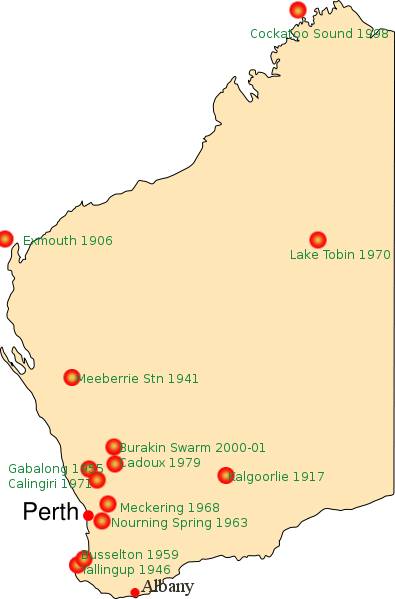 "What they are is a big number of earthquakes occurring over a short period of time without any discernible mainshocks," Pejic said.
"We've recorded over the past week in excess of 30 earthquakes of magnitudes around two or three," she said. "This one so far is the largest that we've recorded, and we have already recorded some aftershocks of this earthquake."
Pejic said it was unknown whether earthquakes larger than the 4.7 magnitude recorded would occur in the future.
"Unfortunately, we don't know. We can hope that it's the peak of the swarm … We can't say anything about whether this will now be followed by small earthquakes, or if there will be a larger one. The likelihood is low for that to happen, but we can't entirely exclude that possibility," she said.
Capturing the events was aided by new seismic recording stations that were installed in 2020 after the Lake Muir earthquake sequence in 2018.
The incident saw a 5.7 quake on Sep. 16, 2018—the largest recorded earthquake south of Perth since records began—which was felt through south-west WA and parts of Perth.
Damage occurred to structures near the epicentre and 700 aftershocks had been recorded, including a magnitude 4.6 and 5.4 within the two months following.