Three Texas prisons were evacuated over Hurricane Harvey, according to the Texas Department of Criminal Justice (TDCJ).
Some 4,500 inmates were moved elsewhere as heavy rains lash southern Texas.
The Ramsey, Terrell, and Stringfellow Units in Rosharon were evacuated, according to a press release from the agency. The prisoners were loaded on TDCJ buses and were sent to East Texas prisons—along with corrections officers and other staff.
The inmates will be able to call home, but they won't be able to receive visits at this time.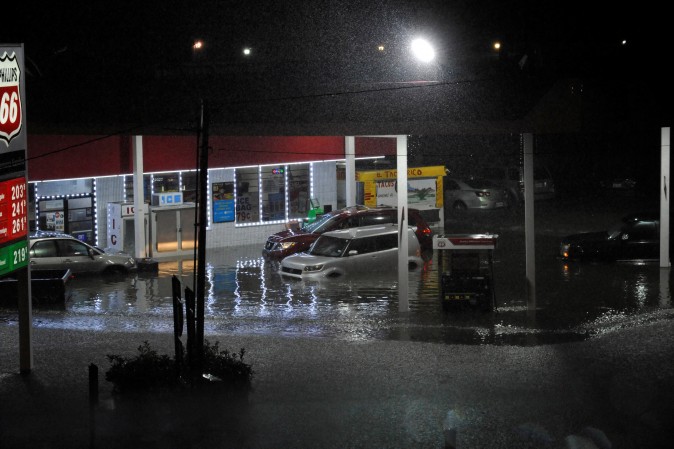 High-risk parolees were moved to facilities out of the Houston area, according to TDCJ.
"We're doing everything we can to make sure everybody's safe while the evacuation process is being carried out," Robert Hurst, a public information officer who is with the criminal justice department, told the New York Times. He didn't elaborate on how long the order would last.
The prisons, specifically, were evacuated as nearby Brazos River is rising from Harvey's heavy rain, AP reported.
Harvey came ashore as a Category 4 hurricane—but as of Sunday, it had weakened and is now a tropical storm. However, it is still bringing heavy rains and flooding in the area.
"This is something that we prepare for each year. Our command center is operating around the clock and we stand ready," Bryan Collier, who is the director of the department, said in a statement, as reported by the Times.
Here is the TDCJ press release on the evacuation order:
Officials with the Texas Department of Criminal Justice announced on Saturday that the Ramsey, Terrell, and Stringfellow Units in Rosharon will be evacuated as the Brazos River continues to rise because of considerable rainfall from Hurricane Harvey. The units will be evacuated beginning Saturday morning. The evacuation will affect approximately 4,500 inmates assigned to the facilities. The offenders are being transported by TDCJ buses, and are accompanied by correctional officers and other staff members who have reported to work to assist in the evacuation. Offenders assigned to the units will be sent to facilities in East Texas. These evacuated offenders will not be available for visits at the designated receiving units, but will have the ability to use the offender telephone system.

TDCJ officials continue to monitor the situation and are working with our state partners as Hurricane Harvey makes its way across Texas.

An emergency command center in Huntsville was enacted on Thursday and is operating 24-7
Additional food and water has been delivered to receiving units
Sandbags have been filled and delivered to affected units
Medical staff is available to provide care to special needs offenders
Additional staff has been called in to help affected units

Offender families may contact TDCJ's 24-hour hotline at (936) 437-4927 or 1-844-476-1289 to obtain information about an inmate.