A horse was spotted tied down to the bed of a pickup truck as it was heading 70 mph down a road in Texas.
A woman took a photo of the incident via her phone, saying the animal had difficulty standing still, ABC13 reported on March 11.
Police eventually pulled over the driver of the truck, which was spotted in Corrigan on U.S. Route 59.
Officials didn't issue a citation to the truck driver because there is nothing illegal about how the horse was being transported, according to the report.
Police told ABC13 that the driver was on his way to work at the Stockyards, adding that he typically drives another truck to transport the animal. However, it wasn't starting so he was forced to load the horse into the back of another truck.
The horse was safely taken to the Stockyards, the report noted.
Uh….. https://on.khou.com/2VNxNha

Posted by KHOU 11 News on Monday, 11 March 2019
Adding that the horse is well-trained, police said it is worth about $15,000.
KHOU reported that a Texas trooper pulled over the driver at a Whataburger restaurant.
As a video of the horse went viral, many people questioned the safety of the transportation method.
"His reins are being held through the back windshield, dangerous though," Natalie Kent wrote on KHOU's Facebook page.
"Isn't this animal cruelty?" asked one woman.
Driver caught on video transporting horse in back of regular pickup truck https://t.co/9F2NFTTSow pic.twitter.com/SfZG3mE8Ap

— KHOU 11 News Houston (@KHOU) March 11, 2019
Another man declared, "Arrest that man. Confiscate the horse."
"I in no way condone this at all. But….this is about the most Texas … picture I have ever seen. A cowboy getting pulled over at Whataburger by a state trooper hauling a saddled horse in a pick up truck," one woman wrote.
Several people offered jokes while some said it's not a big deal.
Video: Horse stands in bed of moving truck https://t.co/6R5FncOCCp @FOX26Houston pic.twitter.com/Y9Nu3ad382

— FOX26Houston (@FOX26Houston) March 11, 2019
"Does his truck get extra horsepower because of this?" asked one man.
"Perfectly fine…. city folk freak out about everything," another wrote.
Scientists Explain Why Zebras Have Stripes
Scientists are providing new evidence to answer the age-old question about why zebras have stripes. It appears stripes make terrible landing strips, bamboozling the fierce blood-sucking flies that try to feast on zebras and carry deadly diseases, Reuters reported.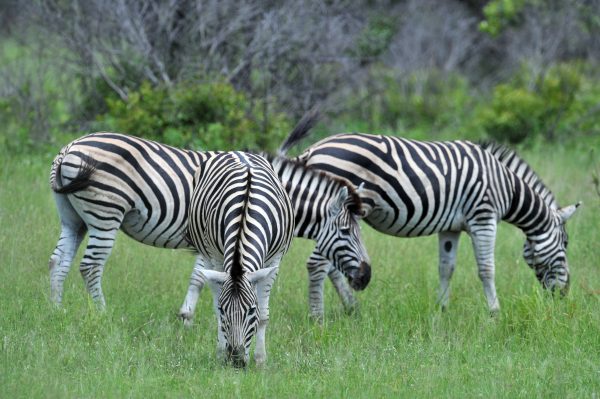 Researchers on Feb. 20 described experiments demonstrating that horse flies have a difficult time landing on zebras while easily landing on uniformly colored horses. In one experiment, the researchers put cloth coats bearing striped patterns on horses and observed that fewer flies landed on them than when the same horses wore single-color coats.
"We showed that horse flies approach zebras and uniformly colored horses at similar rates but that they fail to land on zebras – or striped horse coats – because they fail to decelerate properly, and so fly past them or literally bump into them and bounce off," said behavioral ecologist Tim Caro of the University of California-Davis, lead author of the research published in the journal PLOS ONE.
Close cousins to horses and donkeys, the world's three zebra species, known for their black-and-white striped bodies, roam Africa's savannas eating a variety of grasses. Their stripe patterns vary among individuals, with no two alike.
There had been four main hypotheses about the advantages zebras accrued by evolving stripes: camouflage to avoid large predators; a social function like individual recognition; thermoregulation, with stripes setting up convection currents along the animal's back; and thwarting biting fly attacks.
Reuters contributed to this report.