147 Die in Southern China Floods
June 21, 2010 3:51 am Last Updated: October 1, 2015 7:49 pm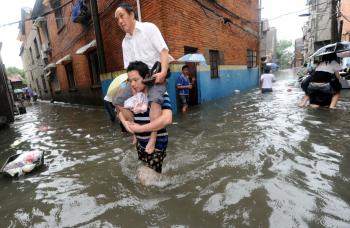 [ Video Courtesy of NTDTV ]

The tenth heavy storm this year to hit southern China occurred on June 19. Ten provinces were hit with heavy to severe rains, including Sichuan, Chongqing, Guizhou, Hubei, Hunan, Jiangxi, Anhui, Zhejiang, Fujian, and Guangxi. It was the heaviest rainfall recorded in 100 years for some of the provinces.
Wuzhou City in Guangxi Province and Taining County in Fujian Province were hit by extremely heavy rain. Traffic was completely blocked in one area, with many cars trapped underwater. China News Service reported that many people were forced to swim to safety in Wuzhou.
As of the morning of June 18, three counties in Fujian Province had already experienced rainfall of over 200 millimeters. In Taining County, Fujian Province, the rainfall reached 225 millimeters in six hours, the highest amount recorded in 100 years.
The Min River's Shaxikou Dam experienced peak influx at 10:00 p.m. on June 18, culminating in its greatest concentration of rain in 100 years, at 21,000 cubic meters/second. The hardest hit areas, north central Nanping and Ningde, experienced numerous mudslides which buried dozens of people.
The Jiangxi Meteorological Center issued a Red Alert at 1:00 p.m. on June 19. About ten thousand homes had collapsed, affecting two million people in two-thirds of the cities and counties of Jiangxi Province. By 10:00 p.m., 60,000 residents in the town of Yingtan City were trapped in the flood. Leaks were also discovered in two reservoirs in Yuewu District.
The Hubei Meteorological Center issued a record-high extreme weather alert for June 19. The water level of the Xiang River near Changsha is expected to peak at 35 meters on June 21.
Landslides in Yuanling County of Hunan Province halted traffic and led to the collapse of a high school's walls. 1,200 students and faculty were trapped on June 19, according to a report by Xiaoxiang Morning Herald.
A resident of Yuangling County told Xiaoxiang Morning Herald that at about 9 a.m. on June 19, the water went from ankle-deep to over two feet in less than ten minutes, flooding her home. She said that everything in the house, from the refrigerator to the bed, ended up floating on the water. When the water reached a meter deep, her husband panicked and tried to move the floating refrigerator.
As of 4:00 p.m. on June 20, there have been 147 fatalities, 93 persons unaccounted for, 88,000 collapsed buildings, and economic damage of 19.73 billion yuan (US$2.89 billion). and nearly 15.33 million people affected by the rains.
Shanghai's railroad station curtailed many of its train connections, which has impacted the travel plans of an estimated 20,000 people. Eight train connections remain canceled, as of June 20.