10-Year-Old Boy Seeks Help to Rescue Father
October 2, 2005 12:00 am Last Updated: October 2, 2005 12:00 am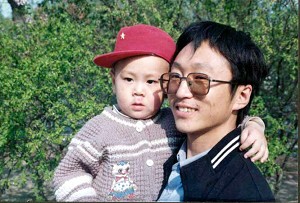 The following is a series of snapshots into the life of a 10-year-old boy named Zhang Jiarui. His story is full of suffering, hardship, and longing – and it represents thousands of children in China who are suffering directly or indirectly from the Party&#039s persecution of Falun Gong. Jiarui&#039s father gave up drinking and smoking, and became a better father after learning the meditation practice Falun Gong. However, since the Chinese Communist Party initiated the persecution of Falun Gong in 1999, his father has been imprisoned, tortured and forced out of work by the Chinese government for his beliefs. Jiarui has recently written a letter requesting help from his relatives to rescue his father.
"Mum, I miss Father very much, do you miss him too? I am afraid that I&#039m going to die, and will not be able to see him again."
Are these the words we hope to hear from our young children when they are sick? These words were spoken by Zhang Jiarui, a 10-year-old boy in fourth grade at the Daqing Petroleum Chemical Corp. No.1 Primary School. Who is his father, and why is Jiarui worried that he will not see him again?
His Father&#039s Story
Jiarui&#039s father, Zhang Bin, is 38 years old. From a young age, Zhang Bin was spoiled to the point that he could not take care of himself. As he grew up, his life was taken care of for him, and he turned to smoking two packs of cigarettes a day and drinking excessively. He did not know how to care for others.
When his wife gave birth to Jiarui, Zhang Bin went out and did not show up to the hospital until after midnight, though his wife had had a caesarean operation. During the eight days when he stayed with his wife in the hospital, beer bottles accumulated under her bed in rows. His habits became a running joke in the hospital. Over the next year, Zhang Bin&#039s health deteriorated, and his body became very thin and weak. When his wife, Cheng Qinglan, could no longer tolerate him, she chose to divorce him. It was 1997; Jiarui was 1 year old and Zhang Bin had custody of the child.
In early 1998, Zhang Bin learned about Falun Gong. Within a short period of time of practicing the exercises and trying to follow Truthfulness-Compassion-Tolerance in his life, profound changes turned his life around. He quit smoking and drinking, his body regained its health and he became considerate of others. Those who got to know him could feel his kindness and peaceful countenance, and could not see in him a trace of his former decadent life. He took care of his son whole-heartedly and was a responsible father. Father and son depended on each other, and enjoyed peace and stability for a year and a half.
The Nightmare Begins
On July 20, 1999, former head-of-state Jiang Zemin began to ruthlessly persecute Falun Gong. Since the persecution began, Zhang Bin and Jiarui lost their stability. At the end of 1999, Zhang Bin was detained for a month in a detention center and then sent to Daqing Forced Labor Camp for one year of imprisonment. At the end of 2000, the No.3 Factory of Daqing Petroleum Chemical Corp. successfully terminated his work contract. Upon his release, Zhang Bin was constantly harassed by police and was finally forced to leave his home and lead a vagrant life with his son, now 5 years old.
Jiarui Returns to his Mother
When little Jiarui was old enough to enter school, his mother took custody over the child, because Zhang Bin&#039s life was too unstable to allow him to care for Jiarui.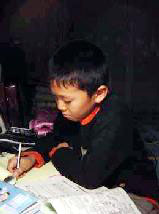 However, Cheng was physically weak. In addition to suffering from heart failure, kidney failure, and low blood pressure, Cheng was occasionally unable to move her body and would suddenly faint; she was unfit for work. As a result, mother and son led a difficult life together.
In winter of the year when Jiarui was attending the first grade (age 6), his mother had a fever of 103.6F. She lay in bed unconscious the whole day. When she finally woke, she recalled that she had not been able to feed her son all day. In tears, she asked her son who was keeping watch beside her bed whether he was hungry. He replied, "Mum, I am so hungry!"
Jiarui then said, "Mum, let me go and buy medicine for you!" He scrambled to find spare change to count loose coins of 20 cents; they managed to make up enough money to buy medicine. Thus a 6-year-old child braved the severe cold, and stepped out into the dark night to buy penicillin for his mother. His mother was too weak to cook that year, so Jiarui learned to cook simple meals like porridge, instant noddles and egg-fried rice.
Children Under Persecution
Under the lies propagated by the CCP&#039s media, people in China do not understand the truth about Falun Gong, and hold discriminating views against Falun Gong practitioners and their family members. Even small children suffer from this discrimination.
One day Jiarui came home from school biting his lip. He refused to speak or eat. Finally his mother discovered that the child&#039s lip was bruised and the flesh was protruding. She hugged him tenderly and cried, "What&#039s happened?" Little Jiarui was also crying. He told her, "Mother, I will tell you but promise me not to visit my teacher!" Because Jiarui had received poor grades in school, his teacher had humiliated him. "Your father became an idiot after learning Falun Gong, you are just as dumb as your father." The teacher also pushed him, causing the child to hit his head on the rostrum, bruising his lips.
Lives Under Persecution
Zhang Bin remained homeless during this time, but he made sure to visit his son on the holidays such as New Year and Jiarui&#039s birthday, bringing a small gift every time. One time, Zhang Bin heard that the police planned to kidnap him while he visited Jiarui for his birthday. Zhang Bin ordered a birthday cake ahead of time and found someone to bring it to his son.
Once, after visiting his son, Zhang Bin cried uncontrollably. He could not believe the hardships suffered by the mother. Though she was very weak, and her body extremely exhausted, she could only sleep three hours a day. Jiarui looked too thin and sad for a young boy.
Zhang Bin quietly did his best with his limited financial ability to buy rice, flour and leave some money for his son and ex-wife. But he cannot even do that little bit anymore. In December 2004, he was once again kidnapped. Currently, Zhang Bin is detained at Suihua Forced Labour Camp suffering from brutal persecution. He is brutally tortured, and forced to watch videos defaming Falun Gong. His hands and legs are burned by shocks from the electric baton.
Jiarui&#039s Wish
Not long ago, Jiarui wrote a letter asking for help. "Kind hearted uncles and aunts, please help rescue my father. I miss my father! From his son: Zhang Jiarui."
Zhang Jiarui is one of thousands of children in China whose families are being persecuted by the Chinese Communist Party for practicing Falun Gong.