Holiday season is almost upon us, which means guests will be arriving soon! Whether you're having new visitors or familiar friends and family, your home can always make a fabulous first impression if you know how to dress it up for the event! Check out these 10 easy tips, to give your entryway the fashionable facelift it needs to impress your guests this season!
1. Eye-Catching Wall Decor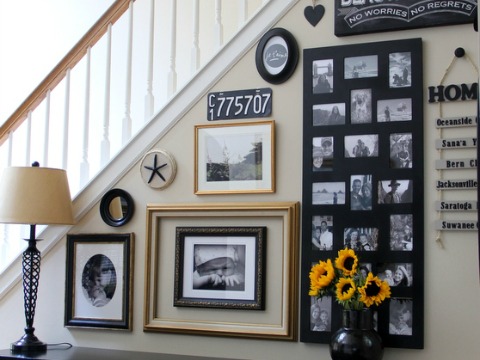 Your guests' first impression of your home hangs on what they see first when they enter, so engage them immediately, with eye-catching wall decor, like this gallery wall.
2. Rug or Runner

Hardwood floors give your foyer a beautiful look, but rugs and carpets are a comfortable welcome for guests who have been traveling, and enable a warm reception.
3. Homey Details

Having shoes, favorite books, folded scarves, or hanging jackets on display in your foyer makes your home feel lived-in and loved, and your visitors to feel welcome.
4. Mirrors

Did you know that large mirrors create the feeling of familiarity? Allowing your guests to see their reflection as they enter your residence makes them feel more settled in and at ease!
5. Helpful Receptacles

Umbrella buckets, coat racks, and benches give your guests a place to put down their outdoor gear or bulky bags as soon as they enter your home, letting them feel instantly taken care of and grateful.
6. Bright Lighting

Ceiling lights in an enclosed entryway can be glaring and make the space feel smaller, but a warm lamp with a slim base and a wide shade will cast an inviting glow, without becoming overpowering.
7. Warm Wall Color

Create a warm atmosphere by creating warm-colored space in your entryway. Use warm wall paint, or, for an easier option, hang art or photos in warm red and orange tones.
8. Decor Theme

If you're looking for a quick way to tie your decor together, decide on a theme and include different pieces and elements that accentuate it, like seashells for a nautical foyer.
9. Fresh Flowers

This simple trick works every time – a fresh vase of flowers in your entryway keeps your foyer fresh and dynamic, and natural elements help to bring an air of ease to your guests, and even your household!
10. Tabletop Display

To add seasonal spice, switch up your entry tabletop decor, creating holiday themed displays with natural elements, colorful details, and even a festive sign or two!
Bonus: Chairs and Benches

If you have the space, a small table and chair or a cute bench can turn an entryway into a living space, making the space feel like part of the house, rather than like an empty hallway.
Want more? Make sure to check out Hometalk's topic page all about foyers. It's chock full of amazing pictures, ideas, and inspiration!