The Women's Tennis Association's (WTA) pushback against China's authoritarian disappearance of tennis player Peng Shuai could lead to cancellations of events beyond 2022.
"We're hopeful we get to the right place, but we are prepared if it continues as it is—which hasn't been productive to date—that we will not be operating in the region," Steve Simon, the president and CEO of the WTA, said in a video call with The Associated Press.
The women's professional tennis tour announced earlier on Wednesday that it would suspend all tournaments in mainland China and Hong Kong, due to concerns over Beijing's treatment of tennis star Peng Shuai. Last month, the Chinese Grand Slam doubles champion disappeared for about 20 days after she accused a former government official of sexual assault in a fast-deleted social media posting.
"The leadership in China has not addressed this very serious issue in any credible way. … None of this is acceptable nor can it become acceptable," Simon said in a Dec. 1 statement, calling for a full and transparent investigation.
The chairman had previously warned he would pull WTA events out of China unless Peng's safety could be assured.
China is a source of billions of dollars in income for various sports entities based elsewhere, including the WTA, the NBA, and the International Olympic Committee (IOC). The nation typically hosts about 10 women's tennis tournaments each year, including the prestigious season-ending WTA Finals that were scheduled to be held in the city of Shenzhen until 2028.
The 2019 WTA Finals, a women's tennis tournament seen as the tour's crown jewel event, offered the biggest prize money check in the world's history of men's or women's professional tennis. The total prize money reached $14 million, doubling the event's previous prize purse of $7 million, according to the organization.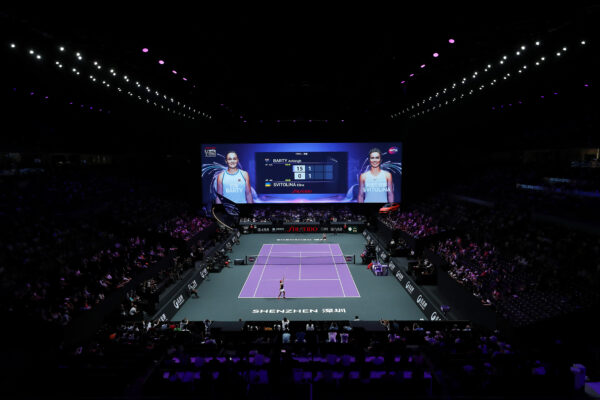 "We haven't canceled, as of yet, but we're prepared to get to that point," Simon said in the Dec. 1 video call. "And that'll be a point of discussion at some point: Where do you get to cancellation? Is it 2022 only? Is it for the future? I mean, those are all questions that will come down the road."
The move to halt the tour's play in China—which could cost the WTA millions of dollars—also came with the backing of its Board of Directors, players, tournaments, and sponsors.
"This is an organizational effort that is really addressing something that's about what's right and wrong." With regrets over the announcement, Simon said Beijing had left the WTA with no choice.
Despite the recent appearance of Peng on state media, the chairman believed the tennis star was still unable to speak freely. "Given the current state of affairs, I am also greatly concerned about the risks that all of our players and staff could face if we were to hold events in China in 2022," he said.
"We still haven't been able to have that conversation, to have the comfort that what we're seeing isn't being orchestrated, to date. The second element of that is that we want a full and transparent—without any level of censorship—investigation on the allegations that were made," Simon told AP.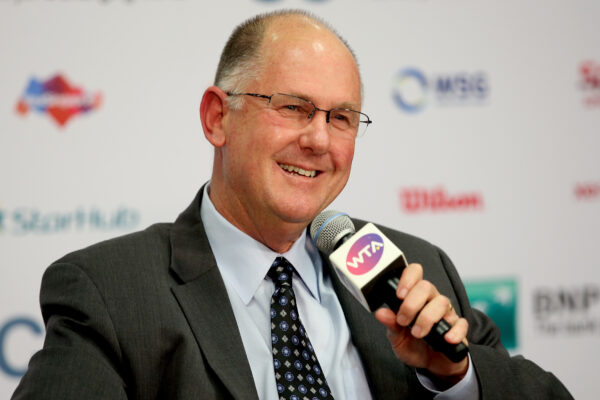 Simon said tournaments could still end up being staged in China if its government follows through with his requests. If not, the events could be moved to other countries, as happened this year over COVID-19 concerns. The WTA Finals, for example, were shifted last month to Guadalajara, Mexico.
'Right Side of History'
A number of U.S. lawmakers and organizations cheered the WTA for standing up for more than just tennis, but also human values.
The U.S. Tennis Association commended Simon and the WTA, posting a statement via Twitter that read: "This type of leadership is courageous and what is needed to ensure the rights of all individuals are protected and all voices are heard."
International Tennis Federation spokeswoman Heather Bowler said the Board would meet the following day to discuss the matter.
WTA founder Billie Jean King said the organization was on "the right side of history."
"I applaud Steve Simon and the WTA leadership for taking a strong stand on defending human rights in China and around the world," said King, a 12-time Grand Slam winner and women's tennis pioneer.
She said, "This is yet another reason why women's tennis is the leader in women's sports."

Suzanne Nossel, the CEO of PEN America, a non-profit organization based in New York, praised the WTA's "show of spine," drawing a comparison to the IOC, which "[played] along with … Beijing."
U.S. congressmen including Sen. Rick Scott (R-Fla.) and Sen. Marco Rubio (R-Fla.) called on the IOC to follow suit. "Move the 2022 Olympics out of Communist China NOW," Scott wrote on Twitter.
The IOC said in a Dec. 2 statement that it held a second video call with Peng, the three-time Olympian, assuring its "wide-ranging support," regular contact, and a personal meeting in January.
The group described its efforts to support Peng as a campaign of "quiet diplomacy."
After an earlier call with Peng on Nov. 21, the committee said in a statement that Peng appeared to be "doing fine" without releasing the video or transcript. IOC President Thomas Bach and an IOC member from China joined the talk, yet the group did not explain how the call was arranged.
Both statements made no direct mention of her sexual assault claims.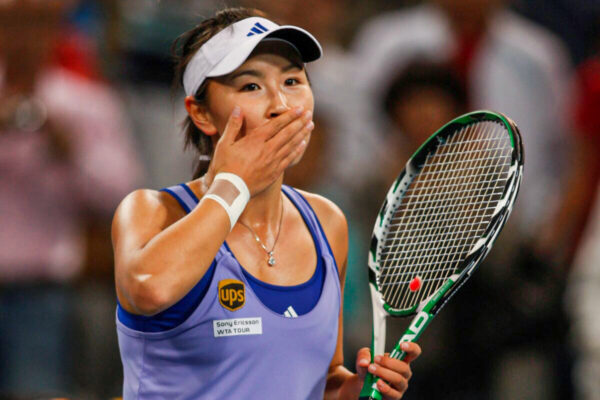 China's foreign ministry spokesman Wang Wenbin did not comment on the WTA's move during a regular briefing on Dec. 2, but said China "opposes the politicization of sports."
Beijing is set to host the Winter Games beginning on Feb. 4.
"From disappearing tennis star Peng Shuai, to forcing Muslim Uyghurs into slave labor, Communist China has no respect for humanity," Sen. Marsha Blackburn (R-Tenn.) said in her Twitter post.
The whereabouts of the accused 75-year-old Zhang Gaoli, who had allegedly forced Peng to have sexual relations with him, hasn't been reported or publicly investigated so far. The former Chinese vice president stepped down from the powerful seven-member Politburo Standing Committee about three years ago and hasn't spoken publicly about the incident.
The Associated Press contributed to this report.