South Korea on Tuesday morning reported 60 new cases of the novel coronavirus (COVID-19), the bringing the national total to at least 893. Meanwhile, the United States has upgraded its travel warning for the country.
Of the 60 new cases, 16 are in Daegu and 33 in the broader North Gyeongsang Province, while two are in Seoul, three are in the coastal city of Busan, one is in South Gyeongsang Province, andfive in Gyeonggi Province, according to the Korea Centers for Disease Control and Prevention (KCDC).
Korean health officials also reported the country's ninth death on Tuesday. According to local broadcaster KBS, a 68-year-woman has died of acute respiratory failure in northern Daegu at the Kyungpook National University Chilgok Hospital. She was hospitalized on Sunday and tested positive for the virus on Monday.
The number of confirmed cases has skyrocketed in South Korea over the past few days, with 100 cases reported on Friday followed by 229 cases on Saturday, 169 cases on Sunday, and 231 cases on Monday.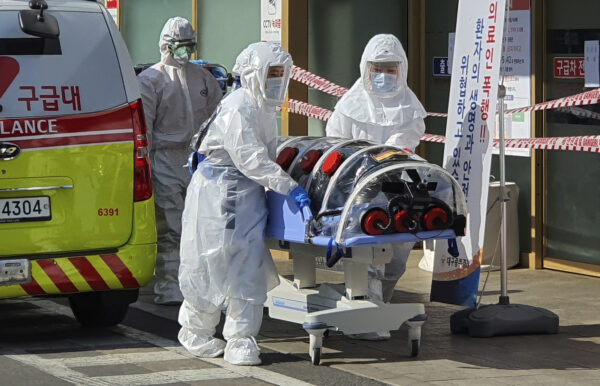 More than half of 893 cases are related to either a super-spreader who attended Shincheonji Church in Daegu or Daenam Hospital in Cheongdo, a county in North Gyeongsang Province.
A 61-year-old female super-spreader, a follower of the church, tested positive for the virus on Feb. 18 as the country's 31st confirmed case. She was the first case in Daegu and North Gyeongsang Province. Since then, there has been a spike of infection cases related to the church.

The South Korean government has announced that all followers of the church will be tested for the virus, Yonhap reported on Monday, adding that there are about 215,000 of them in the country.
Of the 9 fatalities, six have been connected to Daenam Hospital.
On Monday night, the U.S. Centers for Disease Control and Prevention (CDC) raised its travel advisory to South Korea to "Level 3," calling for travelers to avoid nonessential travel to the country.
"Older adults and people with chronic medical conditions may be at increased risk for severe disease," CDC stated on its website. "There is limited access to adequate medical care in affected areas."
The enhanced travel warning came just two days after the "Level 2" advisory was issued, calling for travelers to exercise "increased caution" in the country.
A number of countries have placed restrictions on travelers from South Korea.
According to local outlet Yonhap News Agency, five countries including Bahrain, Israel, and Jordan have banned travelers from South Korea from entry.
Meanwhile, 13 countries have adopted measures either to put arriving passengers from South Korea into temporary quarantine or to have their health condition closely monitored.
The scheduled jointed military exercises between the United States and South Korea could be scaled back due to the outbreak in South Korea.
"General Abrams and General Park are looking at scaling back the command post training due to concerns about the coronavirus," U.S. Defense Secretary Mark Esper said at the Pentagon on Monday with South Korean Defense Minister Jeong Kyeong-doo.
Abrams is the commander of U.S. Forces Korea (USFK) and Park is chairman of South Korea's Joint Chiefs of Staff.
The two countries hold military exercise periodically throughout the year for potential combat against North Korea, according to AP.
Currently, 13 Korean soldiers and a USFK dependent are infected with the virus.