Former president Donald Trump looms large in the Ohio GOP Senate primary with every candidate but moderate Republican state Sen. Matt Dolan coveting his endorsement.
Less than two weeks ahead of the May 3 primary, Trump will headline a rally at the Delaware County Fairgrounds on April 23, the county Republican Party announced.
Trump has already endorsed Max Miller for Congress but has yet to back a candidate in the U.S. Senate race.
In March, the former president said he would make an endorsement before the primary.
Trump stumped for his former aide Miller during his last visit to Ohio in June 2021. Initially, Miller was challenging U.S. Rep. Anthony Gonzalez, one of 10 Republicans who voted to impeach Trump because of the Jan. 6 incident at the U.S. Capitol.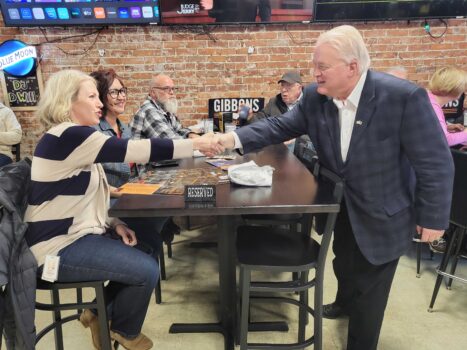 Ohio is mired in redistricting issues and now Miller is running in the 7th Congressional District, in northeast Ohio.
Current Rep. Bob Gibbs recently announced he would not seek re-election.
When he was president, Trump endorsed former Congressman Jim Renacci in the 2018 GOP Senate race. Renacci was running against Mike DeWine for the governor's seat, but he moved to the Senate field at Trump's urging. Renacci defeated Mike Gibbons in the primary before falling to Sen. Sherrod Brown in the general election.
Now, Renacci is running against DeWine, the incumbent governor, and Gibbons is one of the frontrunners in the crowded and contentious GOP Senate race. Renacci and Gibbons are vocal proponents of Trump and his America First platform.
The landscape of the GOP Senate race appears to be changing.
In a Fox News poll released on March 7, conducted by Beacon Research and Shaw & Company Research from March 2 to 6, Gibbons led public opinion with 22 percent support, followed by Mandel (20 percent), Vance (11 percent), former Ohio Republican Party chair Jane Timken (9 percent), State Sen. Matt Dolan (7 percent), businessman Neil Patel (2 percent), and businessman Mark Pukita (1 percent).
Republican pollster David Lee conducted a survey for Protect Ohio Values, a pro-Vance super PAC, that was released on April 6 and showed Vance, Gibbons, and Mandel in a tie for the lead at 18 percent each.
On the same day as the Protect Ohio Values poll was revealed, Timken's campaign announced an internal poll indicating that Gibbons was in first place with 20 percent followed by Mandel (16 percent), Timken (15 percent), Dolan (13 percent), and Vance (10 percent).
Ohio Secretary of State Frank LaRose, a Republican who is opposed by former state representative John Adams in the May 3 primary, said on April 12 that 71,296 absentee ballots have been requested by mail or in person. That is down more than 40 percent from the 171,954 from this point four years ago.
LaRose added that 11,935 votes have been submitted, which is around 20 percent of the 63,253 figure at the same time in 2018.
In a primary that is expected to have a low voter turnout, Trump's endorsement could make a significant impact.
"You know, in this campaign, everybody's saying they're all the Trumpiest candidates," said Gibbons, who served as Trump's state finance co-chair in 2016 and launched a Trump-aligned super PAC called Ohio Strong Action.
"I don't have to prove my Trump credentials. And it's not about Trump. It's about America First and the ideas and the things that he accomplished.
"He [Trump] knows who I am," Gibbons added. "He knows I never criticized him or was an anti-Trumper."
Mandel is centering his campaign on rallies at churches and frequently says that he will go to Washington "with a Bible in one hand and the Constitution in the other to serve as a reinforcement for Ted Cruz, Jim Jordan, and Donald Trump."
"I completely respect the [former] president's decision-making process on the endorsement," Mandel said. "I'm doing everything I can to earn his support, and I'm confident I'm going to earn it," Mandel said. "There's no candidate in this race that embodies the Trump America First spirit and agenda like I do."
I haven't commented previously, but I'm getting tired of watching the neocons in #OHSen running dishonest ads calling @JDVance1 a never-Trumper. It's BS.

A lot of conservatives were skeptical of DJT in 2016 & got won over when they saw him in action.

JD is 100% America First. https://t.co/AcYTtNwlkW

— Donald Trump Jr. (@DonaldJTrumpJr) March 22, 2022
Vance has taken heat from opponents about his critical social media comments about Trump in 2016, but Donald Trump Jr. has praised Vance and recently appeared at a fundraiser for the "Hillbilly Elegy" author and venture capitalist.
Vance apologized for denouncing Trump in now-deleted tweets. He wrote that he would not vote for Trump and would instead support Evan McMullin, who ran as an independent.
In 2016, Vance said the future president was "reprehensible" and that he makes people "I care about" afraid.
At campaign stops, Vance often explains how his viewpoint of Trump evolved over time.
"It's one of the most poorly kept secrets in this race that I was a critic of Trump in 2016, thanks to my opposition," Vance said.
"But I also think that people care about what you actually think about the issues, what you think about the substance, and whether you've got a credible argument for why you changed your mind and why Trump proved you wrong.
"I think I do. Trump seems to think that, and I think a lot of voters do as well."
Timken touts that she helped deliver Ohio for Trump when she was state Republican Party chair in 2016 and 2020.
"Voters know me. They know how hard I've worked for [former] president Trump and how much I've advanced the America First agenda," Timken said.
"I would welcome [former] president Trump's endorsement, but I will be out there every day talking to voters with my message that I will be the one standing up for Ohio families, Ohio jobs, Ohio workers, and our business community."
Of the top five candidates in the polls, Dolan is the only one who is not openly seeking Trump's endorsement.
"There are people up on the stage who are literally fighting for one vote, and that person doesn't even vote in Ohio," Dolan said at a debate on March 28.
"[Former] president Trump remains a big influence in the Republican Party, but it's the Republican ideals that he puts forth that's resonating with people, and that's what I'm focused on."