Commentary
Since May, heavy rains and floods have hit China. The regime's official data showed that, in May alone, 89 rivers were flooded above warning levels and 3.7 million people were affected in 18 provinces, including Hunan, Jiangxi, Zhejiang, Fujian, Guangdong, and Guangxi, The Epoch Times reported in June.
Residents have complained that the floods were man-made disasters with local authorities discharging floodwater from poorly maintained dams without proper warning.
The casual flood discharge by local authorities left unprepared residents homeless, who suffered heavy losses of property. Some residents even died in the floods.
The July flooding in the Henan city of Zhengzhou remains fresh in mind for many people after floodwaters inundated the city's Subway Line 5 and one of its major road tunnels in minutes. The true death toll is yet to be known.
There have been multiple floods of similar severity in many parts of China since.
Decades ago, in 1975, there was a more severe flood in Henan, which is known as the "worst dam disaster in history," reported earlier by The Epoch Times.
On Aug. 8, 1975, the Banqiao Dam collapsed amid torrential rain. "Some 280,000 Olympic-sized swimming pools' worth of water burst through a crack in the dam," and "[b]etween 170,000 and 240,000 people died in the dam's collapse," according to the report.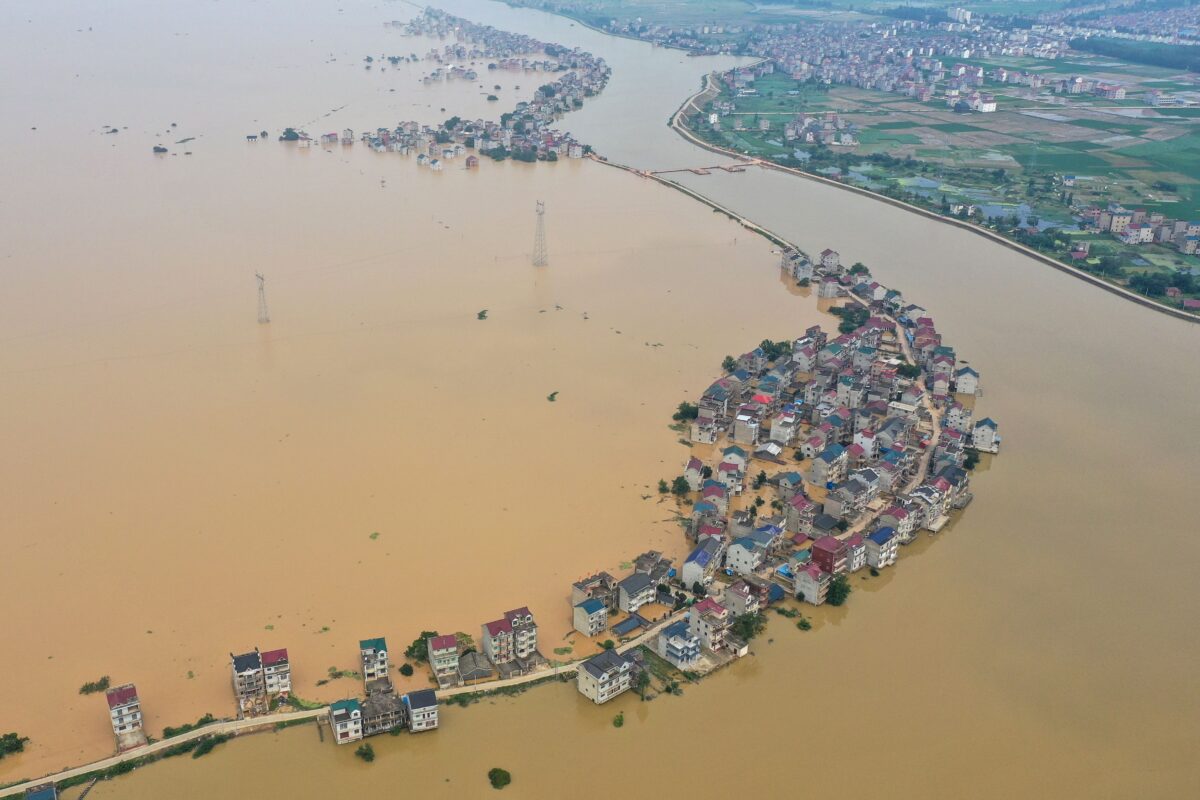 The ruling Chinese Communist Party (CCP) evaded responsibility by calling it a natural disaster; however, a Chinese water expert pointed out the root causes of China's floods are those numerous poorly designed and built dams by the regime since 1949.
'Dams in China Are Time Bombs'
Traditionally, China treats flooding by diverting, not blocking, water. The most famous flood diverting project in China is Dujiangyan in the southwestern province of Sichuan. Built over 2,000 years ago, it still works today, serving both irrigation and flood diverting purposes.

There were only 22 dams in China before the CCP took power in 1949.
Now China has over 98,000 reservoirs and dams, accounting for half of the world's total. More than 80 percent of China's reservoirs and dams were built from the 1950s to the 1970s, according to official data of the regime.
Wang Weiluo, a renowned Chinese expert in land planning and water conservation now living in Germany, points out that these reservoirs and dams are poorly designed, poorly built, and poorly maintained.
"These are time bombs that may explode at any time," Wang told the Chinese-language edition of The Epoch Times in 2019. They are the culprit of the multiple severe floods in the regime's history, according to Wang.
He suggested that Chinese people "move as fast as you can" away from dammed areas.
Evading Responsibilities
With more cases of flood discharges without warning across the country, it is clear that this is now a systematic practice of the CCP.
The Party uses its habitual tricks to shirk its responsibilities when so many problematic reservoirs and dams edge towards deadly collapse.
First, the regime pretends to set up laws and regulations to protect people.
Currently, China has a "Flood Control Law," "Flood Prevention Regulations," and "Interim Measures for Compensation for Utilization of Flood Detention Areas." Though they stipulate authorities at all levels have compensation and relief obligations for victims of natural disasters, they do not specify detailed compensation methods. On top of that, they have strict rules regarding the criteria of compensation.
In 2017, a Chinese law firm published a case study on its website, offering suggestions to victims of floods. The analysis demonstrates how difficult it is for a victim to receive compensation.
It said that victims need to, first of all, identify themselves to be within flooding zones designated by the government.
Then it analyzed the possible channels that victims could go to seek help and compensation. It cited five laws and regulations, and then the analysis said, "the above laws and regulations have not specified how to compensate and provide relief [to victims]."
The law firm suggested that victims use interim rules issued by the State Council as reference for compensation and ask local authorities to pay based on these standards.
Nonetheless, none of the rules or laws provides any time limit for their work in this regard. So the authorities may "lack sufficient motivation to push forward the relevant work," and in case victims choose to adopt litigation, they may face "strong confrontation from government departments." Thus, the law firm suggested that victims settle compensation issues with local authorities "by means of negotiations."
Second, the CCP pretends to play its role of inspection and investigation.
Take the Zhengzhou flood disaster in July as an example.
The regime was forced to set up a state council investigation team on Aug. 2, due to public fury over the disaster.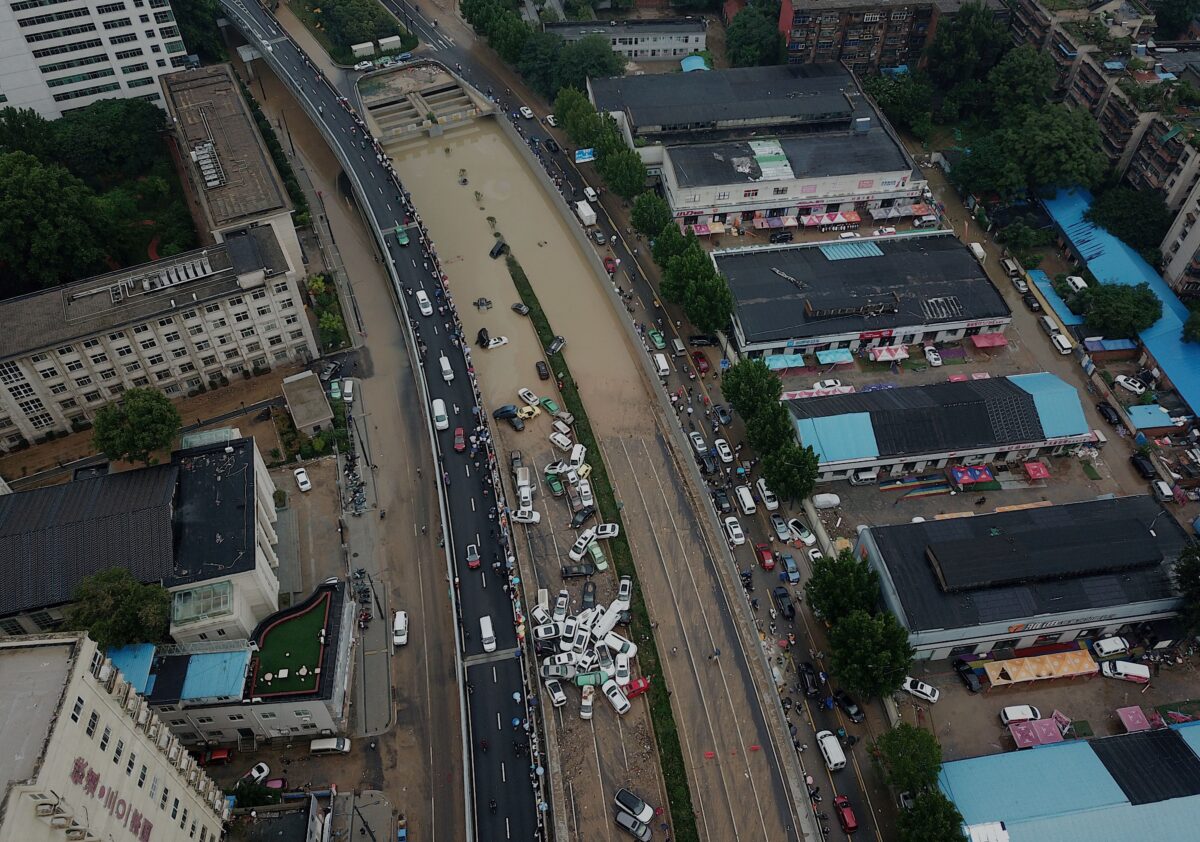 However, the investigation was delayed to Aug. 20 when the investigation team finally went to Zhengzhou.
Additionally, the public couldn't get through the reporting hotline provided by the investigation team and there's been no follow-up since the investigation was initiated.
The two officials who were supposed to be held accountable for the Zhengzhou flood disaster—Zhengzhou Municipal Party Committee Secretary Xu Liyi and Mayor Hou Hong—were re-elected as Party committee secretary and vice secretary, respectively, on Sept. 28.
A Rogue Regime
The true cause of the problems in China, including flooding disasters, lies in the malicious nature of the CCP.
It's a rogue regime that advocates atheism but there are kind people within the Party, including water expert Huang Wanli, and former CCP's top leaders Hu Yaobang and Zhao Ziyang. But people with a conscience are weeded out by the Party in time.
"Battle with heaven, fight with the earth, struggle with humans—therein lies endless joy." This was the motto of the Party during the Cultural Revolution. It has been its motto till this day.
Views expressed in this article are the opinions of the author and do not necessarily reflect the views of The Epoch Times.