COUTTS, Alta.—In windy southern Alberta, reaching the site of the protesting truckers by Coutts near the Canada-U.S. border is nearly impossible via motor vehicle.
Only local residents, those on official business, or media with credentials are allowed past lines of RCMP and Sheriff's officers blockading the roads.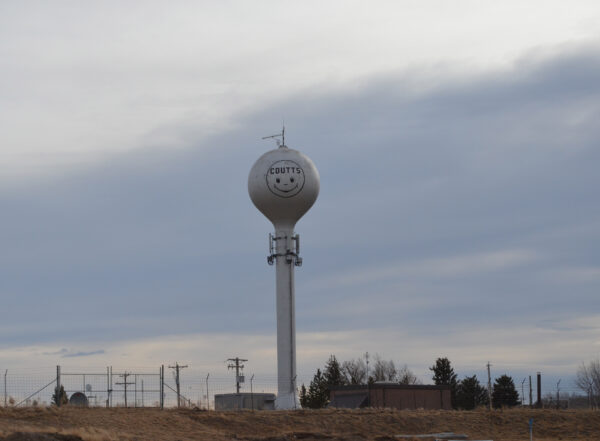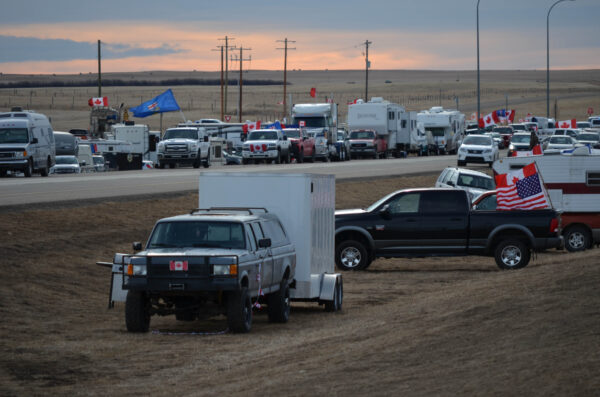 The truckers have been blocking the major border crossing since late January, demanding that COVID-19 mandates be lifted. The protest is part of a large movement initially started by truck drivers opposed to the federal government's requirement that all drivers crossing the border need to have COVID-19 vaccination. Since large convoys of trucks and other vehicles converged in Ottawa on Jan. 29, other similar protests have emerged in different parts of the country.
About 30 kilometres north of Coutts, truckers seeking to cross south of the border with their cargo queue up on Thursday Feb. 10, waiting to get through.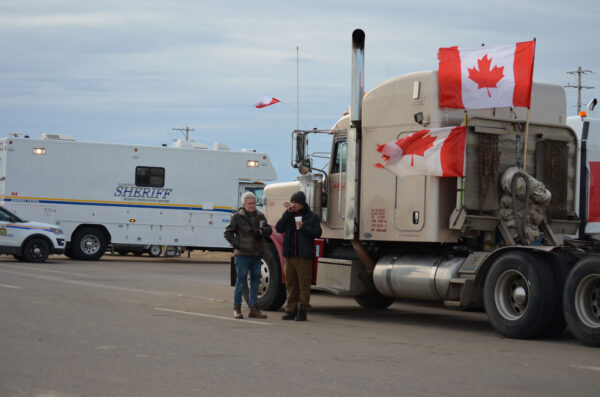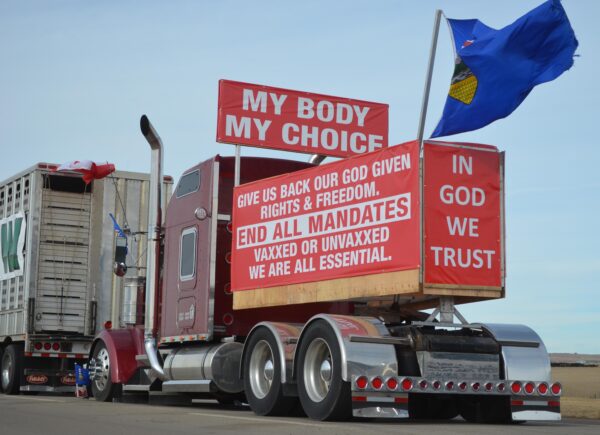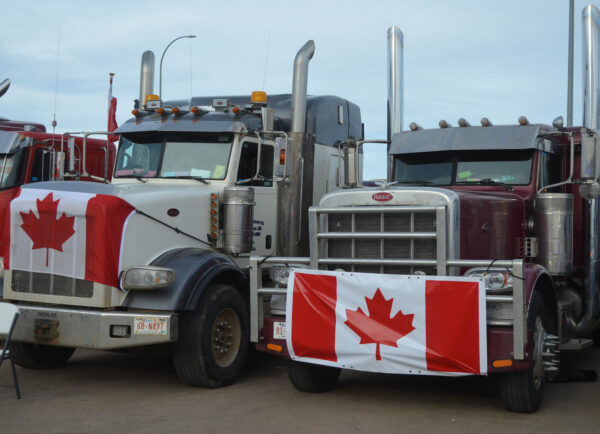 But it looks like it won't happen any time soon—at least not today.
About 10 kilometers south, convoy supporters—trailers, semi-trucks, and pickups—are bivouacked along the highway and in the centre median.
They, too, cannot reach Coutts.
Both Canadian and American flags fly, from trailers and erected booms, as well as banners printed in bright red with the words "Freedom Convoy." Protesters are seen grilling up breakfast.
Here, a second RCMP and Sheriff's blockade stops would-be-protesters and supporters from heading to Coutts.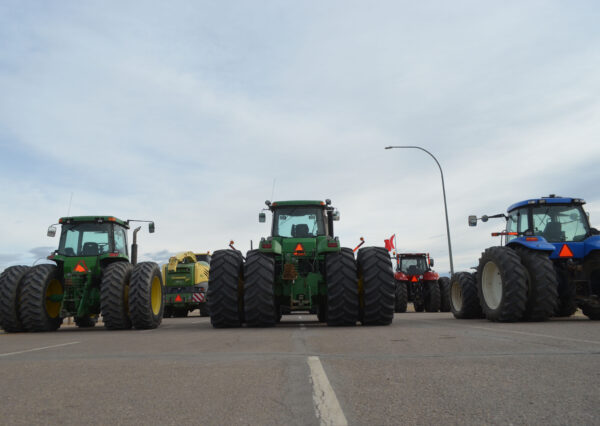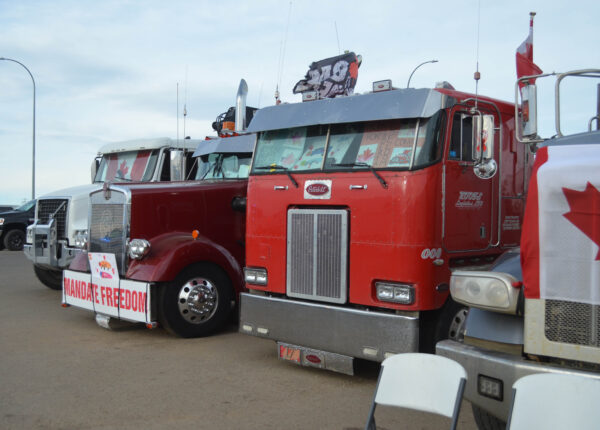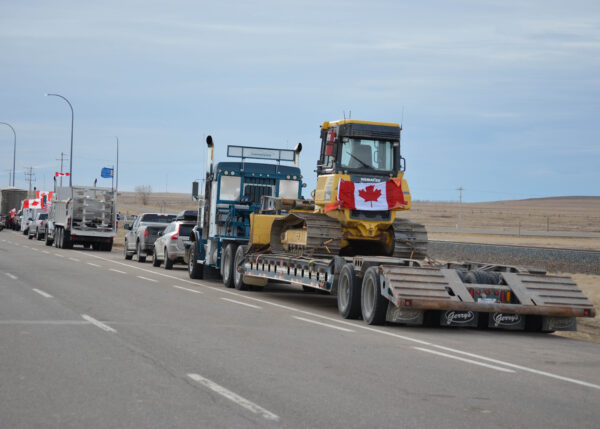 One officer told The Epoch Times that supporters have the right to protest. They may do so from here, but can't go to Coutts.
A cluster of different media vehicles huddle just within the no-go zone.
After showing media credentials, this reporter cleared the checkpoint and finally got to Coutts: A quiet village, on this particular day, with few residents (or anyone) to be seen.
Here is the main body of the Freedom Convoy by the border.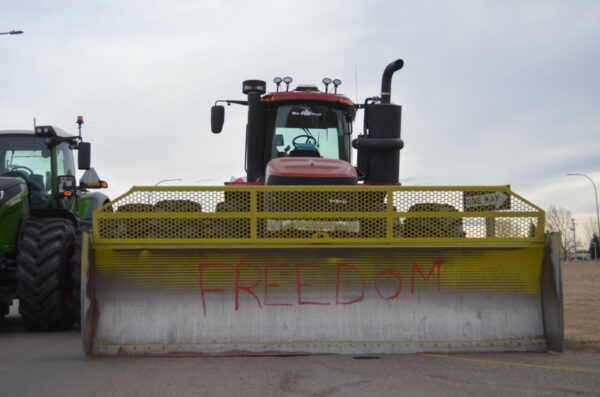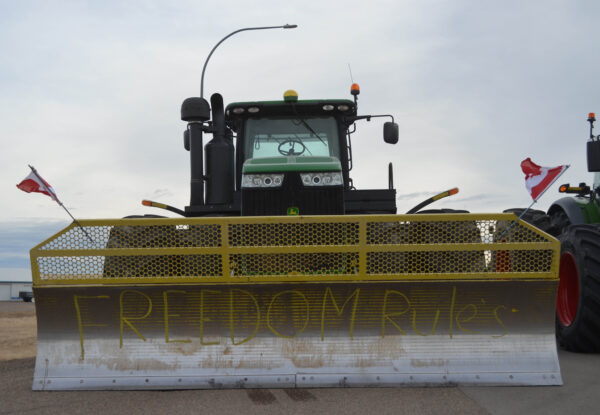 On the village outskirts, semi-trailers line both sides of the highway with flags and banners fluttering in the strong wind.
Most of the vehicles seem empty. Unlike your stereotypical protest, it's eerily silent—there were just a few men and women wearing bright safety vests hanging out at a place called "Smugglers Saloon," where it looks like something is cooking.
Lights supplies can be seen being ferried to and fro, here and there.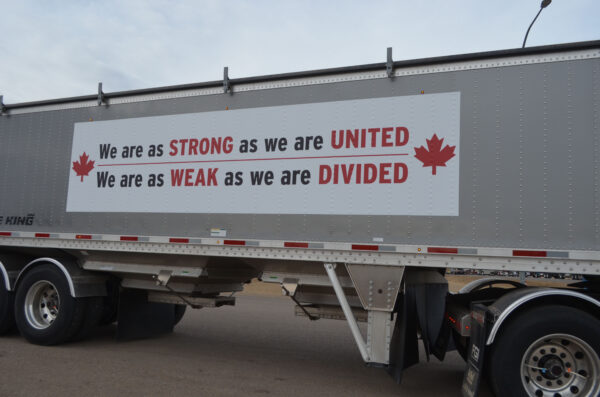 At the southernmost end of the convoy, a row of "monster" tractors line up in rows from shoulder to median to shoulder on the divided highway, blocking all access to U.S. Customs and Border Protection via semi.
There's no way anyone in a big rig is getting by here.
It's still possible for a car to snake through the town and gain access—if they can get this far.
A few pickups sporting flags or the word "Freedom" on the window shuttle about leisurely, but otherwise, the traffic is zilch.
By the looks of it, the some 40 vehicles camped here aren't looking to vacate any time soon—not willingly, anyway.