House Republicans on Feb. 10 urged Democrats to hold a hearing to examine "Big Tech silencing" after GoFundMe shut down fundraising for the Freedom Convoy campaign by Canadian truckers.
In a letter (pdf), House Minority Whip Steve Scalise (R-La.) and Rep. James Comer (R-Ky.) accused the for-profit crowdfunding platform of "selectively discriminating against certain people by canceling their ability to organize funds through its crowdfunding platform."
"We write to request that you hold a hearing to examine yet another incident of Big Tech silencing certain viewpoints in potentially unlawful ways," lawmakers said in the letter to House Majority Whip James Clyburn (D-S.C.) and Rep. Carolyn Maloney (D-N.Y.).
Scalise and Comer also accused GoFundMe of attempting to "defraud hardworking taxpayers of millions of dollars in donations received in support of an organization promoting individual freedom, by trying to divert that money away from them and instead funnel it to other unrelated causes."
More than $8 million had been raised through GoFundMe before the platform said on Feb. 4 it would stop payments and instead send the money to charities.
However, a day later the platform changed course and said it would automatically reimburse the funds to donors.
"They only reversed course after investigations were launched by attorneys general in a number of states who exposed this attempted scheme," lawmakers said in their letter.
The Biden administration has since urged Canada's government to use its federal powers to respond to the protests in Canada, which have blocked access points along the countries' mutual border this week.
While the protests initially began as a demonstration by truckers in response to a federal vaccine mandate that went into effect on Jan. 15 for truck drivers, they have since gained traction, attracting protestors from all over the country who want COVID-19 mandates and restrictions eased.
Protesters have vowed to stay put until COVID-19 restrictions are lifted.
Multiple media outlets, including CNN and MSNBC, have described the growing protests as amounting to sedition and insurrection.
But the organizers of the Freedom Convoy 2022 have said participants have mostly received the support of local police because "they understand that this is a peaceful, family-oriented event where people can bring their kids."
In their letter on Feb. 10, the Republican lawmakers went on to argue that "for some in the Big Tech industry, far-left violence is merely speech, while conservative speech is treated as violence."
"GoFundMe has not taken similar action against other crowdfunded pages in support of left-leaning protest movements, including those with connections to violence such as bail funds for rioters during the Summer of 2020," they wrote. "GoFundMe even permitted support for the Antifa-occupied CHOP zone in Seattle, Washington."
As well as a hearing examining GoFundMe's decision to remove the Freedom Convoy 2022 page, the GOP lawmakers also want GoFundMe to provide all documents and communications related to their decision to do so.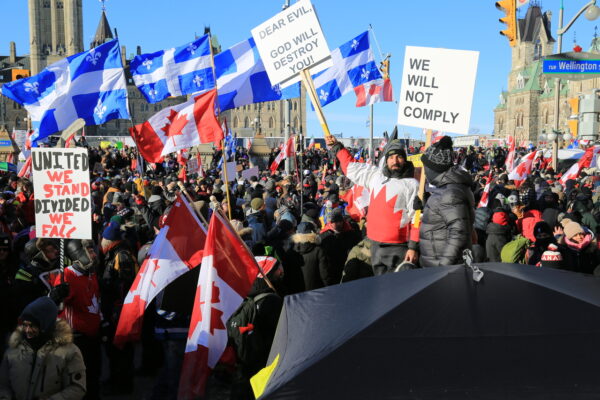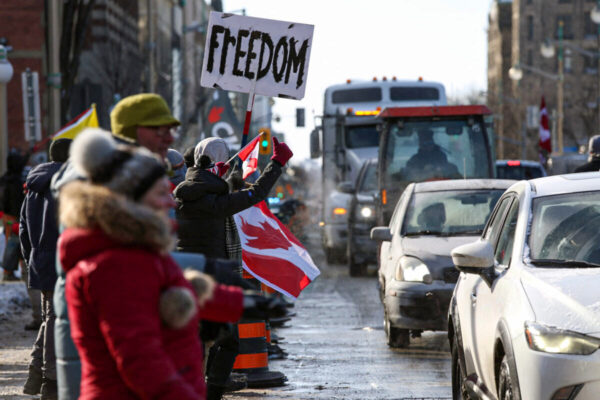 The GOP lawmakers also want the hearing to look into the platform's policies on diverting donated funds to other causes that it deems "credible and established."
"We must stand up for American taxpayers by holding Big Tech accountable for its actions and determine if any laws were violated," lawmakers said.
In a separate letter (pdf) to GoFundMe CEOs, lawmakers expressed their concern over the company censoring individuals who they said are "peacefully challenging the science and merits of some of these COVID mandates."
The Epoch Times has contacted a GoFundMe spokesperson for comment.
Following GoFundMe's announcement that it would redirect the money raised to charities, protest convoy organizers set up the "Freedom Convoy 2022" fundraiser on GiveSendGo.
However, the government of the province of Ontario in Canada on Thursday successfully sought a court order to freeze the millions of dollars in funds raised on the platform.
In an apparent response, GiveSendGo wrote on Twitter, "Know this! Canada has absolutely ZERO jurisdiction over how we manage our funds here at GiveSendGo."
"All funds for EVERY campaign on GiveSendGo flow directly to the recipients of those campaigns, not least of which is The Freedom Convoy campaign."
Meanwhile, Texas Attorney General Ken Paxton, a Republican, is also investigating GoFundMe's decision to seize the donations meant for the trucker convoy.
His probe will determine whether the company violated the Texas Deceptive Trade Practices Act, which prohibits "false, misleading, or deceptive acts or practices in the conduct of any trade or commerce."