The attorney general of Texas on Feb. 9 announced an investigation into GoFundMe over the fundraising company's attempt to seize donations meant for a trucker convoy protesting against COVID-19 vaccine mandates.
Texas Attorney General Ken Paxton, a Republican, sent GoFundMe a notice of the probe, ordering the company's representatives to produce a variety of documents relating to the fundraiser.
GoFundMe on Feb. 4 announced it was seizing $10 million Canadian ($8 million USD) raised for the Freedom Convoy in Canada and planned to redistribute the money to unnamed charities.
The rationale for the move was described as receipt of "evidence from law enforcement that the previously peaceful demonstration has become an occupation, with police reports of violence and other unlawful activity." Ottawa's police chief later took credit for GoFundMe's move.
Following backlash, GoFundMe soon backtracked, saying donations would be automatically refunded and no money would be sent to charities.
Paxton wants all documents related to the discussions with law enforcement, including any related to the claim of violence.
He is also seeking all documents identifying each instance GoFundMe has redirected donations meant for one fundraiser to a different fundraiser or charity "based on reports that the beneficiary and/or its supporters were engaging in violence or other unlawful activity."
GoFundMe was given until Feb. 28 to produce the files.
The probe is centered around potential violations of the Texas Deceptive Trade Practices Act, which prohibits "false, misleading, or deceptive acts or practices in the conduct of any trade or commerce."
"GoFundMe's response to an anti-mandate, pro-liberty movement should ring alarm bells to anyone using the donation platform and, more broadly, any American wanting to protect their constitutional rights," Paxton said in a statement. "Many Texans donated to this worthy cause. I am acting to protect Texas consumers so that they know where their hard-earned money is going, rather than allowing GoFundMe to divert money to another cause without the consent of Texas citizens. I will get to the bottom of this deceitful action."
GoFundMe, based in California, has not responded to requests for comment.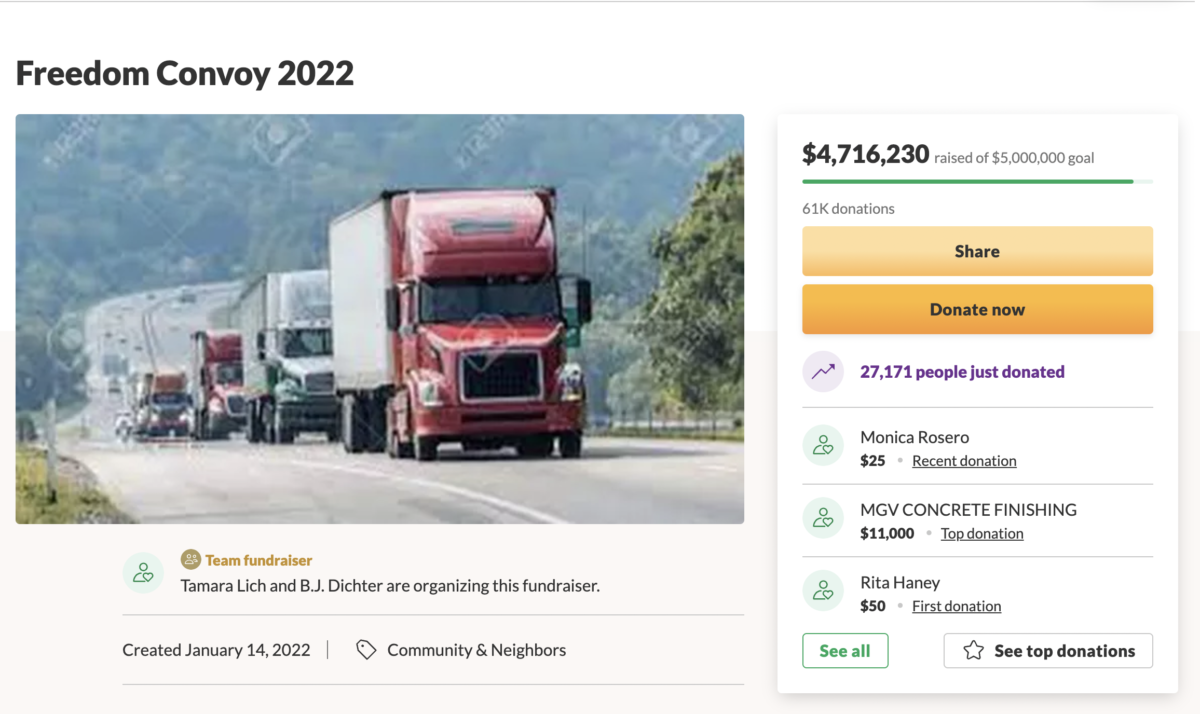 Several U.S. attorneys general raised concerns about the platform's unusual move shortly after it was announced.
"GoFundMe now won't honor Freedom Convoy donations and will instead redirect to other charities?" West Virginia Attorney General Patrick Morrisey said in a statement at the time. "In WV, organizations must not deceive donors and engage in deceptive advertising practices. If you've been victimized by a deceptive act or practice, let us know!"
Louisiana Attorney General Jeff Landry, another Republican, said his office would be investigating whether GoFundMe violated state laws.
After GoFundMe issued its update, three other Republicans, Missouri Attorney General Eric Schmitt, Ohio Attorney General Dave Yost, and Florida Attorney General Ashley Moody pledged to probe the company.
No Canadian officials have promised to investigate GoFundMe.
Truckers have since turned to GiveSendGo, a GoFundMe competitor.
"GiveSendGo stands for hope and freedom. We recognize the freedoms we have are God given, not authorized by governments, but rather ought to be protected by our governments. We do not condone violence of any form! We have been in contact with the campaign organizers and have received full assurance that any funds raised will not be used to fund any violent actions," a spokesperson told The Epoch Times via email.
"As in any polarized situation we recognize there will be a few individuals and groups that might intentionally try to incite violence. We realize this will be used to stain this movement by opposing groups. We will not broad stroke those individual situations as a depiction of what this movement represents as if they were affiliated."
Omid Ghoreishi contributed to this report.