A flag-waving crowd of more than 60 Californians turned out for a rally in Indio on Veterans Day to show their support for U.S. Border Patrol officers.
The patriots also denounced the Biden administration's federal vaccine mandates and border policies. Over the past five months, Border Patrol agents in Indio have been hit with a historic wave of illegal immigration from the southern border that critics say is by design.
Tens of thousands of illegal immigrants have been transported from Texas and Arizona to Indio and other Border Patrol stations in Southern California. From there, they are bused and flown to other communities in the state and across the country. They are then expected to attend immigration hearings to determine the validity of their asylum claims.
"Keep our Border Patrol on the job," one woman shouted as rallygoers gathered at the gates of the Indio compound.
"No vaccine," yelled another before the crowd began chanting "Let's Go Brandon."
The group cheered as agents emerged to accept a meal of In-N-Out burgers the patriots delivered to show their appreciation.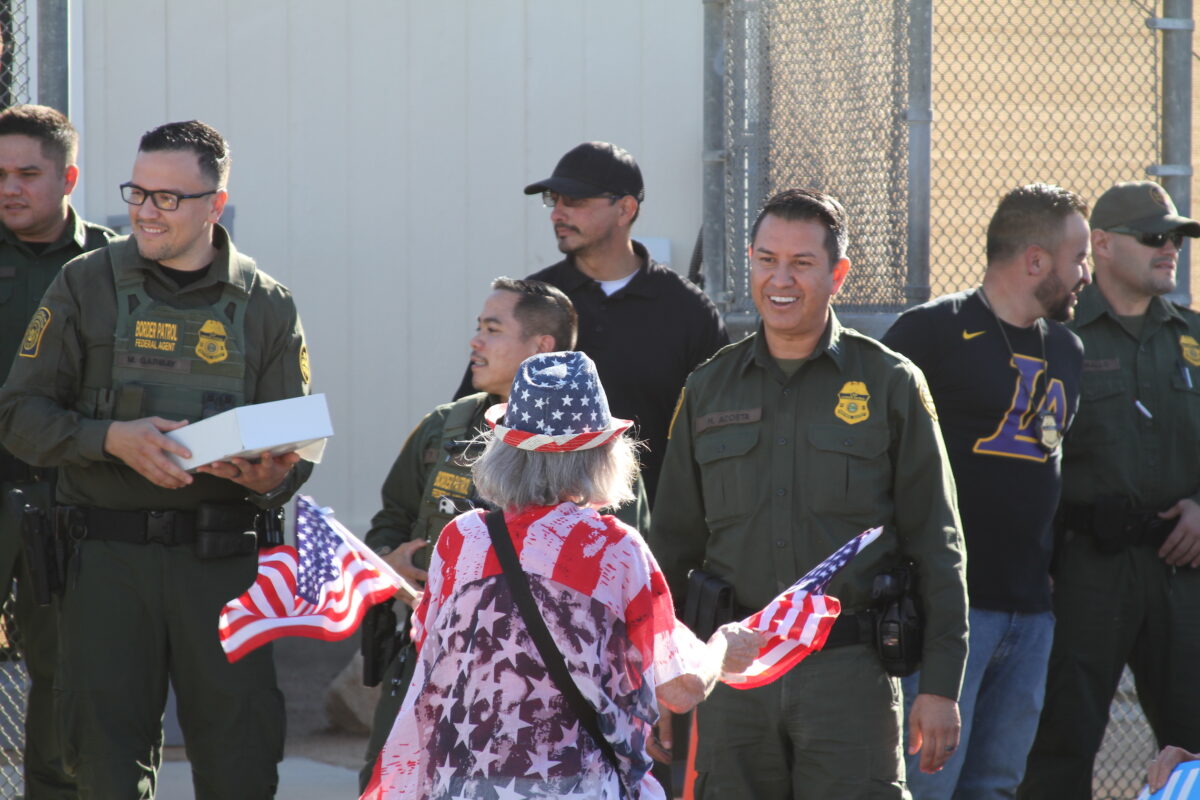 Joy Miedecke praised the agents as wonderful people who go the extra mile to protect Americans.
"We appreciate it, and so, on a day like today, there's nothing better than to go and give them a good all-American hamburger and pat 'em on the back and tell them that we love them," she said.
Border Patrol supervisor Hector Acosta thanked those who had gathered for their goodwill gesture.
"We have a lot of veterans here on staff. Today, a lot of them had their day off, and rightfully. I have a lot of veterans in my family. It's a great day and this just made it even greater," Acosta told The Epoch Times.
"It's a tough time because of the mandates," he said. "We hear a lot of negative stuff, but we don't see this very much—people coming down here and thanking us—and we appreciate it probably more than they would ever know."
Ellen Way of La Quinta said she decided to attend the Nov. 11 rally after reading in The Epoch Times that busloads of illegal immigrants have been moving through Indio for the past few months. She said she wanted to show support for Border Patrol agents and for the rule of law.
"We thought today, being Veterans Day, is such an important day in our nation's history that we come out here and we honor a group of brave people who don't often get included in all those celebrations. Many of these people are veterans," she said. "They protect our borders every day, and we don't often think about them because they do their job so well. So, all these people are out here to say thank you."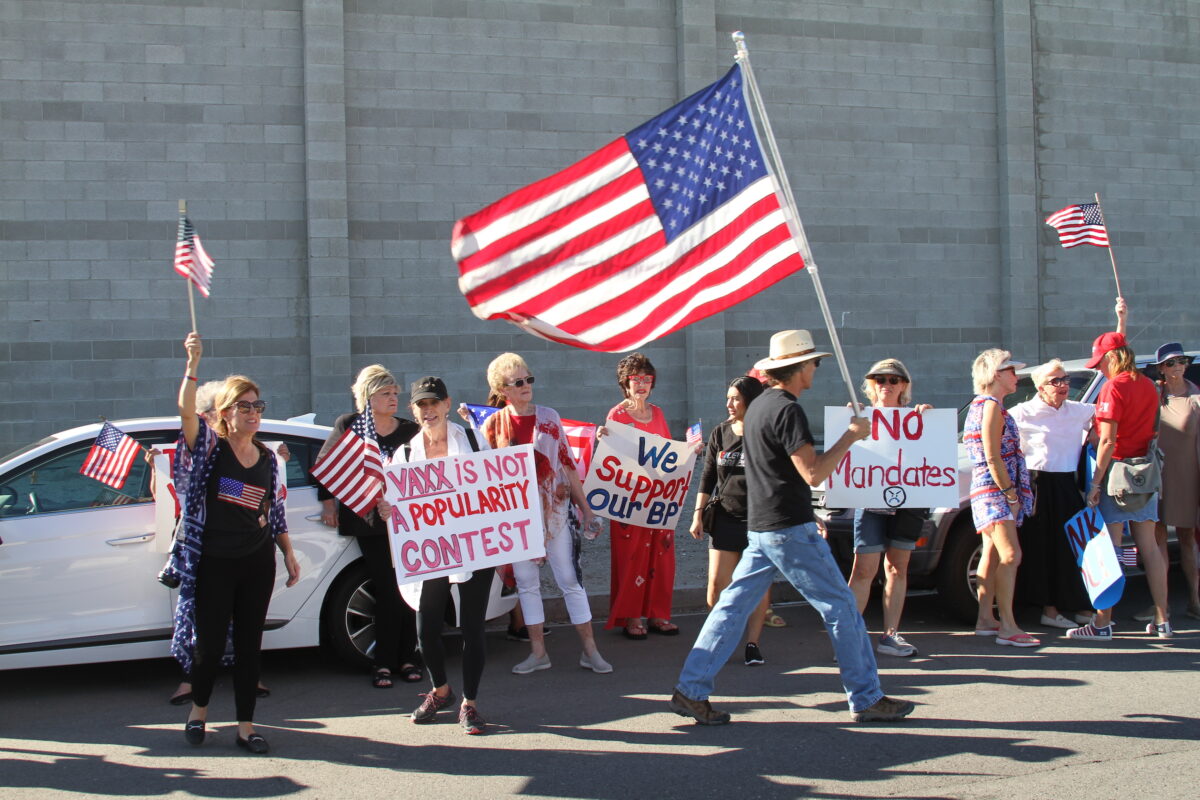 "There are people trying to enter this country and not using the legal process … and it looks to me as though our country is aiding them. We are a country of laws that we're all expected to follow, and I think those folks who are trying to come to this country should have to follow those laws as well."
Way is worried that many of the people crossing the border illegally are sick with COVID-19 and haven't been properly tested or quarantined before they're released into the country.
"I'm sorry, but I think most people I know would be concerned that we are bringing people from foreign nations that are COVID positive into our community when we're all doing the best we can to be vaccinated and to be safe and to take care of one another," she said. "I'm concerned because our local media is not telling us about this."
Don Appleton of Indio said illegal immigration and vaccine mandates are just two items on his "unhappy list."
"We've got to stand up, push back," he said. "My father was a Pearl Harbor survivor. I was in the Air Force and the CIA. This is my country. They can't do this to my country."
Vaccine mandates are "ridiculous," he said. "They suck, and I don't think there's any reason for them. I don't think they do anything. They're just political."
Linda Seelhorst of Indio wasn't happy to hear the news about illegal immigrants being bused from the Indio station into communities in California and other states
"I'm very much against it," Seelhorst said. "Our country is not a country without borders. I believe in helping our country, supporting our country, and keeping our borders strong."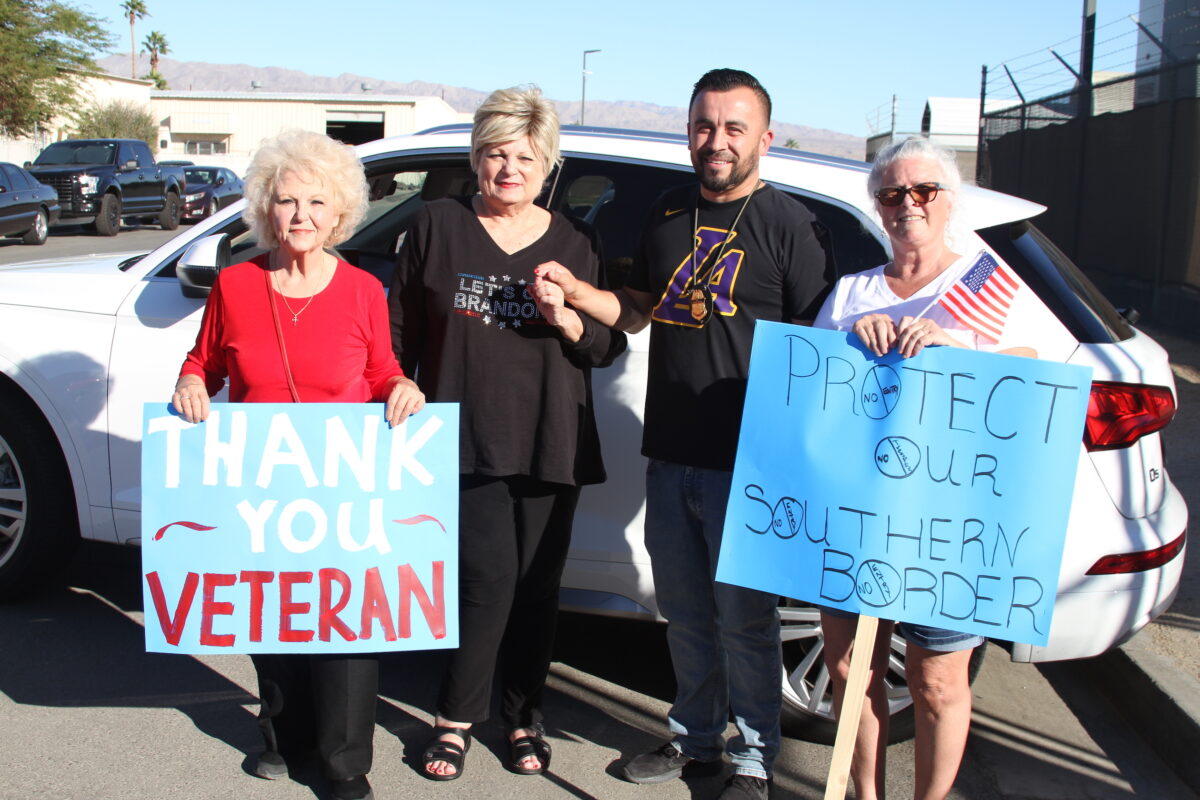 Veteran's Day was a fitting day for the protest because just as veterans lay down their lives to fight for freedom, Border Patrol agents also risk their lives to protect the border, said Seelhorst.
Seelhorst has gotten two doses of the vaccine but won't get the boosters.
"I don't believe that the vaccine is all it's cracked up to be. I took the two shots and I'm not taking any more just because I've had more education on this subject," she said.
Maria Harp of Indio quit her job in the fitness industry because she refused to get vaccinated.
"I walked away," she said. "It's giving up our freedom. I highly applaud the brave people who are standing up to this."
Every person should be allowed to choose for themselves whether or not they wish to get the vaccine, Angelica Haynes of Palm Desert Springs said.
"I don't approve of the vaccine mandate at all. I think it's wrong; I don't think it's fair. And I think we should stand for what we believe in. We're the United States of America," she said.
"I want the United States to become what it used to be: Free—not being told what to do or to … do something that other countries are made to do. Let's stand for the United States, for freedom and liberty like we used to," she said. "Be proud, stand up, and be an American."
Haynes said people who don't want to get the shots shouldn't quit their jobs, but wait to be fired so they have a stronger case if they wish to seek redress.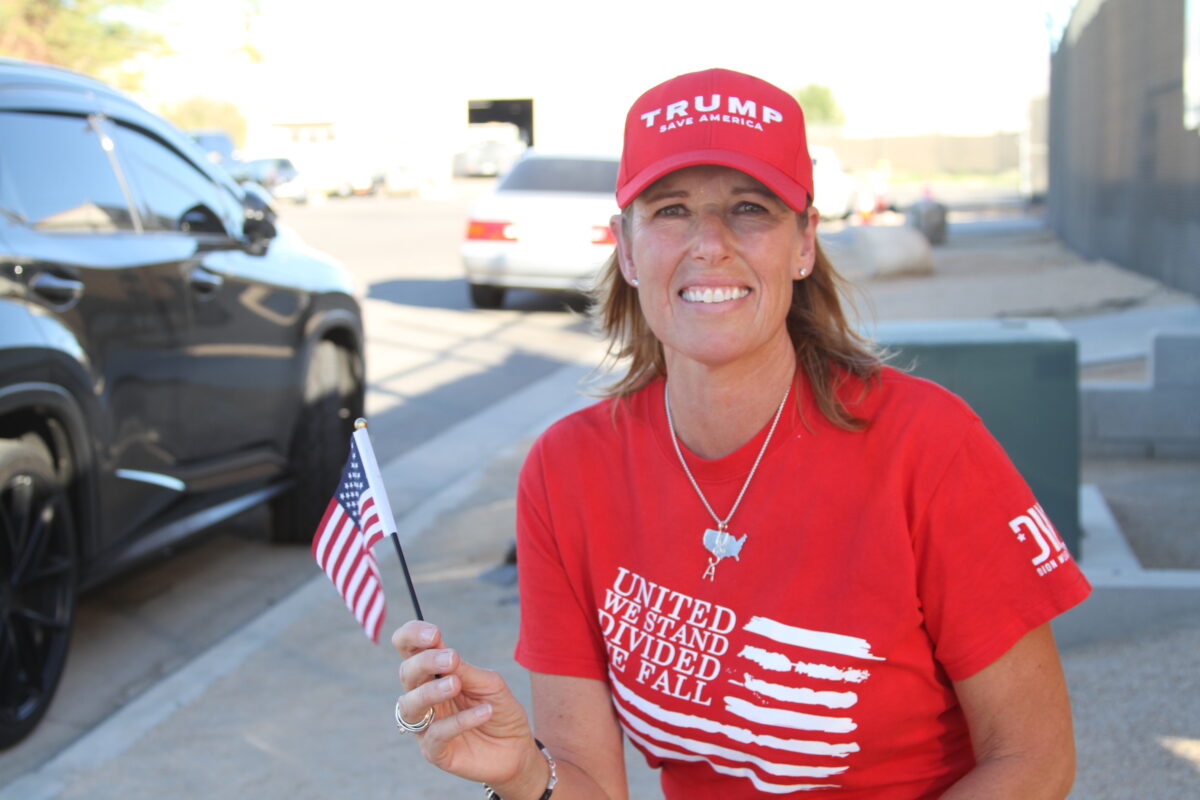 Pernilla Linner immigrated to the U.S. from Sweden legally through sponsorship, which took more than a decade. She took her Oath of Allegiance to become a citizen in June.
"I wanted more opportunities. I just love American people. I've been coming here actually since 1988," she said. "I love Americans. I love the American culture. I love everything about America, except for what I see right now, because it's changed a lot."
Too many immigrants to the U.S. don't want to embrace American culture and don't respect traditional American values, Linner said.
"They don't want to learn our culture; they want to change it," she said. "I think if you come to a country, you should come there because you love it."
Having immigrated legally, Linner said it bothers her to see illegal immigrants flooding the southern border, while others wait years to go through the immigration process legally.
She is concerned the U.S. border crisis is "exactly the same thing that happened in Sweden and Europe in 2014 and 2015, when the whole of Europe was flooded by refugees."
"It really bothers me to see that this is really a global plan. This is what's happening here," she said.
Many of the refugees carried signs saying they wanted to go to Sweden and Germany "because they knew the social systems were much better in those countries," Linner said.
"The refugees got to stay in castles," she said. "They got food, they got money. They got everything."
Linner, a self-proclaimed "patriot," wore Trump gear and patriotic jewelry at the rally that she makes herself.
"I love everything about Trump because what he mostly focuses on is common sense—common sense that we should learn about our country in school," she said. "We should have law and order that we all follow, that we respect each other. We should all work hard and earn money and just be good citizens and respect each other."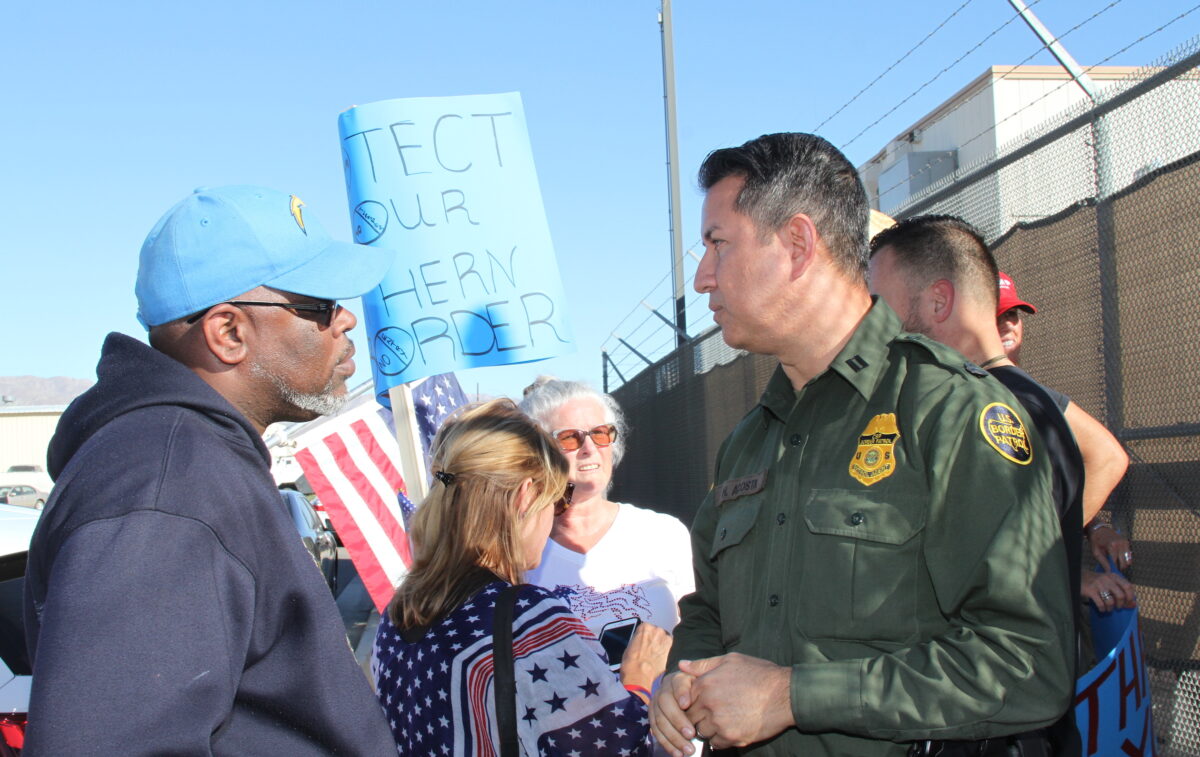 San Jacinto City Councilman Brian Hawkins, a Republican, told The Epoch Times he opposes the vaccine mandate.
"It would be nice if we had some of our other elected officials out here. Put politics aside and come and support our men and women who secure our borders and keep us safe at night," he said. "People are worried about being re-elected. I don't care about being re-elected. I care about the truth, and I care about our American freedom."
Hawkins said it's wrong that the law enforcement officers, who were considered heroes as first responders at the outset of the pandemic in 2020, are now faced with losing their livelihoods if they choose not to get the vaccine.
"I came out here to support our patriots and support our Constitution," he said.
"I'm a big fan of law enforcement. I do believe in law and order. I believe in public safety. I believe in securing our borders," said Hawkins, who is running for Congress in 2022.
Burt Thakur, an immigrant best known for his appearance on "Jeopardy!" and tearfully thanking then-host Alex Trebek for inspiring him to learn English as a child, said the immigration crisis is "damaging to America."
"A nation without borders is not a nation," Thakur said. "At the end of the day, life, liberty, and the pursuit of happiness are what's paramount. We're one nation under God, not one nation under government."
Thakur added that he also plans to run for Congress in the district.