Presumptive Democratic presidential candidate Joe Biden made his first public appearance in more than two months on Memorial Day, donning a mask as he and his wife lay a wreath at a veterans memorial near their house in Delaware.
Biden, 77, has only appeared in virtual events since March, amid the COVID-19 pandemic.
He and Jill Biden both wore black masks while laying a wreath of white flowers at the memorial before observing a moment of silence for those who died in military service.
"Never forget the sacrifices that these men and women made," Biden told reporters after. "Never, ever, forget."
Biden said he felt "great to be out here."
His visit wasn't announced beforehand and few were present.
Biden's campaign said the sole contender left in the Democratic presidential race has gone to the park for Memorial Day often in the past, though services were canceled Monday due to the pandemic.
Biden's campaign erected a television studio in the candidate's Wilmington house after most governors in the country imposed harsh measures restricting travel and in-person events. He has regularly appeared on television shows, town halls, and other programs from the studio.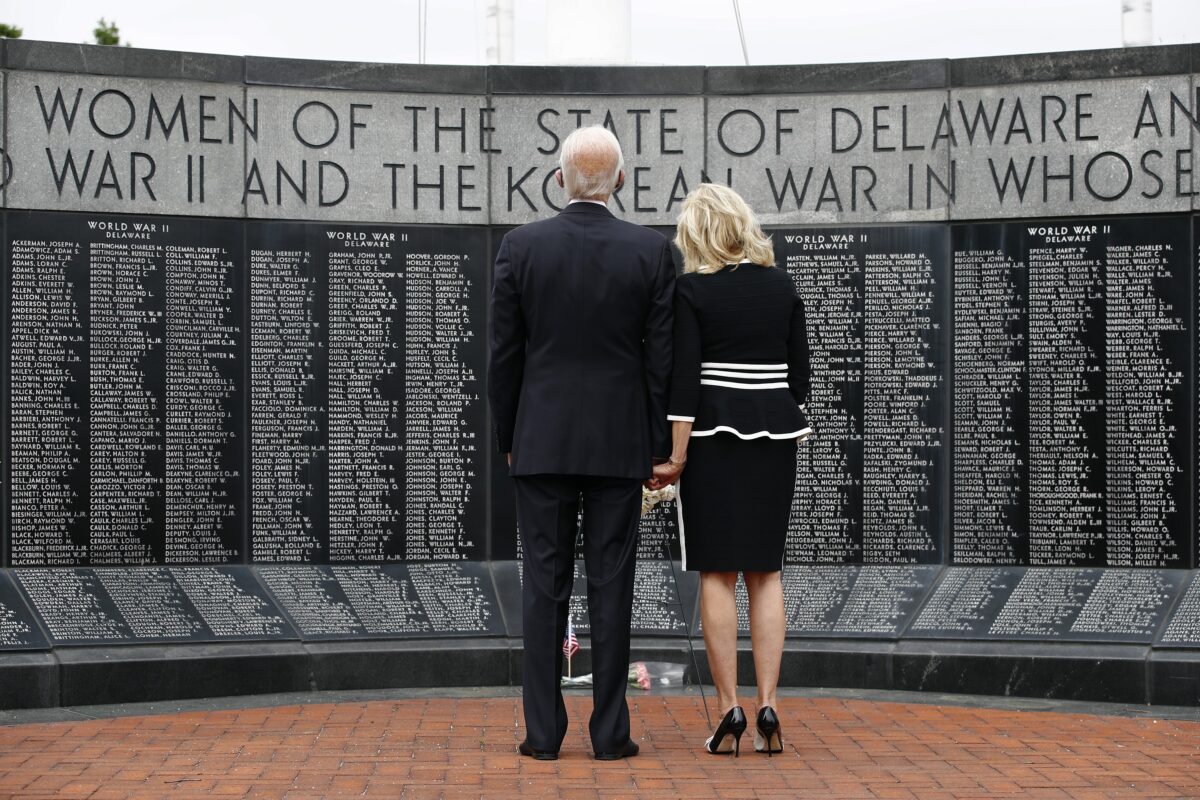 Biden has dealt with controversy in recent weeks, responding to a sexual assault allegation, reacting after declassified papers showed him requesting something he said he hadn't, and apologizing for telling black people they aren't black if they don't choose him over Republican President Donald Trump.
Campaign aides have defended Biden's choice to stay at home.
"We will never make any choices that put our staff or voters in harm's way," Biden campaign manager Jen O'Malley Dillon said recently, adding that the campaign would resume more traditional activities "when safety allows, and we will not do that a day sooner."
Trump, who is running for reelection, just resumed taking trips unrelated to the CCP (Chinese Communist Party) virus, the illness from China that causes the disease COVID-19.
Trump, 73, has not worn a mask in public. A picture recently circulated of him donning one briefly while out of view of reporters. Biden previously wore a mask during a television appearance.
The president traveled to his golf club in Virginia over the weekend, spending time with friends on the links. He rode in a golf cart alone.
Trump on Monday traveled to the Arlington National Cemetery in Virginia to lay a wreath before going to the Fort McHenry national monument in Maryland.
Trump plans on traveling to Florida for a rocket launch on Wednesday. SpaceX's capsule will be the first carrying astronauts from the United States since 2011, with trips originating in Russia for the past nine years.
The Associated Press contributed to this report.