News Analysis
The Winter Olympics held the opening ceremony in Beijing on Feb. 4, which was attended by representatives from 23 countries. Among them were five state leaders from Central Asia who came after China promised a $500 million donation.
Beijing offered lucrative trade deals in a bid to persuade the leaders of Kazakhstan, Kyrgyzstan, Tajikistan, Turkmenistan, and Uzbekistan to attend the Games, China affairs commentator Zhong Yuan wrote in his column on Feb. 3 in the Chinese-language edition of The Epoch Times.
In a Jan. 25 video summit, Chinese leader Xi Jinping pledged that China would import more of their products and to supply 50 million COVID-19 vaccine doses to the Central Asian countries. Xi also said China would donate $500 million, and offer training to 5,000 personnel in various industries over a three-year period while providing 1,200 scholarships over five years.
Russian President Vladimir Putin also attended the opening ceremony of the Games to show his support, although he was caught on camera dozing off and slumped in a chair, according to the UK Independent.
"The Chinese regime must have spent more money to have Russian President Vladimir Putin attend the ceremony. It only has one purpose—propaganda," according to Zhong.
Putin arrived in Beijing on Feb. 4 and had a meeting with Xi before the Olympics opening ceremony. During the talks, Putin unveiled new oil and gas deals between Russia and China worth an estimated $117.5 billion. Furthermore, China promised to buy more wheat and other products from Russia in the future.
The other leaders and state representatives who attended the opening ceremony include Egyptian President Abdel Fattah Al-Sisi, Serbian President Aleksandar Vucic, Argentine President Alberto Fernández, Ecuadorian President Guillermo Lasso, Speaker of South Korean National Assembly Park Byeong-seug, and Princess Maha Chakri Sirindhorn of Thailand.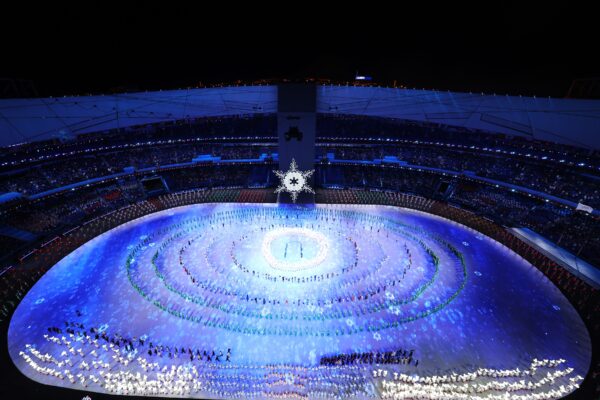 Human Rights Concerns
It has become challenging for Beijing to hide its human rights abuses from the international community during the Games. 
Some countries—including the United States, the United Kingdom, Australia, and Canada—mounted diplomatic boycotts over the Chinese regime's human rights record.
Reports from official agents, non-governmental organizations, Western media outlets, and Chinese dissidents show that the Chinese regime has persecuted and detained millions of people from ethnic minority and religious groups, including Muslim Uyghurs and Falun Gong adherents, and dissidents and petitioners who have called out Beijing's abuses. These atrocities go against the Olympic spirit.
"The goal of the Olympic Movement is to contribute to building a peaceful and better world by educating youth through sport practiced without discrimination of any kind and in the Olympic spirit, which requires mutual understanding with a spirit of friendship, solidarity and fair play," according to the International Olympic Committee's official website.

Chinese tennis star Peng Shuai made sexual assault allegations against Former Vice Premier Zhang Gaoli in November of last year. Since then, Peng's whereabouts and safety have become a global concern.
China's Zero-COVID Policy
Beijing implemented strict COVID measures during the Games. For example, all air passengers traveling to China must test negative before they can board the plane.
Among the international athletes and related personnel, such as coaches, who arrived in Beijing between Jan. 23 and Feb. 3, around 308 tested positive for COVID-19 and were isolated in hospitals or at quarantine centers, according to China's state-run media. They were also subjected to contact tracing. Their close contacts were barred from attending the Games and athletes couldn't train. Belgian skeleton athlete Kim Meylemans is among the so-called close contacts. Those who were allowed to enter the Olympic village must still take a COVID test every day.
"False positives are not excluded," Dr. Sean Lin, a microbiologist and former laboratory director at the Walter Reed Army Institute of Research, told The Epoch Times on Jan. 31. "Inaccurate testing can result in a virus-free athlete to test positive."
The Beijing 2022 Olympic Winter Games began on Feb. 4, and will run through Feb. 20 across three zones: Beijing, Yanqing, and Zhangjiakou.