Australian Defence Minister Peter Dutton has vowed to continue calling out the Chinese regime's human rights violations and belligerence, after Beijing's new ambassador struck a conciliatory tone.
Xiao Qian, the former Chinese envoy to Indonesia, arrived in Australia on Jan. 26, the country's national day, saying he was on a "noble mission."
In a statement, Xiao said that he would work to "increase engagement and communication," "enhance mutual understanding and trust," "eliminate misunderstanding and suspicion," and "jointly push the China-Australia relations back to the right track."
However, Dutton's welcome conveyed his skepticism, noting Beijing's aggression in the Indo-Pacific region.
"We want a good, strong friendly relationship with China but at the moment China is in conflict," Dutton told radio station 2GB on Thursday.
"At the moment, China is in conflict, not just with us, where they're cutting off markets, and the cyber-attacks, but with the Philippines. They're at loggerheads with the Indians, the Vietnamese, with many, many other countries."
"It's a belligerent approach, it's unacceptable," he added.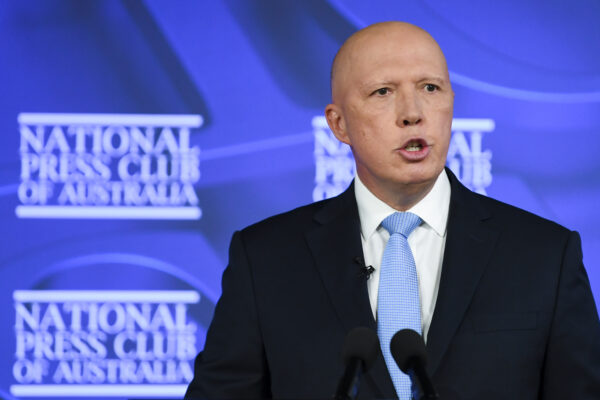 The defence minister also said that it would make Australia appear weak if the country stopped talking about human rights issues in China, such as the mistreatment of Uyghurs in the Xinjiang region as well as Chinese tennis star Peng Shuai.
"These are the issues the world needs to speak about and if we remain silent and we remain weak, and [to] block our ears and pretend it will go away, the problem will just compound," he said.
"I hope the new appointment is sincere in what he says, but we need to talk about human rights issues."
Former Australian diplomat and Liberal MP Dave Sharma shared Dutton's doubts about Beijing's change of attitude.
"China might be changing its tactics but its ultimate goals and objectives I think have not shifted here," Sharma told Sky News.
"I think they're desirous of improving relations with Australia. We're certainly keen to improve relations with them but without sacrificing any of our core national interests," he said.
"We should certainly welcome the tone and prospect and welcome the prospect of resumed dialogue, but we shouldn't be naive or delusional about ultimately what it means."

Meanwhile, Employment Minister Stuart Robert found the new ambassador's opening remarks "very pleasing."
"It's wonderful to see the new Chinese ambassador coming forward with a very open approach, and I think they'll find the Australian government's response equally open to ensure dialogue continues strongly," Robert told Sky News.
"I and other ministers are looking forward to a very constructive relationship as we move forward."
A spokesman for Foreign Minister Marise Payne said in a brief statement to the press: "The Australian Government welcomes the new Chinese Ambassador-designate to Australia and looks forward to engaging with him."
Relations at Low Point
Australia-China relations have hit historic lows since the Tiananmen Square Massacre in the past two years after Payne called for a global inquiry into the origin of COVID-19 in China.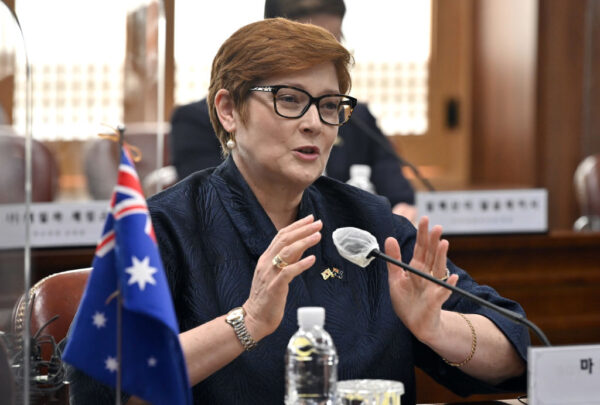 Beijing has retaliated to those calls with a series of actions that have been deemed coercive.
The Chinese regime placed sanctions and restrictions on Australia's exports, including imposing tariffs, arbitrary border testing and inspections, unwarranted delays in listing export establishments, and issuing import licenses. These actions have been described by politicians around the world as "economic coercion."
Further, in November 2020, China's Canberra embassy leaked a complaints dossier, later branded as "14 grievances," against Australia, triggering a backlash.
Then, in April 2021, the former CCP ambassador to Australia, Cheng Jingye, known for his "wolf-warrior" diplomacy, warned that China's international students and tourists were unlikely to return Australia after the border opened.
In November 2021, the acting ambassador, Wang Xining, likened Australia to a "naughty guy" over the trilateral AUKUS security pact with the United States and Britain that would see Australia received nuclear-powered submarine technology.
In December 2021, the Australian government joined the diplomatic boycott of the 2022 Beijing Winter Olympics.