Senate Majority Leader Mitch McConnell (R-Ky.) and challenger Amy McGrath clashed in a debate on Monday night over stimulus negotiations and the role of the Senate, particularly in respect to the federal judiciary.
McGrath, 45, the Democratic nominee, accused McConnell of not doing his job as
negotiations are stalled
on another stimulus package.
"Senator McConnell, his one job is to help America through this crisis right now in passing legislation," she told the audience.
"Instead of doing that, he is trying to ram through a Supreme Court nominee."
McConnell, 78, hammered out a deal with House Speaker Nancy Pelosi (D-Calif.) that resulted in the $2.2 trillion stimulus in March, but a compromise for a second large package has proven elusive.
McConnell blamed Pelosi.
"I know how to make deals. I made three major deals with [then-Vice President] Joe Biden during the Obama era. What the problem here has been an unwillingness by the speaker to make a deal," he said.
McConnell is helping lead the effort to confirm Judge Amy Coney Barrett, President Donald Trump's latest Supreme Court nominee. Democrats say the Senate should forgo consideration of the nominee until after the Nov. 3 election.
If Republicans move forward, some Democratic lawmakers say they'll retaliate by adding seats to the Supreme Court. To do so, Democrats would likely need to keep the House of Representatives, flip the Senate, and take back the White House.
Asked whether she supports adding seats, or "court packing," McGrath followed the path of many Democrat candidates and refused to answer directly.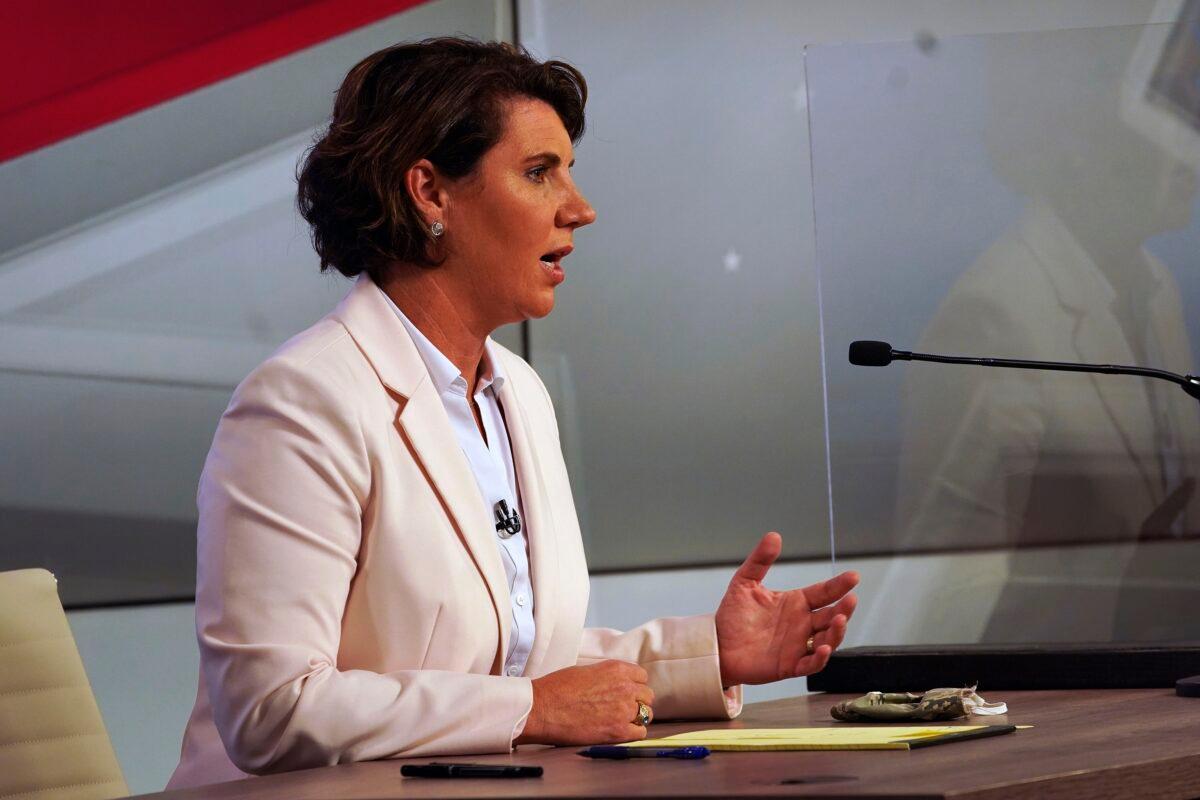 "I think we should be working on unpacking the Senate right now because he has polarized and made this partisan mess of the Supreme Court so bad that people were even saying they were going to vote for or against the nominee before they even had the name," she said. "In my mind, that's just not what we should be looking at. I'm focused on Kentucky."
"You notice she won't answer the question, and Joe Biden won't answer the question either," McConnell responded. "What Biden said, is I'll tell you after the election whether or not he's going to pack the Supreme Court. Well, we're entitled to know now."
Biden, the Democratic presidential nominee, said in recent days that he wouldn't reveal his position on court packing until after Nov. 3 and wrongly accused Republicans of violating the Constitution by moving forward with the Barrett nomination.
McConnell has represented Kentucky in the U.S. Senate since 1985. He became the top Republican in the congressional body in 2007.
McGrath, a former Marine fighter pilot, failed to win a bid for a seat in the House representing Kentucky's 6th Congressional District in 2018. She narrowly defeated Charles Booker, a state lawmaker, in the Democratic primary in June.
McConnell won the 2014 election by over 220,000 votes.