A young Chinese internet celebrity suddenly became a target of the Chinese Communist Party's (CCP) censorship and suppression for a short video he made about Taiwan and China.
Liu Dasheng, born in the 1990s, was a curious young man who liked to explore the outside world. He liked to chat with foreign tourists and learned from them what other countries were like.
One day, Liu learned to circumvent the CCP's internet censorship by using a VPN—a virtual private network, which hides the user's actual IP address—and surfed on the internet outside China. What he saw changed his life.
Truth of the Tiananmen Square Massacre
In one of his internet surfings in 2016, Liu saw a documentary about the CCP's suppression of students' protests in Tiananmen Square in 1989.
"I was completely stupefied by what I saw," Liu said when speaking with the Chinese language edition of The Epoch Times in an interview on Jan. 23, 2023.
"The CCP covered up this! It did such a bad and barbarous thing as to use its military, machine guns, and tanks to suppress peaceful students! I was stunned!" Liu said that he couldn't find a proper word to describe his feelings.
He could not accept what he saw, Liu added. He asked around, hoping to confirm that the documentary was not true. He couldn't find an answer in China; the people whom he asked told him that they didn't know about the massacre.
Phrases and words such as Tiananmen Square, massacre, and protests are strictly censored by the CCP.
After Liu came to the United States in 2018, he was able to talk with some middle-aged people, who told him that the killing was true.
Liu found it hard to accept the truth; he wasn't able to convince himself that the party he'd trusted had cheated Chinese people.
Later, Liu met a survivor of the Tiananmen Square massacre, who was a university student in Beijing in 1989. He told Liu that he was on campus when he heard the gunshots. He didn't believe that the communist regime would have opened fire at its own students, so he rushed out of the campus to have a look. He immediately heard the sound of bullets going in his direction and saw the craters of bullets on the wall beside him. Luckily, the student wasn't shot.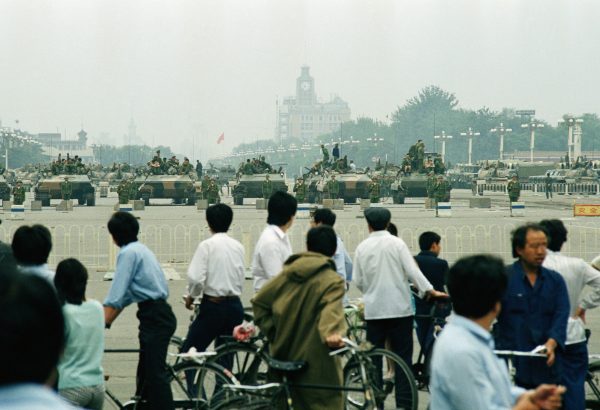 At least 10,000 people were killed during the Tiananmen Square massacre in June 1989, according to a secret British diplomatic cable and U.S. documents declassified in 2014.
However, Yuan Mu, the then-spokesperson of the Chinese regime, claimed that "not a single person died at Tiananmen Square," following the massacre.
"My first response was shocking; a second thought was: 'I have been deceived by the CCP!'" Liu said that it was a complicated feeling. "It's just like that you've been fooled by someone you trust since you are a child. Then one day you suddenly come to know everything, and you'll think: 'I have been so foolish, and the CCP has been so bad!'"
When Liu was more aware of the evil nature of the CCP, he started to think independently about many things, including the political systems of China and Taiwan.
Livestream Gets Liu Into Trouble
In October 2018, Liu talked about the differences in the political systems in China and Taiwan in a live-stream video program on Youtube.
Why doesn't Taiwan want to unify with China? It would be "game over" for Taiwan, Liu said in his self-media program.
Taiwanese would no longer have voting rights, Taiwanese would have to circumvent the CCP's Great Firewall to watch YouTube programs or use Google, and Taiwanese wouldn't dare to criticize their president Tsai Ing-wen anymore, because they would be arrested for doing this, Liu said in the program.
"Today's Hong Kong is tomorrow's Taiwan," Liu said.
His program went viral on the internet.
His parents in China were immediately threatened by Chinese police, and his mother was out of contact for several days. Liu suspected that she was detained by the police from his hometown in China's eastern Jiangsu Province.
Liu said that he knew the CCP wanted to silence him by threatening his family. He didn't want to keep quiet, though he was worried about the safety of his parents.
"There must be a bottom line that you stick to as a human being," Liu said.
Exposing the Evil Nature of the CCP
In the interview with The Epoch Times, Liu talked about some of the bad things the CCP has done to the Chinese people.
He said that the Chinese communist regime "treats Chinese people like livestock."
For the past three years, the CCP locked down people randomly. Then it lifted the isolation measures all of a sudden without due notice or preparation, Liu said.
Neither the lockdowns nor the relaxation of zero-COVID measures is meant for the well-being of the people, said Liu.
He also cited the one-child policy implemented by the CCP from 1979 to 2013.
According to data from the country's Ministry of Health cited by Chinese state media, 336 million abortions were performed from 1971 to 2013, and Chinese doctors also inserted 403 million intrauterine devices (IUDs) in Chinese women for birth control.
All the CCP's policies or changes of policies are for better control of the Chinese people, Liu noted.
'We Must Overthrow the Tyranny!'
Liu advised people, especially Chinese people, not to trust the CCP.
"The CCP said that it would build a democratic China in the 1940s when it was fighting with Chiang Kai-shek [former president of the Republic of China]," Liu said in a YouTube program on Feb. 1, 2023.
"Look at Hong Kong now," Liu said, adding that he doesn't understand why some people still believe in the CCP's lies.
Liu has participated in multiple events that supported the democratic movement and protested against the CCP.
On Jan. 21, 2023, which was lunar New Year's Eve, Liu and overseas Chinese dissidents rallied in front of the Chinese consulate in Los Angeles. They lit a CCP flag to protest against the communist rule of China and demanded the release of White Paper protesters detained by the communist regime.
"We must overthrow the tyranny!" Liu told The Epoch Times. "When China is free [from the CCP's rule], there is no need for me to burn a CCP flag then."
"I think every overseas Chinese has the commitment to turn China into a free country because that is where we were born and where we grew up," Liu said, calling on his fellow Chinese compatriots to spread the truth and the spirit of freedom.
"Don't trust the CCP; stay away from the CCP," Liu said that this is his message to people in China.
Ma Shang'en contributed to this report.