The world's biggest coal exporting terminal, located in New South Wales (NSW) Australia, has managed to bounce back and break records, despite the Chinese Communist Party (CCP) halting all coal imports from Australia for 18 months.
Even with the added impact of a global supply chain crisis and pandemic, the Port of Newcastle saw a record $31 billion in exports in 2021—revealing that Australian goods, and coal, in particular, remained high in demand globally.
In all, 2021 saw the port handle 2266 ship movements—on average more than six each day—and a total of 166 million tonnes of cargo, which included both coal and other commodities.
Of the $31 billion in exports, $28 billion came directly from coal, with Australia ramping up exports to Japan and Taiwan and expanding to new markets, such as Thailand and India.
This is in spite of Beijing's decision to stop all coal imports from Australia in April of 2020 as part of an attempt to "drive Australia to its knees" after the nation called for an inquiry into the origin of the CCP virus.
The value of coal exports had also been fuelled by a sharp rise in coal prices—which increased five-fold over the span of one year—in addition to Beijing's decision to re-accept Australian coal in October after the communist nation experienced a severe energy shortfall.
But port acting executive manager for business development, Matthew Swan, highlighted that trade in 2021 had also grown more diverse, including with wheat exports which had surged by 900 percent compared to the previous year.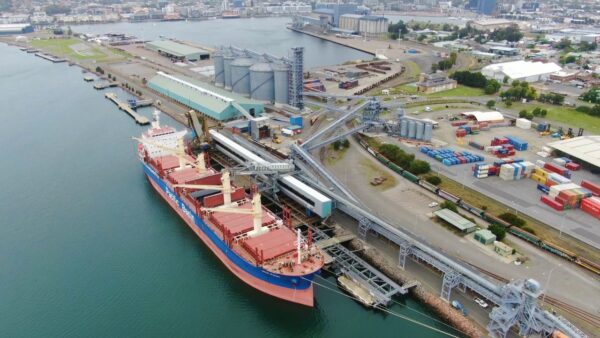 "Many people don't realise that the port handles 25 different cargoes through its deepwater global gateway, only one of which is coal. We have seen increased demand for diversified trades across the board, including wheat, fertiliser, steel, cement, fuels, project cargo and aluminium," Swan said.
The three biggest exports apart from coal included iron ore and other mineral concentrates ($1.7 billion), aluminium ($300 million), and wheat ($840 million).
Destination for Australian ores went primarily to the Philippines, Japan, and China; aluminium had largely been bought up by Japan and Korea; and most of the wheat stock had been shipped to Indonesia, Vietnam, and Italy.
And despite placing bans or tariffs on a plethora of Australian goods—such as on coal, wine, barley, beef, lobster, timber, and cotton—Beijing had also been forced to import millions of tonnes of Australian wheat as supply fell worldwide.
The latest data comes as the port prepares to continue diversifying trade away from coal, a resource for which some estimate will dwindle in demand as more nations work to reduce their carbon dioxide emissions.
"With a deepwater shipping channel operating at 50 percent of its capacity, significant port land available, and enviable access to national rail and road infrastructure, in 2022 Port of Newcastle will see a range of projects and initiatives come to fruition that will support the further diversification of our trade."