The sounds of explosions were allegedly heard in the Ukrainian capital of Kyiv shortly after Russian President Vladimir Putin announced a "
special military operation
" in Ukraine early Thursday, local time.
Putin said in an emergency televised address that the military operation is intended to protect civilians and to "demilitarize" Ukraine, and is a response to threats coming from Ukraine.
However, he added that Russia's plans "are not to occupy Ukraine, we do not plan to impose ourselves on anyone" and asked that the Ukrainian military "immediately lay down its arms."
Shortly after Putin's address,  explosions were reported in Ukraine's capital, Kyiv, as well as in other cities, including Kharkiv, Mariupol, and Odesa.
CNN reporter Matthew Chance said during a live CNN broadcast that he heard a "big bang" behind him.
"There are big explosions taking place in Kyiv right now, I can't see where they're taking place from this vantage point here on top of the roof of the hotel in central Kyiv," he continued."I can't explain what they are but I heard four or five explosions a few moments ago."
Later,
livestream video
obtained by CNN shows tanks rolling into Ukraine from a border crossing with Belarus at around 6:48 a.m. local time.
Separately, Al Jazeera's Andrew Simmons
said
he heard at least seven "loud explosions" in Kyiv as he reported from Ukraine's capital.
"It sounds like shell fire, but it could be airstrikes," Simmons told the news channel. "Boryspil international airport came under attack … we're not sure whether it was shelled or whether it's an explosion," he added.
"We've heard sirens as well, so there's definitely a full attack happening on the capital."
It has not been confirmed if the airport has come under attack.
Separately, CBS international correspondent Charlie D'Agata, said during a CBS broadcast, that he heard "
five loud explosions
," before briefly pausing the report for what he believed to be a fighter jet flying overhead.
"Just a few moments ago we heard five loud explosions... three to begin with... followed by two more," D'Agata said. "It's just after 5.15 in the morning here, there were reports of explosions earlier this morning."
D'Agata added that the explosions were "very clear and distinctive explosions."
Another CBS correspondent Holly Williams also 
reported hearing explosions
 shortly past 5 a.m. local time in Kharkiv, saying she had heard "more than a dozen of them" beginning early this morning.
"Sounds like explosions, we can't confirm what they are but of course, the suspicion is that they are missile strikes, airstrikes," Williams said while reporting from the city, which is just 20 miles from the Russian border.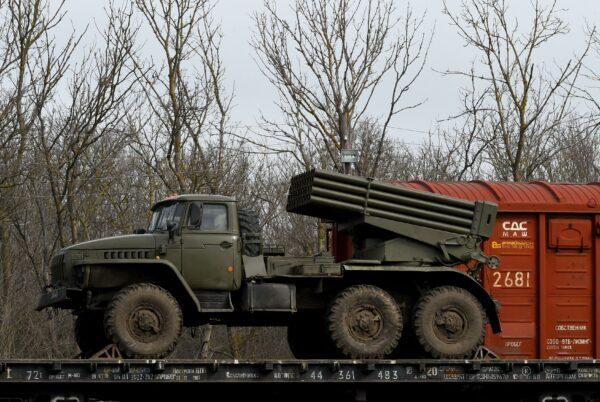 Sen. Marco Rubio (R-Fla.) said on Twitter that there was a "full scale & comprehensive military assault" underway throughout Ukraine.
"Airborne & amphibious landings, missile strikes from air, ground & naval forces, electronic & cyber attacks & a large ground force to occupy a large swath of territory," Rubio said.
"Ukraine is outgunned and outmanned but they are brave & tough fighters and as the world will soon learn they have already inflicted damage on Russian invaders," he said in a later tweet.
In another tweet, Rubio said, "One very concerning development is Russia has carried out a few targeted operations uncomfortably close to the Polish border," adding, "This is the danger of miscalculation & human error that can quickly lead to a catastrophic escalation."
Meanwhile, the United States Embassy in Kyiv
has issued a warning
for Americans in Ukraine to "shelter in place" amid the Russian attacks in a number of Ukrainian cities. "There are reports of Russian attacks on targets in a number of major Ukrainian cities, including Kyiv, Kharkiv, Odesa, Ivano-Frankivsk, and Mariupol," the embassy said on Twitter. Americans were also advised to "immediately seek cover" if they hear a loud explosion or sirens are activated.
Following Putin's declaration, Ukraine Foreign Minister Dmytro Kuleba said in a
tweet
that, "Putin has launched a full-scale invasion of Ukraine. Peaceful Ukrainian cities are under strikes. This is a war of aggression. The world can and must stop Putin. The time to act is now."
NATO Secretary-General Jens Stoltenberg
condemned
what he called Russia's "reckless and unprovoked attack" on Ukraine which he said puts countless civilian lives at risk.
"This is a grave breach of international law, and a serious threat to Euro-Atlantic security. I call on Russia to cease its military action immediately and respect Ukraine's sovereignty and territorial integrity," Stoltenberg said. "NATO Allies will meet to address the consequences of Russia's aggressive actions. We stand with the people of Ukraine at this terrible time. NATO will do all it takes to protect and defend all Allies."
Putin, in his announcement on Thursday, warned that any foreign attempt to interfere with Russia's action will trigger an immediate reaction from Russia, and will lead to "consequences they have not seen before."
His announcement regarding the "military operation" came after the president on Monday said that the country will 
recognize the independent sovereignty
 of the Donetsk and Luhansk regions in eastern Ukraine. Putin also signed a decree that authorized Russian troops to be sent into the area for so-called "peacekeeping operations."
President Joe Biden late Wednesday local time issued a statement saying that Putin "has chosen a premeditated war that will bring a catastrophic loss of life and human suffering."
"The prayers of the entire world are with the people of Ukraine tonight as they suffer an unprovoked and unjustified attack by Russian military forces," Biden said. "Russia alone is responsible for the death and destruction this attack will bring, and the United States and its Allies and partners will respond in a united and decisive way. The world will hold Russia accountable."
Mimi Nguyen Ly contributed to this report.