A woman is alone on a beach late one night. She walks along, enjoying the sound of the waves coming in to the shore. Then there's a whistle, and two men come up behind her, inviting her to come with them for a drink. She politely refuses but the men insist, refusing to take "no" for an answer.
Her heart is pounding and the men move to grab her. And right when it seems like something truly terrible will happen, she finds a savior. Only it's not her boyfriend or a good Samaritan … it's a stray dog.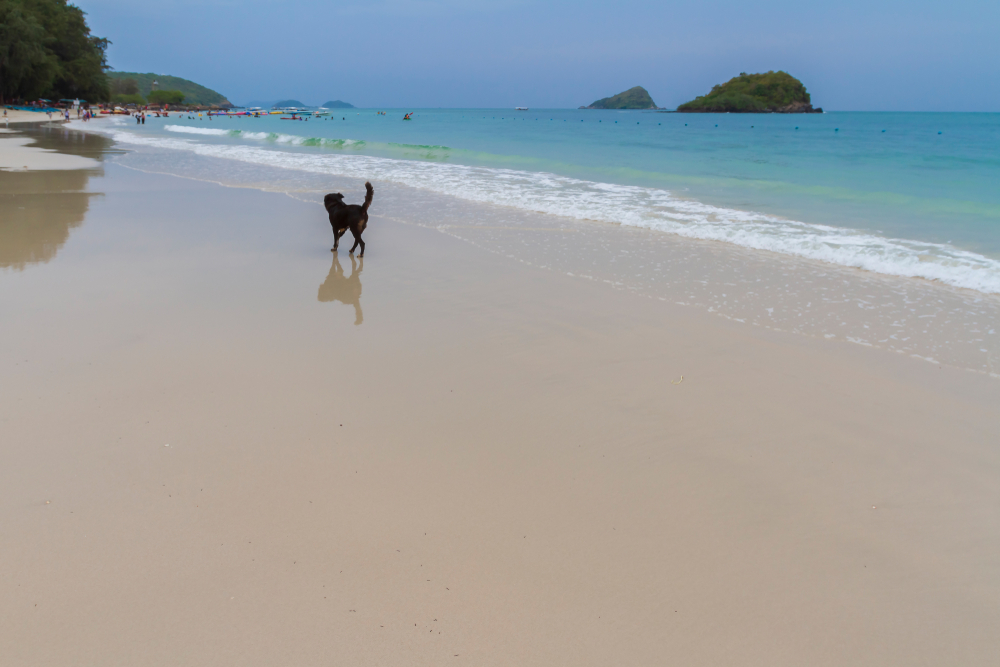 This scenario isn't just hypothetical. It's the story of British woman Georgia Bradley, who was visiting Crete with her boyfriend in 2015. Bradley had been having a great time visiting the beaches of the Greek island. She and her boyfriend had noticed a stray running around the beach of Georgioupouli, where they were staying.
As Bradley told The Daily Mail, "pretty much every evening we saw her around outside the bars and restaurants, trying to get the attention of the tourists." While Bradley and her boyfriend wanted to approach the dog, "every time we got close to her she wouldn't let you stroke her. She was very gentle, but was too scared to let you close."
But on the night that Bradley was trapped, far from her boyfriend, who was still at a café behind the beach, the dog was right there. As she told the Mail, "I was on my own and it was a very scary and difficult situation."
Somehow, the dog figured out that Bradley was in trouble. "She shot out of nowhere, jumped up at me and began barking and licking my hand, and that made the men think twice. She saved me."
After nearly being assaulted, Bradley couldn't let the dog just go on living with no home: "we had an instant bond," she told the Mail. She and her boyfriend did their best to identify an owner, and failing that, to find a place with a local vet or shelter. But there was no place in Crete for her rescuer. The dog kept following Bradley and her boyfriend but was still shy when approached.
Then Bradley's trip came to an end and she didn't know what to do. "When we left to go to the airport, we looked back and Pepper was running after the car. It was heartbreaking." When she got back to the United Kingdom, that horrible night and the incredible dog who came to her aid kept returning in her mind.
"I took the soonest flight back out that I could, which was two weeks later," Bradley told the Mail. Incredibly, Pepper was right back at where they found her. "When we saw Pepper on the beach, it was the best feeling ever."
Then Bradley set about the extremely costly and lengthy process of getting Pepper back to Plymouth, where she lived.
British student adopts stray dog that saved her from two men in Crete http://t.co/3vZAfktmWO pic.twitter.com/4PxF9J1raw

— Metro (@MetroUK) August 20, 2015
To get her beloved Pepper back home, the dog had to get vaccinated for rabies, get a microchip to identify her, and heartworm examinations from vets before the United Kingdom would accept her.
After three weeks in quarantine, Pepper was finally ready to travel the 6,000 miles to her forever home in Calstock, Cornwall, where Bradley's family lived.
When Pepper finally arrived in her new home, she had a pretty big surprise for her new mom: six puppies! As Bradley told the Telegraph: "It has been such a crazy journey. But I am over the moon. Pepper has settled in brilliantly."