It's been just days since a new strain of COVID-19 made headlines across the planet.
While the World Health Organization (WHO) has warned that the new Omicron variant presents a "very high risk," other scientists, including some with WHO, have stressed that we still have much to learn about the new CCP (Chinese Communist Party) virus strain's transmissibility, virulence, and other characteristics.
Francis Collins, director of the National Institutes of Health (NIH), told CNN's "State of the Union" that Omicron is likely "more contagious" than its predecessors. He said there isn't yet any information indicating it causes worse disease than earlier variants.
Following upheavals in the stock market when the variant hit the news cycle on Black Friday, investment banking giant Goldman Sachs pushed back, writing that "we do not think that the new variant is sufficient reason to make major portfolio changes." It cited its view that existing treatments will likely keep the new variant in check.
In South Africa, where some of the earliest cases of omicron have been identified and treated, Dr. Angelique Coetzee of the South African Medical Association told The Daily Telegraph that patients with Omicron have had relatively minor symptoms, albeit ones atypical of COVID-19.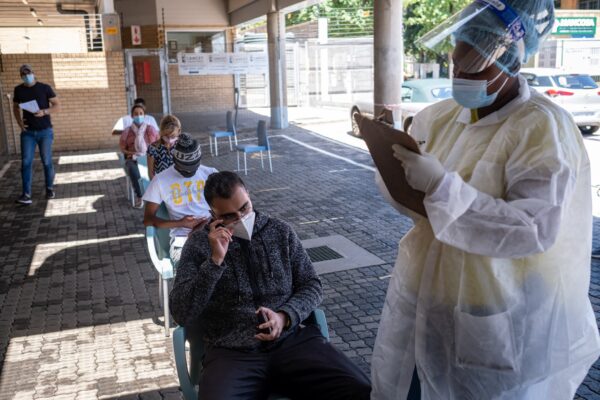 "It presents mild disease, with symptoms being sore muscles and tiredness for a day or two not feeling well," Coetzee said. "So far, we have detected that those infected do not suffer the loss of taste or smell. They might have a slight cough. There are no prominent symptoms. Of those infected, some are currently being treated at home."
Origins, Spread, and Severity
The earliest reports of Omicron came from southern Africa. On Nov. 25, a statement from Botswana's COVID-19 Task Force announced that a new variant, B.1.1.529, had been detected in four travelers.
A statement on Nov. 26 from the country's Ministry of Health and Wellness noted that the four individuals, who are foreign diplomats from an unnamed country, initially tested positive for COVID-19 on Nov. 11. Genomic sequencing later revealed that the travelers had the new variant.
That same day, WHO announced that B.1.1.259, or Omicron, was a variant of concern (VOC). WHO cited the variant's large number of mutations, adding that "preliminary evidence suggests an increased risk of reinfection with this variant, as compared to other VOCs."
Notably, WHO's announcement stated that the first confirmed Omicron infection dated to Nov. 9, not Nov. 11 as stated in Botswana's press release.
In the days since, Omicron has been detected across the world, reaching at least 24 countries as of Dec. 1, according to Forbes.
Subsequent analyses have suggested it was circulating long before early- to mid-November.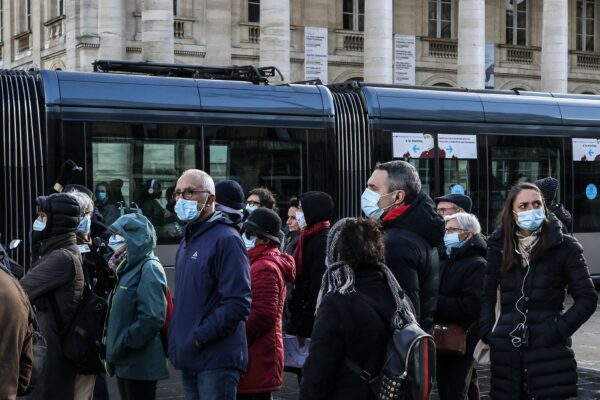 Notably, Nigerian scientists have identified the variant in a sample obtained in mid-October, from a traveler who had returned from South Africa.
While the variant may be more contagious, so far, it has not been associated with greater illness or death.
All 44 cases detected in Europe were mild or asymptomatic, according to reporting from Bloomberg.
This has led some experts to criticize the media and governments across the world for stirring up too much fear over the new variant.
Coetzee, of the South African Medical Association, has led the charge against what she sees as over-hyping of Omicron.
"Let me be clear: nothing I have seen about this new variant warrants the extreme action the UK government has taken in response to it," she wrote in The Daily Mail.
"No one here in South Africa is known to have been [hospitalized] with the Omicron variant, nor is anyone here believed to have fallen seriously ill with it."
In a Nov. 29 Twitter thread, Dr. Nicholas Christakis of Yale University noted there had been "no reports, yet, of deaths" from Omicron. "We will see such deaths before long," he said.
So far, even as the Omicron variant reportedly swept South Africa in November, COVID-19 deaths in the country have fallen from recent highs during the country's winter in July and August.
On Dec. 1, however, WHO's COVID-19 technical lead, Maria Van Kerkhove, noted an increase in hospitalizations in the country, according to CNBC. The country has simultaneously dealt with a small surge in the Delta variant, which may account for some of the increase in hospitalization.
The latest government figures from South Africa show that the case positivity rate in the country has reached 16.5 percent as of Dec. 1, a marked increase from 10.7 percent the previous day.
If Omicron is both more contagious and less severe than earlier variants, its emergence could reflect a trade-off between transmission and virulence. According to this scientific hypothesis, pathogens evolve in the direction of spreading farther while also becoming less damaging to their hosts.
What About Treatments?
Some have worried about the efficacy of current COVID-19 therapeutics against Omicron.
Regeneron has announced that its antibody cocktail may be less effective against this variant than prior variants. It noted that testing is still in progress and that some of its other monoclonal antibodies, still currently under investigation, could prove useful in treating patients with Omicron.
On Tuesday, the CEO of Moderna sounded the alarm that existing vaccines might fail against the new variant, citing conversations with unnamed scientists in an interview with The Financial Times, "All the scientists I've talked to … are like, 'This is not going to be good.'"
Yet others, including Pfizer Director and former Trump administration official Dr. Scott Gottlieb, have struck a more upbeat tone.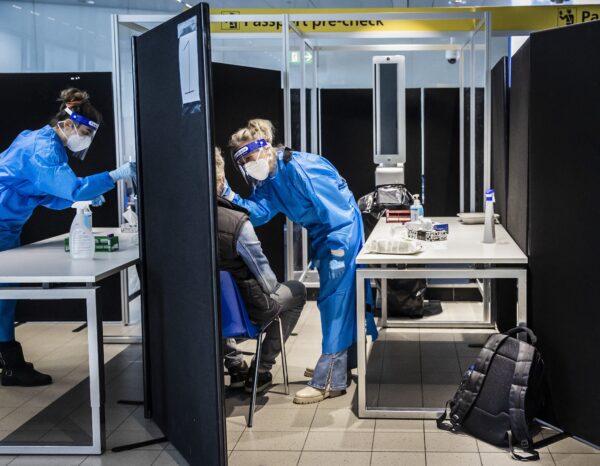 "There's reason to be optimistic current boosted vaccines will provide meaningful protection against #Omicron," Gottlieb wrote on Twitter.
A statement from Oxford University indicated there's no evidence yet that Omicron overcomes the protection provided by vaccines.
Notably, many of the patients who have so far tested positive for the Omicron variant were also vaccinated.
According to the Nov. 25 Twitter statement by Botswana's COVID-19 Task Force, the first four reported cases of Omicron were in fully vaccinated individuals.
The first confirmed case of the Omicron variant in the United States, identified through genomic sequencing, occurred in a fully vaccinated person.
Additionally, on Nov. 29, Botswana's Assistant Minister of Health and Wellness Sethomo Lelatisitswe testified to the country's parliament that none of the four unvaccinated individuals among the country's fifteen ongoing Omicron cases showed symptoms.
Collins, of the NIH, thinks scientists will be better able to comment on the efficacy of existing vaccines against Omicron after two to three more weeks of field and laboratory testing.
Little Knowledge, Big Government Action
Our understanding of Omicron will improve as we learn more about it.
Thankfully, that knowledge could come sooner rather than later—WHO's Van Kerkhove has said her agency expects to know more about the new variant in days rather than weeks as initially projected, according to Reuters.
Yet despite our limited information on the new variant, as well as early indications that it may not be too severe, governments across the world have already reacted strongly. The United States, the UK, and other countries have banned travel from many countries in southern Africa, while Japan has barred entry of all foreign nationals.
WHO and other experts have criticized such restrictions, as has the U.S. Travel Association.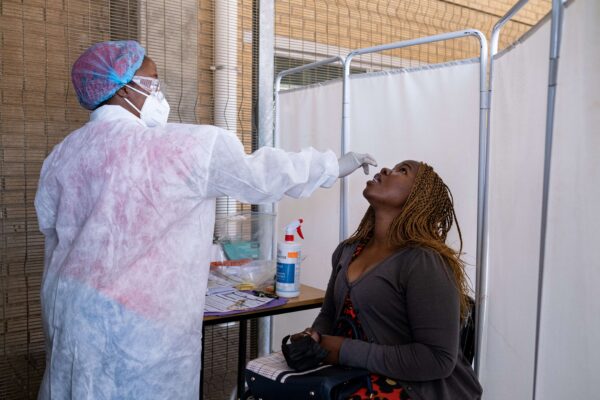 Dr. Anthony Fauci, President Joe Biden's chief medical adviser, told ABC's George Stephanopoulos on Nov. 28 that it was "too early to say" whether new lockdowns or mandates would be implemented in response to Omicron in the United States.
"We just really need to, as I've said so often, prepare for the worst," Fauci said in that interview.
More and more experts have voiced concerns about the use of lockdowns and similarly sweeping measures, with economist Donald Boudreaux telling The Epoch Times that such shutdowns have "massive, gigantic, maybe even unprecedented" effects.
Writing in The Daily Wire, Dr. Scott Atlas, a coronavirus adviser under President Donald Trump, said that even if COVID-19 deaths stop rising quickly alongside cases during recurring spikes, "it is unlikely the recurring hysteria and mismanagement by those in power will end so quickly."