Virginia Gov. Glenn Youngkin was again asked whether he is planning on joining the 2024 presidential race amid reports that top GOP donors are attempting to sway him.
"I've told you, I'm totally focused on Virginia elections and that's what we are going to get done," Mr. Youngkin, a Republican, told
Fox News
on Thursday when asked if he would "rule out" a presidential bid in 2024.
He added: "What happened recently was Joe Biden came to Virginia two weeks ago and he said one of his top priorities were the legislative elections in Virginia, he put a million and a half dollars in against our candidates."
Without addressing whether he would run, Mr. Youngkin said that Republicans need to "battle against this and I'm hoping that our retreat in October will provide good resources for us to combat the flood of resources coming into Virginia to try and hold the state which the liberal left knows they are losing."
When pressed further about running, the governor said that the GOP needs to flip the Senate and hold the House.
Anonymous Rumors
Washington Post reporter Bob Costa claimed that Republican billionaire donor Thomas Peterffy has said that Mr. Youngkin would have financial support if he wanted to enter the race. Citing alleged unnamed donors, Mr. Costa also
wrote
that top Republican donors will meet at Virginia Beach's Cavalier Hotel to "rally behind" the Virginia governor.
"Unofficially, several donors tell me, it will be an opportunity for them to try to push, if not shove, Youngkin into the Republican presidential race," he wrote.
Mr. Costa went on to claim in his opinion article that the donors and "anti-Trump Republicans" are concerned that former President Donald Trump is poised to run away with the 2024 presidential nomination and that other candidates aren't gaining ground.
One of those who are concerned is former Attorney General William Barr, who was appointed by the former president.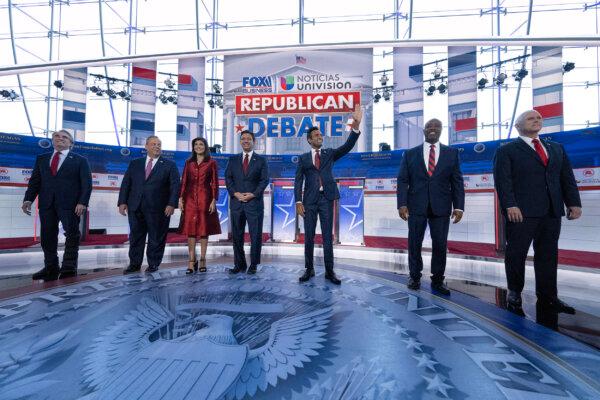 "I'm for whoever can beat Trump in the primary and, while I still think some of the current candidates can do this, I'd welcome Youngkin putting his oar in," Mr. Barr told the Washington Post. "If the governor indicated he'd to it, I believe he would draw serious support and be a strong candidate," he added.
Mr. Costa also interviewed another anti-Trump Republican, former national security adviser John Bolton, who also claimed that the Republican Virginia governor would fare well in the 2024 election. Mr. Bolton said that he attempted to recruit Georgia Gov. Brian Kemp, a Republican who has been critical of President Trump and rejected his 2020 election efforts, into the race.
"The search for other people is very real," he told the paper. A lot of people put Youngkin in the category of a kind of fresh face who could make a difference,"
But in that article, none of the individuals who were interviewed could describe how Mr. Youngkin would be able to defeat President Trump, who holds a commanding lead over the 2024 Republican field. President Trump
Currently, an average of polls from RealClearPolitics shows Mr. Trump is more than 40 percentage points ahead of Florida Gov. Ron DeSantis, who is in second place. None of the other candidates are out of the single-digit category.
It comes after President Trump was indicted four separate times in cases in Florida, Georgia, New York, and Washington on various charges. He has pleaded not guilty.
The former president also faces a civil fraud trial in New York, coming after a state judge ruled that both he and his Trump Organization real estate firm are liable. An appeals court on Thursday rejected an attempt to push back the trial date, meaning it will start on Monday, Oct. 2.
"We are ready for trial and look forward to presenting the rest of our case," New York Attorney General Letitia James, a Democrat, said in a statement following Thursday's ruling.
Trump attorney Alina Habba said earlier this week that the former president is planning to immediately appeal the judge's decision.
Amid the indictments and legal trouble, President Trump has said they are part of an attempt to block him from running for president again.
"In New York State Supreme Court, these cases take many years to get to trial. My Political Witch Hunt case is actually scheduled to start on Monday. Nobody can believe it? This is a 'Railroading' job, pushed hard by the Radical Left DOJ for purposing Election Interference. A very SAD time for New York State, and America," he wrote in a post on Truth Social this week.