Leaders of Shanghai Cooperation Organization (SCO) member states met in Samarkand, Uzbekistan, on Sept. 15 and Sept. 16 to discuss Eurasia's current political, economic, and security trajectory.
Russia plays a prominent role in the SCO, which was originally founded by Moscow and Beijing in hopes of counterbalancing U.S. global influence.
The conflict in Ukraine, which has aggravated the fault lines between East and West, came up several times in talks between the leaders.
"There were several discussions on Ukraine, but this didn't detract from the aims of the summit, which seeks Eurasian economic, cultural, and political cooperation," professor Cem Karadeli, head adviser to the Ankara Center for Crisis and Policy Studies, told The Epoch Times.
Along with Russia and China, the SCO's current membership includes India, Pakistan, Kazakhstan, Uzbekistan, Tajikistan, Kyrgyzstan, and Iran. Together, these states account for roughly 40 percent of the world's population, 60 percent of the Eurasian land mass, and a third of the global gross domestic product.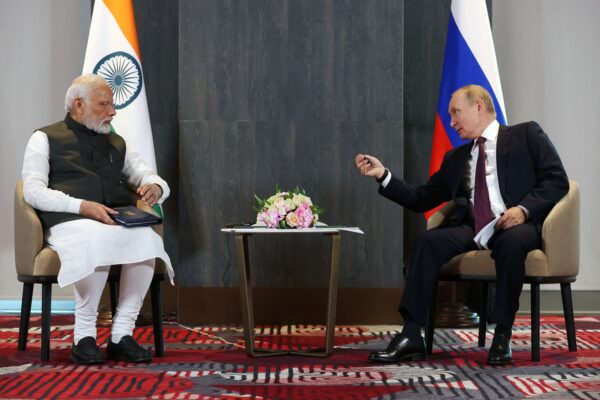 India's Modi: 'We Can Discuss This'
Speaking with Russian President Vladimir Putin at the summit, Indian Prime Minister Narendra Modi said: "Today's era is not an era of war. We have discussed this with you on the phone several times."
The remark was widely cited in the Western press, which portrayed it as a rebuke of sorts by the Indian prime minister to the Russian leader.
"What Prime Minister Modi said—a statement of principle on behalf of what he believes is right and just—was very much welcomed by the United States," U.S. national security adviser Jake Sullivan told reporters on Sept. 21.
However, the meeting in Samarkand appeared amicable, with Modi telling Putin: "It is necessary to achieve peace in the future, and I am sure that we can discuss this.
"I welcome the opportunity to better understand your point of view."
Putin, for his part, told Modi: "I know your stand on the conflict in Ukraine and the concerns that you have repeatedly voiced. We will do all we can to end it as quickly as possible."
Despite India's purported misgivings, New Delhi has held back from condemning Russia's invasion of Ukraine, nor does it support Western-led sanctions on Moscow.
On the contrary, India has remained one of Russia's top customers, especially in terms of energy. Russia is currently India's second-largest supplier of oil, after Iraq.
According to Karadeli, Modi "clearly asked for an early cessation of hostilities in Ukraine and the use of dialogue and diplomacy to end the crisis."
"But I don't believe these requests are enough to create major tensions between Russia and India," he said. "The Western media is mostly committed to the Ukrainian—or American—cause in this matter. It's looking for points of friction between Russia and any country that doesn't directly condemn Russian operations in Ukraine."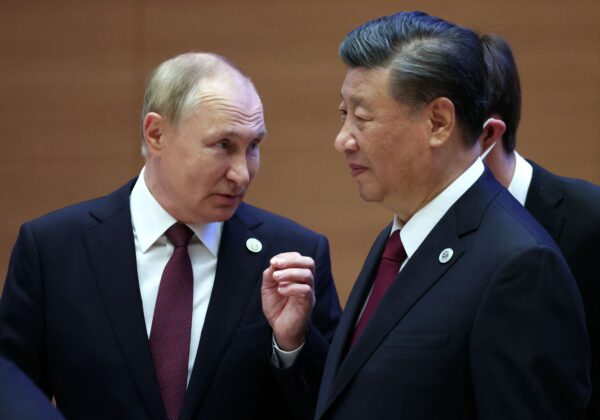 China's Xi: Support for 'Core Interests'
In talks with Chinese leader Xi Jinping at the summit, Putin voiced appreciation for what he described as Beijing's "balanced approach" to the conflict in Ukraine.
In another remark amplified in the Western media, Putin vowed to address Beijing's "concerns"—which he didn't specify—regarding the crisis.
Xi, for his part, steered clear of the issue, at least in public.
"The fact that Xi didn't mention Ukraine at the meetings could indicate some sort of strain," Karadeli said. "But as China is buying more energy from Russia these days, and Putin supported the Chinese view on Taiwan, it appears these concerns haven't affected their relationship."
China has also refrained from condemning what Russia has called a "special military operation" in Ukraine and remains a vocal critic of Western-led sanctions on Moscow. Russia is currently China's largest oil supplier, having recently wrested the title from Saudi Arabia.
Following the meeting, Russian Foreign Minister Sergey Lavrov was quoted as saying that Russian and Chinese perspectives on current events "fully coincide."
A Chinese government statement issued after the meeting promised "strong support" for Russia's "core interests."
Washington continues to voice concern about the apparent meeting of minds between Moscow and Beijing.
"We've made clear our concerns about the depth of China's alignment and ties with Russia," White House press secretary Karine Jean-Pierre said on Sept. 16.
She went on to cite the Putin–Xi meeting in Samarkand as "an example of that alignment."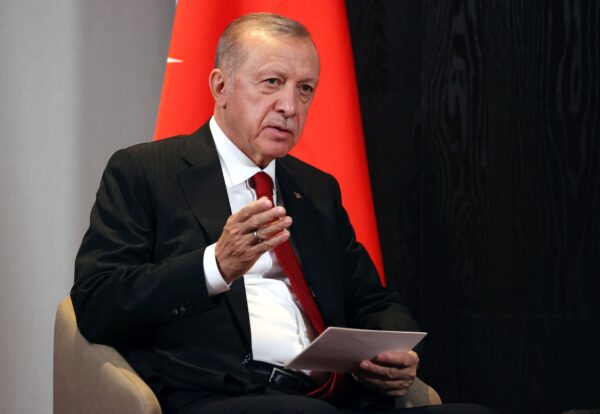 Turkey's Erdogan: Tilting Toward Moscow?
One of the most closely watched meetings in Samarkand was between Putin and Turkish President Recep Tayyip Erdogan. Although Turkey isn't a full member of the SCO, it participated in last week's summit as a "dialogue partner."
Despite its longstanding NATO membership, Turkey has maintained relatively good relations with Russia, with which it shares a maritime border in the Black Sea.
From the outset, Ankara condemned Russia's invasion and supplied Ukraine with advanced Bayraktar drones. But like India and China, Turkey, too, has refrained from supporting Western-led sanctions on Moscow.
Turkey is a major consumer of Russian natural gas, which accounts for almost half of its total gas imports, and hopes to obtain substantial price discounts from Russian suppliers.
In August, a friendly meeting between Putin and Erdogan in the Russian city of Sochi stoked Western fears of a Turkish tilt toward Moscow. In early September, Erdogan went so far as to chide the collective West for its "provocation-based policies" vis-à-vis Russia.
Speaking to his Turkish counterpart in Samarkand, Putin praised Ankara's "significant contribution" to mediation efforts between Russia and Ukraine.
On Sept. 21, Turkey helped negotiate a prisoner swap between the two countries. In July, it helped broker a deal between the warring sides that allowed the resumption of Ukrainian grain shipments through the Black Sea.
At the meeting, Putin told Erdogan: "After our telephone calls, after our face-to-face discussion in Sochi … the situation is developing very quickly at the bilateral level, as well as at the multilateral level."
Possibly playing to Turkey's hopes of someday becoming a regional energy hub, Putin went on to describe the country as "one of the most reliable supply routes for our energy resources."
The next day, Erdogan voiced his intention to bring Turkey into the SCO as a full member. Such a step would mean "our relations with [SCO member states] will be moved to a much different position," he was quoted as saying by Reuters.
According to Karadeli, such a move by Turkey wouldn't necessarily mean "severing its ties with the Western world."
"Turkey isn't shifting its foreign policy axis," he said. "It's only moving toward finding new spheres of cooperation in a globalized world."
Only days after the summit's conclusion, separatist leaders in four Russian-held provinces of Ukraine announced plans to hold referendums on joining Russia. Shortly afterward, Putin ordered the partial mobilization of the Russian military.
The twin moves were roundly condemned by Kyiv, along with most Western capitals. Reactions from New Delhi, Beijing, and Ankara, by contrast, were muted.